Amazon Prime Jumbo-Visma documentary: Five things we want to see
Six-part series available on Amazon Prime in the Benelux region from March 1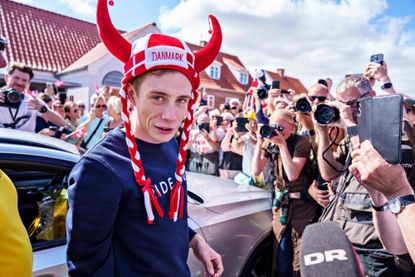 (Image credit: Getty Images)
Get The Leadout Newsletter
The latest race content, interviews, features, reviews and expert buying guides, direct to your inbox!
Thank you for signing up to The Pick. You will receive a verification email shortly.
There was a problem. Please refresh the page and try again.
Following on from the announcement last week that Jumbo-Visma have collaborated with Amazon Prime on a new tell-all documentary, it left us thinking about what we really want to see when it lands on the online streaming platform soon.

The six-part series is due to debut on 1 March. Although it will only be accessible to subscribers in the Benelux region comprising the Netherlands, Belgium and Luxembourg.
It's safe to say that the team has been involved in huge numbers of dramatic moments over the last few years. From Primož Roglič losing the Tour de France right at the death through to the team narrowly avoiding losing all of its leaders on the cobbled stage of last year's race, they've really seen it all.

That's without even mentioning the brilliance of Wout van Aert's transformation from one-day specialist to climbing super-domestique.
Although we've seen all that before.
Here are the five things we really want to see in All-in: Team Jumbo-Visma.

WHAT WOUT VAN AERT REALLY HAS FOR BREAKFAST
Last year, Wout van Aert revealed to Rouleur his horrendous sounding savoury oatmeal recipe that he allegedly forces down himself every morning. However, we can't fathom how anyone, let alone a world class bike rider, could stomach such a vile concoction.
The recipe for Wout's "Champion Oats" contains plant-based bouillon, fried or poached eggs, almond milk, oregano, parmesan cheese and avocado. All of that combined sounds like the kind of abomination which would make even black pudding seem appealing! Gross indeed!

We want to see what the Belgian reallyyy eats for breakfast. Perhaps like a normal person he goes for wholegrain toast and jam, or maybe yoghurt and granola before setting off for a big training ride. Although if it is indeed this oatmeal recipe he goes for, we'll have the sick bucket ready!
FLY ON THE WALL BUS FOOTAGE AFTER 'THAT' COBBLED STAGE
Stage five of last year's Tour de France between Lille and Arenberg saw chaos rip through the Jumbo-Visma set-up. From Roglič crashing through to other riders hitting the deck or suffering punctures, the day nearly ended the team's Tour campaign before it had really truly got going.

As the drama unfolded, we saw the television footage of Roglič, glasses askew, popping his shoulder back in along with that now famous shot of a bike change gone spectacularly wrong involving Vingegaard amongst others.

After the stage Wout van Aert implied that communication issues temporarily saw Vingegaard accidentally disconnected from the radio, which ultimately sparked the initial panic. As the proverbial hit the fan, we want to see what it was like inside the Jumbo car for Grischa Niermann and other team management.
Were they a picture of calm? Or did the staff also descend into a full-blown meltdown?
JONAS VINGEGAARD PARTYING IN A PARIS NIGHTCLUB
Throughout his sensational Tour overall victory, Jonas Vingegaard kept away from the limelight and appeared to be the epitome of calm - collected and reserved.
There were multiple suggestions during the race that he didn't particularly enjoy the increased attention that donning the yellow jersey brings with it and he was also seen on the phone to family straightaway after most stages.
In the aftermath of his success, the story was the same with it further implied that he struggled to adapt to his new found fame and status as a Tour de France winner.
However, from the streets of Copenhagen to the Saitama Criterium in Japan, the guy seems to love a bit of fancy dress. As he got set for the Tour Grand Depart in his home country, Vingegaard willingly donned a fancy dress viking helmet before he then got into costume in Japan.

We want to see him really cutting loose post Tour success, dancing on the tables in a Paris nightclub before doing a drunken conga with teammates around Montmartre. We bet he loves a party really.
MARIANNE VOS AT THE TOUR DE FRANCE FEMMES
Marianne Vos is undoubtedly one of the greatest female professional cyclists of all time and firmly part of the furniture on the Dutch team. Along with three Giro d'Italia Donne overall wins, Vos has also tasted victory at the road worlds on three separate occasions, her palmares really does speak for itself.

Therefore it seems more than fitting that one of the undisputed greatest female cyclists of all time then played a starring role in the inaugural edition of the Tour de France Femmes last year. Vos took two stage wins along with the green points jersey, as along with Annemiek van Vleuten and Demi Vollering as she lit up the race.

We want some behind the scenes footage of Vos at the race as she takes it all in, samples the atmosphere and gets up the road. For a rider of her status who has been around in women's cycling for so long, it must have been emotional to finally see the Tour de France femmes become a reality.
THOMAS GLOAG LEARNING DUTCH
Towards the end of last season British starlet Thomas Gloag was riding as a stagiaire with the Dutch team. Since then, Gloag has made the jump to professional status with Jumbo and has already shown signs of what's to come this year as he went on the attack on several occasions at the recent Volta Valenciana.

One thing to say about Gloag is that he seems like a smart, bright and intelligent young man. So no doubt he'll have no issues with the language barrier and learning Dutch.

Most foreign pro bike riders nowadays seem to be fluent, or nearly-fluent in English. Although we want to see Gloag trying his hand at the local-lingo so that he's ready to ask Koen Bouwman to hand him a bidon for a quick swig to wet the whistle, before he then disappears up the road on the attack on a Grand Tour mountain stage.
Thank you for reading 20 articles this month* Join now for unlimited access
Enjoy your first month for just £1 / $1 / €1
*Read 5 free articles per month without a subscription
Join now for unlimited access
Try first month for just £1 / $1 / €1