The Politest Man in Cycling - five days chasing victory with new sensation Thomas Gloag
Britain's latest cycling prodigy is as cheery and humble as they come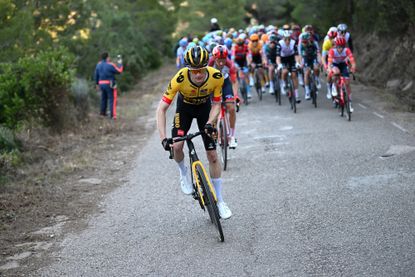 (Image credit: Getty)
Thomas Gloag jabbed his finger at his Jumbo-Visma teammates Sam Oomen and Koen Bouwman before screaming: "You're the boys, eh! You're the boys!"
The Briton had just finished second on stage four of the Volta a Valenciana, his best ever result in a professional race, but he was already deflecting the attention away from himself.
"Thank you so much," the 21-year-old said as he clasped hands with Bouwman, eight years his senior. "Mate, thank you so much. It was close. I probably should have gone earlier. Sorry. Next time."
The last week has been, in the Londoner's own words, a "significant step in my learning process". Classed as a neo-pro though he raced as a stagiaire from last August for Jumbo, there is plenty of intrigue around Gloag.
Two years ago, he seemingly just appeared on the scene, jumping straight to U23 level with Trinity Racing from his club team VC Londres; then, after making his mark with a 2021 win at the Ronde de l'Isard followed by a victory at the Tour de l'Avenir a year later, he refused the overtures of Ineos Grenadiers to sign for Jumbo.
Now in his first full season as a pro, he's already demonstrated his prodigious talent against some of the sport's seasoned climbers in Europe's opening stage race of the season.
He finished second on stage two, tried an audacious attack the day after, just came up short on stage four, and then wrapped up the young classification on stage five as he finished sixth overall. He was, without doubt, the breakout rider.
It was little wonder his coach Tim Heemskerk excitedly sent Cycling Weekly a WhatsApp message every time he attacked. "It's been a big step up for me," Gloag himself told CW after stage four, before pressing home his unfamiliarity with everything that he is doing. "I've never done anything like this before."
"Yesterday was really good fun," he beamed when speaking the morning after the second stage. "I am really grateful for the experience. It's so special to be surrounded by so much experience and riders who are far more accomplished than I am."

Five hours later, reflecting on his cameo out front as he attacked on the day's final climb, he smiled: "I thought why not? I am here to race, to give it a go… I like to attack. I have good legs so why not use them? Unfortunately I am not superman."
Skip forward 24 hours and again he was a leading player, just losing out to stage winner and compatriot Tao Geoghegan Hart. "There's definitely stuff to work on still, but, man, that was really good fun!" he said. "Just a shame it was over so quickly."
Gloag is incredibly endearing. As well as being one of the sport's rising stars, he's also a candidate for The Politest Man in Cycling.
Take the finish of stage three, for example: rolling towards his soigneur, Gloag rode into a cameraman and knocked his little finger on his right hand that later required bandaging. When the cameraman located Gloag to say sorry, it was Gloag doing the apologising. "No, mate, honestly, it's fine. I'm sorry." He later clarified that it was he who "was a bit of an idiot. I'm so happy there wasn't a video of it."
It would be a misunderstanding of his personality and affability to suggest that he has got imposter syndrome, but the way Gloag behaves around people fussing over him points to a young man struggling to understand as to why a) anyone is interested in him, and b) why his teammates would be working so hard for him. He's just Thomas, 21, from London, with very little elite level racing experience.
"I have no idea!" he laughed when asked if stage four's longer climb suited him more than the shorter efforts. "Climbs I'm good at, that I know. Flats I'm not very good at."
"There's a lot of stuff that I need to improve on in terms of positioning and communication with the boys," he added. "I'm obviously super new to all this pro racing stuff so it's a big step up in level and I lack on the tactics side."
Regardless, his team have been hugely impressed by his commitment and his willingness to take responsibility and show personal endeavour, such as self-organising a day out with a descending coach in the autumn, and staying longer at a winter training camp. His coach Heemskerk recently remarked to CW that "he is a very smart guy, a quick learner."
He is also very raw. In an interview a few months ago, Gloag didn't shy away from just how unschooled he is, admitting that it wasn't too long ago that he would go for three hour rides without barely eating a single thing. "As a junior I'd have, at best, 30 grams of carbs and half a bottle during a race," he said.
There is no pressure being placed on the part-time maths student, and his team are well aware that he has shortfalls, but it speaks volumes of the faith they have in him that they are prepared to give him race leadership in early February.
"When an organisation like Jumbo-Visma says you can do well, I tend to believe them," Gloag said after stage four. "The team have a lot of confidence in me."
Thirty seconds after uttering those words, Gloag reverted to his polite, self-effacing self, apparently astounded to even be participating against Grand Tour winners and former world champions. "It's just a privilege to ride with them yet again," he added.
A day later, he was celebrating his white jersey triumph on the podium outside Valencia's futuristic-looking oceanarium with his family in attendance. Before he was rushed off for his onward travel, he made one final apology for the week, this time to Cycling Weekly for whom he didn't have time for one last chat. "Mate, I am sorry, but I literally have to go," he said, as he shook our hand.
And, with that, cycling's latest young prodigy was hurried away, a winner of the youth classification and as The Politest Man in Cycling.
"It's nice to see where his process is leading him," Heemskerk messaged, followed by a wink. This is just the start.
Thank you for reading 20 articles this month* Join now for unlimited access
Enjoy your first month for just £1 / $1 / €1
*Read 5 free articles per month without a subscription
Join now for unlimited access
Try first month for just £1 / $1 / €1