180 athletes' bikes held hostage in cargo dispute
As TriBike Transport faces cargo standoff, those using the shipping service are left waiting on their bikes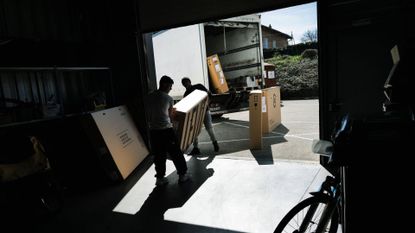 (Image credit: Getty Images)
Popular bike transport service, TriBike Transport (TBT), is in hot water as a shipment of bikes returning to the U.S. from the triathlon World Championship race in Pontevedra, Spain, in September is being held by TBT's contracted cargo company, Horizon Entertainment Cargo
Horizon Entertainment Cargo claims that TBT owes them approximately $300,000 in unpaid invoices for their services to Ironman triathlon races in Nice, France, and Lahti, Finland, in late summer of this year.
As a result, Horizon Entertainment Cargo is withholding 180 bikes, valued at easily more than one million dollars, that were being transported from Pontevedra, Spain to the U.S. in late September.
TBT says that Horizon Entertainment Cargo cannot legally withhold the bikes as TBT does not own them, but that has not stopped the cargo company from hanging onto them.
As a result, TBT was granted a temporary restraining order against Horizon Entertainment Cargo via a North Carolina court. However, that may not be very effective, considering Horizon Entertainment is storing the shipment of bikes in Chicago.
Horizon Entertainment Cargo filed a lawsuit against TBT in Los Angeles last week. The cargo company claims they are within their lien rights to retain the shipment of bikes from Spain due to the $300,000 in unpaid shipping invoices by TBT.
Additionally, according to the lawsuit filed by Horizon Entertainment Cargo, they are within their rights to sell the retained property if the invoices remain unpaid in the next 30 days - every cyclist's worst fear, having their bike unwillingly sold at auction.
TBT, a partner of the Ironman brand, has still not delivered bikes from recent events such as the October women's Ironman World Championship in Hawai'i. Those who used TBT for that event should expect to receive their bikes eventually, though, as those are not being withheld by Horizon Entertainment Cargo.
Ironman has confirmed that they have paid the outstanding TBT cargo invoices for the women's Ironman World Championship and two other races.
TBT also confirmed via email that customers who already booked their services for the upcoming Ironman Cozumel and Ironman Arizona races should not be concerned about their bikes arriving on time.
The email states: "The situation you may have heard about with Pontevedra bikes does not, and will not, affect the service for your bike if you are returning from [the Ironman World Championship in Kona] or Ironman Florida, or if you are going to Ironman Arizona or Ironman Cozumel."
The owners of TBT, a husband and wife pair, have not denied the outstanding invoices but have said that attempts to negotiate with Horizon Entertainment Cargo for the release of the Spain shipment were unsuccessful.
TBT has also alluded to the fact that the business is "restructuring" but is not bankrupt. Currently, you are not able to book their services for any races in 2024.
At the time of publication, Horizon Entertainment Cargo has not issued a public statement on this developing situation.
Thank you for reading 20 articles this month* Join now for unlimited access
Enjoy your first month for just £1 / $1 / €1
*Read 5 free articles per month without a subscription
Join now for unlimited access
Try first month for just £1 / $1 / €1