An Post-Sean Kelly welcomes and farewells comeback kids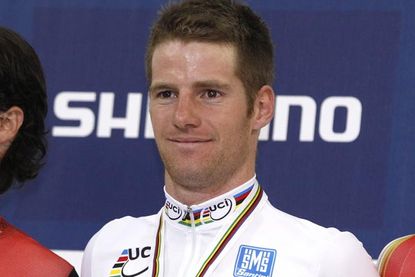 An Post-Sean Kelly manager Kurt Bogaerts is confident Aussie Olympian Glenn O'Shea can significantly further his road career at the team that has parted ways with Manx survivor Jonny Bellis after a season.
O'Shea, who joins the outfit in 2013, momentarily quit cycling two years ago struggling with glandular fever as well as injury but returned with the motivation of competing at the London Olympic Games.
The 23 year old won gold in the omnium and silver in the team pursuit at the world titles in April, silver in the team pursuit at the Olympics and was named Australia's male track cyclist of the year shortly before returning to Europe for the Glasgow World Cup as well as the Ghent Six Day, where he and race partner Iljo Keisse are currently second.
The velodrome will remain the main focus for O'Shea up until the February world championships in Minsk, Belarus after which he will turn his full attention to the road.
O'Shea, who was part of Australia's national under-23 road development program, caught the attention of agents and Bogaerts with his individual results at a handful of Belgium races in the lead-up to the Olympics. An Post-Sean Kelly has previously served as a platform to the WorldTour with Andy Fenn, as an example, joining Omega Pharma-Quick Step this season after riding for the team last year.
"I have no specific ambitions, what I expect of him. He's a very talented guy and it's our ambition to help him and develop his career," Bogaerts said.
"In Belgium these races are small but they're not easy. It's a sign he must be strong because, on his own, winning these kind of small races in Belgium like he did, when he was not in his best [road] form, in preparation here for the Olympics ... I think if the ambition is good and the hunger is there it can grow very quick.
"First of all we will see how his road fitness is after the world championships. I think he can be very, very successful already next year."
Bellis, in a recent VeloNation blog, said he would train in the Isle of Man during the winter, having been based in Belgium throughout the year, and that his management was looking into options for next season. He referred to a breakdown in communication with the team adding he was under the impression he'd be given another season to show improvements.
Bellis's return to professional cycling after a near fatal scooter accident in Italy in 2009 - the same year he turned pro with Saxo Bank after a spell as a stagiaire - has been well documented.
"Jonny is a difficult story. It's already a miracle I think that he's still alive, then to come back into fitness it is not easy physically and mentally," Bogaerts said of the 24 year old.
"He still has the hunger and he still believes it could come good I just don't think at the moment we have the right place for him. I think he could come good but it's a matter of not taking a step too high.
"The problem was we do a lot of UCI races and Jonny was not on the level there. I think if he really wants to continue he just needs to find a team who is more specific in Belgium in these kermesse races and maybe he could always come back in the later stage.
"There's no point to just be in the team and not do the programme with the team. I think it's not good for the team and it's not good for the morale of the rider if you're not able to ride with the team."
Related links
Glenn O'Shea flies omnium world champ colours
Bellis in critical condition after scooter accident in Italy
Thank you for reading 20 articles this month* Join now for unlimited access
Enjoy your first month for just £1 / $1 / €1
*Read 5 free articles per month without a subscription
Join now for unlimited access
Try first month for just £1 / $1 / €1