Andy Wilkinson's Dolan time trial bike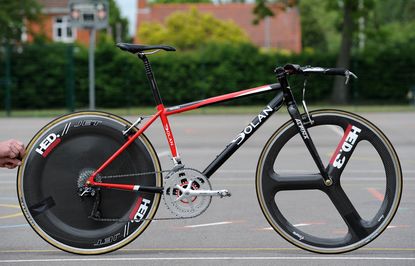 A Bike for all occasions - Cycling Weekly takes a look at time trialling legend Andy Wilkinson's custom-built bike at the National 25-mile time trial championships.
Wilkinson of Port Sunlight Wheelers on the Wirral was British Best All-Rounder (BBAR) champion in 1996 and currently holds the 12- and 24-hour time trial competition records, amongst his many records and achievements down the years.
>>> Read more: The best time trial bikes and triathlon bikes
On Sunday June 9 2013, the endurance 'meister' rode the National 25 TT to take 15th place with a 53:50 (average 27.8mph) on his custom-built Dedaccia steel-tubed Dolan finished in the Port Sunlight Wheelers livery.
It's the bike that took him to the two competition records in the 12- and 24-hour events and to the second-fastest recorded 50 time.
The bike also doubles as his commuting and touring bike using a set of 700c cyclo cross rims shod with 30mm or 32mm touring or cyclo-cross tyres. The MTB type '29er' tyres can be fitted to the 700c CX rims too for those serious off road ventures.
Mountain bike 2.1-inch width tyre on the rear and a 1.8-inch width on the front offers more security on those longer off-road trails.
Wilkinson's machine. HED carbon race wheels, a Jet full disc rear and a three spoke aero front with tubs. The custom Dedaccia steel frame has a 59cm top tube with a MTB rear triangle with 18in (45.7cm) chainstays which gives the long, relaxed look to the bike. It allows speed with relative comfort, important for those 12- and 24-hour endurance TT events
Long arm of the gear... Shimano XTR derallieur with carbon jockey wheel arm gives a very neat compact frontal area and allows the use of a multitude of gear ratios. It also allows a short cable run with the Nokon cabling system. Nine speed block. Ritchey dropout with pannier eyelet attachment point
A 'Classic' Campagnolo Chorus chainset with 56/42/26 chainrings. 175mm crank length. Campag front changer and Shimano SPD pedals
SPDs - pedal of choice for multi purpose use
The USE carbon XCR seat pin with Sumo clamp has shock absorption to ease out those miles. Note pannier attachment point on seat stay for touring
V-Brakes offer the all round stopping power for TTing and touring with this multi-purpose designed steed
120mm 3T stem and USE Tula carbon bar gives for a narrow, compact front end. The set-up gives a noticeable increase in speed from other set-ups says Wilkinson and can still be use for running about town
Custom bottom bracket and stay design to allow for the multiple use of Wilkinson's bike. There's clearance for knobbly MTB-type tyres when the frame is not being TTed. A 95mm Titanium Royce bottom bracket is used in the Wilkinson drive chain set-up
Andy Wilkinson with his TT set-up Dolan
Wilkinson in action at the weekend's 2013 National 25 TT Championships in Lincolnshire
Related links
Joe Perrett and Julia Shaw win National 25-mile time trial titles
Thank you for reading 5 articles this month* Join now for unlimited access
Enjoy your first month for just £1 / $1 / €1
*Read 5 free articles per month without a subscription
Join now for unlimited access
Try first month for just £1 / $1 / €1