Armstrong attacks USADA for opening formal action against him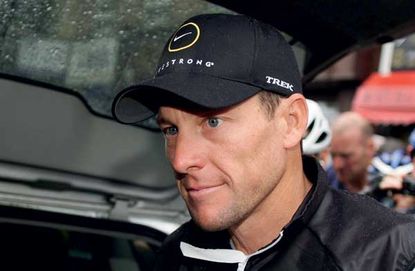 Lance Armstrong has attacked the United States Anti-Doping Agency (USADA) after the body informed him they are to open formal action against him.
In a letter sent to USADA on June 13 by Robert D. Luskin, Armstrong's lawyer, the agency is accused of failing to be accurate, using unsupported evidence, losing sense of neutrality and fair play and using evidence supplied by people who have cooperated purely to save their own skin.
It's a tried and tested tactic of Armstrong and his team. Over the years he has sought to discredit anyone who has dared speak out against him, and often used blatant intimidation (in the cases of Christophe Bassons and Filippo Simeoni).
USADA wrote to Armstrong (along with Johan Bruyneel, Dr Ferrari two team doctors and a team trainer from the US Postal and Discovery Channel teams) on June 12 informing them they were to open formal action against them for anti-doping rule violations including the use, possession, trafficking and administration of prohibited substances. Also for assisting, encouraging, aiding, abetting and covering up anti-doping violations.
Numerous former riders and employees have testified to USADA saying that these violations occurred, and in their letter to Armstrong, USADA claim this is supported by biological passport data from 2009 and 2010 (the time of Armstrong's most recent comeback).
Much of the evidence USADA has is believed to have been handed over by the Federal Investigation carried out by Jeff Novitsky. That investigation looked in to financial fraud following the allegations made by Floyd Landis, but was closed in February before being concluded. No reason was given for the termination.
>>Essential reading: Series of Events Critical to Legacy. By Bonnie D. Ford on ESPN.com
In the letter sent to USADA, Ruskin says; "You state repeatedly that your allegations of doping are supported by the testimony of more than 10 riders, as well as other team employees. Amazingly, however, not one of these individuals is charged or even identified."
It goes on to say that the board 'cannot conduct a meaningful review' and Armstrong's rights cannot be protected without knowing 'who is saying what about events that allegedly occurred.'
In June 2011, Armstrong confronted former team mate Tyler Hamilton in a restaurant in Aspen, Colorado. Some viewed this as a chance encounter, others claimed it was intimidation of a witness.
Hamilton had recently been on American news programme 60 Minutes detailing his use of performance enhancing drugs while in Armstrong's team and accused Armstrong in being complicit in an organised doping program.
Hamilton had previously admitted this, under oath, in front of a grand jury as part of the Federal Investigation into fraud. Hamilton's version of what went on is supported by Floyd Landis. George Hincapie is also believed to have supported Hamilton's testimony when he testified, although he has never spoken to the media about the case.
----
The whole of Ruskin's letter is littered with language that seeks to discredit USADA, saying they have long been concerned by USADA's conduct, and that none of this surprises them.
Ruskin also questions those in the World Anti-Doping Agency (WADA) whose code USADA operates under, saying; 'USADA and WADA, in particular, Mr Tygart, Mr Pound and Mr Howman, have long demonstrated their zeal to crucify Mr Armstrong and, in their relentless pursuit, have lost any semblance of independence, neutrality or fair play. We have learned the hard way not to underestimate USADA's obsession with Mr Armstrong, and you have not disappointed us.'
Armstrong has also now taken to Twitter to attack USADA, saying; "Dear @usantidoping - we have now sent you THREE letters requesting all the relevant info in order for me to respond to your "review board"." Seemingly trying to subtly discredit them by using inverted commas around the words 'review board'. It's worth noting the review board is independent of USADA.
A second tweet read; "Until now there has been no response, not even an acknowledgement of receipt. The knife cuts both ways - it's time to play by the rules."
Armstrong continues to deny ever having doped and says that he was tested over 500 times in his career and never once tested positive. In 1999, however, Armstrong tested positive for a corticosteroid while on his way to winning his first Tour de France. The UCI excused the result after a Therapeutic Use Exemption (TUE) form was provided by the team doctor, saying it was for a skin complaint.
It was later alleged that the TUE form was backdated (a common trick used by cycling team doctors over the years) and use corticosteroids are now listed in USADA's letter as one of the violations.
Samples of Armstrong's urine, taken in 1999, were found to have contained EPO, the blood boosting drug that was commonly abused in the pro peloton, when re-tested in 2004.
The samples were tested in the Chatenay-Malabry laboratory in France not as an anti-doping measure, but as a way of testing and improving the procedures. It was a journalist from French sports paper L'Equipe who matched the anonymous identification number on the sample to Armstrong.
Armstrong called it a witch hunt
----
>>Essential reading: It's Not About the Lab Rats. By Bill Gifford on Outsideonline.com
On Friday a free supplement was given away by the Guardian newspaper in the UK called Overcoming Cancer. It was written and produced by Media Planet and it's cover featured a big picture of Armstrong riding in his Livestrong kit.
No doubt a coincidence, given the timing, it still perfectly illustrates Armstrong's most powerful tool when it comes to fighting allegations of drug use.
He is the charity's high profile founder and promotion of Livestrong is promotion of himself, neither has he been afraid of using it as a way of deflecting questions on doping. Questions have however been raised over the way that Livestrong spends its money.
Livestrong has admitted they no longer give money to cancer research projects but instead work to raise awareness of cancer and support survivors. Money undoubtedly goes towards worthwhile projects but some claim a large percentage of it is spent on marketing and promotion. They say to raise the awareness of cancer, others may say it's to promote Armstrong's profile.
>>Essential reading: What does Livestrong and Three Cups of Tea have in common? By Mark Zimbelman on Fraudbytes
Thank you for reading 20 articles this month* Join now for unlimited access
Enjoy your first month for just £1 / $1 / €1
*Read 5 free articles per month without a subscription
Join now for unlimited access
Try first month for just £1 / $1 / €1