Armstrong faces questions on doping investigation and 2009 payments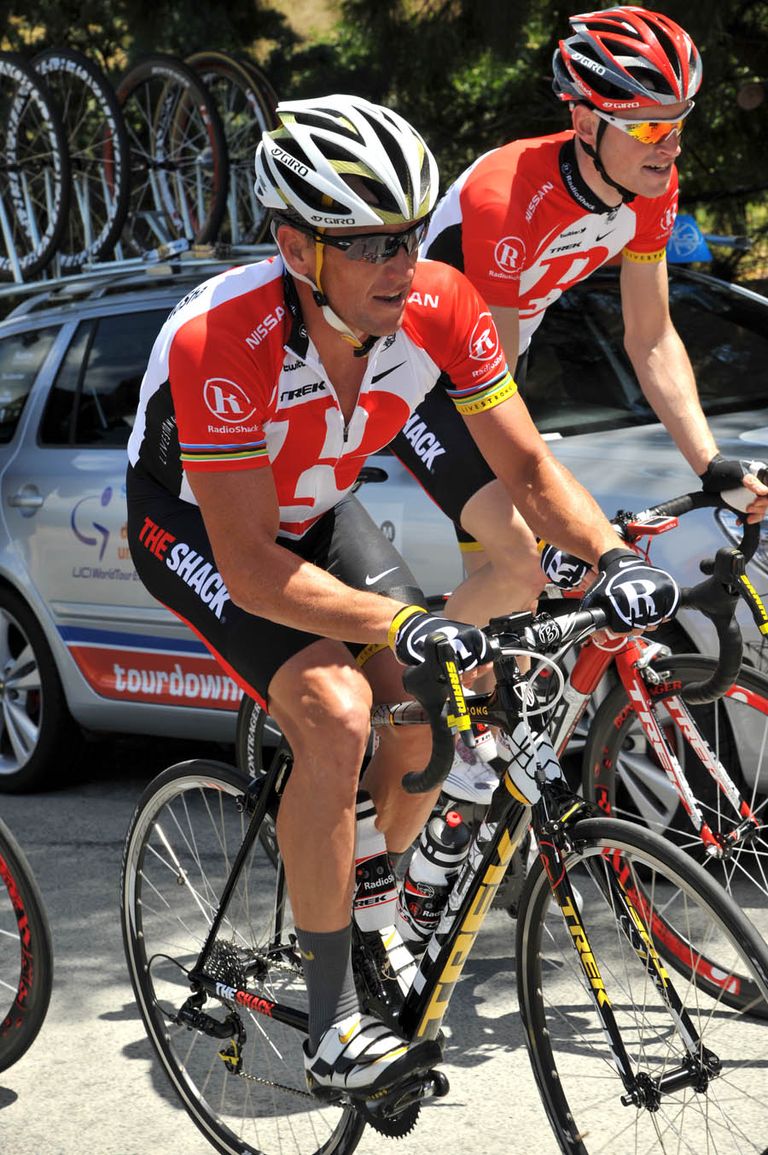 "I am not doing anything," he said today, responding to what he is doing to prepare for the investigation.
Armstrong, though, has hired a legal representative, Mark Fabiani, and lawyer, Bryan D Daly. He clarified that those people themselves handle the mounting demands of the investigation.
Landis' e-mails that described Armstrong's alleged doping practices in the years that they raced together and the subsequent work by FDA's prosecutor, Jeff Novitzky, have had zero effect with Armstrong's relationship with the public, according to the Texan.
His credibility has been further questioned this week. Reports surfaced that he received a salary from team Astana in 2009 when in fact he had said in several interviews before and during that year that he was racing free.
"Every aspect of my sporting career is under examination does not surprise me that something like that is being said. However, I stand by what I said before. I can tell you that there is not one Kazakh penny in my bank account, I can promise you that."
Novitzky's investigation will not continue forever. He has already investigated athletes Marion Jones and Barry Bonds for steroid use, for which Jones eventually spent six months in prison for lying under oath. His investigation into Armstrong may conclude this year just as Armstrong completes his farewell tour, likely at Colorado's new stage race in August.
Lance Armstrong has stopped off in Australia for final international race at the Tour Down Under, but even there he has failed to avoid questions on his
credibility by the media
. Top on the list was the US government's doping investigation and his 2009 salary from team Astana.
"They call it the Starbucks index. You are stranding in line and thinking, 'When is the day that someone comes up to you and says something. I have never had anything remotely close to that.
"It has been this way since 1999, or at least the beginning of it for me, in terms of the most scrutiny," said Armstrong. "If you are trying to hide something, you would not get away from it forever."
"My statement I made, I can't say it any clearer. I have five kids to raise, a foundation to lead, a sport that I am still participating in and I still love. It has no effect on my life - zero. That's for other people to do."
"If you wasted your time trolling around on the forums or chat rooms, then of course, you are going to get a lot of that. On the street, never. We've' seen no impact on the foundation."
His press representative, Mark Higgins, attempted to clarify the situation. He said yesterday that Astana paid Armstrong, but the payments went straight to his cancer charity, Livestrong.
"The rules of the UCI [International Cycling Union] said that every rider has to take a salary, so we had no way of getting around that," said Armstrong today. "Once we heard that that we could not get around it, I said, 'OK, take the salary and we will just pass it strait through to Livestrong.'
Armstrong said that he was unsure, but thought the salary payment was €50,000. He said he kept repeating throughout 2009 that he was riding free because the situation was unclear.
"That's because it was not clear from the beginning, it was not clear until the end of the year. These guys said, you have to take a salary and I said just pass it through to the foundation."
He maintains his innocence against the doping allegations made by Landis and others thought the years. He said that he has been a cyclist for 20 years and that he was not just an over-night sensation.
The Food and Drug Administration (FDA) is investigating allegations made by Armstrong's former team-mate Floyd Landis. Landis alleged in April last year that Armstrong doped during his seven Tour de France victories. Armstrong said last week that the federal investigation does not effect his daily life.
Novitzky's work is more than just trolling, it has turned into a grand jury investigation. He has travelled to meet with counterparts in France, Spain and Italy, countries where Armstrong lived or trained. In the US, he has issued subpoenas several people close to Armstrong to testify in front of a grand jury in Los Angeles. Former and current team-mates Yaroslav Popovych, Kevin Livingston and Tyler Hamilton have reportedly been called, though, others have likely also testified.
Armstrong's long-time sponsors, Nike, Oakley and Trek, have also supplied Novitzky information.
Related links
Tour Down Under 2011: Cycling Weekly's coverage index
Armstrong in Adelaide: One more time
Tour Down Under 2011: Who will win?
Tour Down Under 2011: Start list
Farrar heads Garmin-Cervelo's Down Under assault
Cavendish to face Greipel Down Under with in-form Goss
Cavendish to start 2011 Tour Down Under
Farrar to ride Tour Down Under