Armstrong returns to race Tour Down Under despite legal battle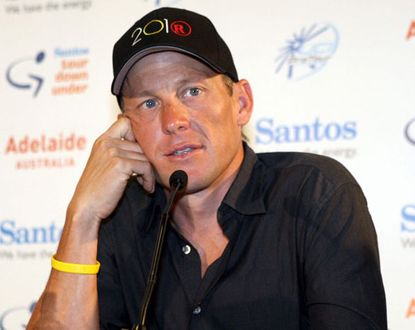 Despite a battle to defend himself against doping claims and turning 39 years old this year, Lance Armstrong will continue to race in 2011. He announced today that he will participate in the Tour Down Under from January 16 to 23 in Adelaide, Australia.
"I'm excited to be competing in my last professional ride outside the US at the Tour Down Under," said Armstrong. "I'm sure I will enjoy it as much as I have the first two times."
Armstrong competed in the last two editions. In 2009, he marked his comeback from a three-year retirement and this year, he launched his new RadioShack team in Adelaide.
Friend and South Australia's state premier, Mike Rann, welcome his return.
"This is an amazing opportunity for cycling fans across the globe to head to Adelaide and be part of history as Lance competes in his farewell ride as a professional on international soil," Rann said.
"Lance is a true hero of the sport and we are delighted he has chosen to compete again in South Australia and make his international farewell here."
Armstrong's last professional race was the Tour de France in July. Despite winning seven times and finishing third last year, he finished 23rd this year and left the race on a sour note. For the final stage to Paris, he and his RadioShack team disobeyed rules by wearing different jerseys, which delayed the start of the stage while organisers forced them to change.
In the US, he has other problems. His RadioShack team faces a difficult search to find a replacement sponsor and he is at the centre of a federal investigation. Former US Postal team-mate Floyd Landis alleged Armstrong doped and used sponsorship money to fund doping during his seven-year reign as Tour champion. The two raced together from 2002 through 2004.
In Los Angeles, a grand jury is reviewing evidence supplied by Landis and several of Armstrong's associates. Investigator Jeff Novitzky has subpoenaed Armstrong's former team-mates - including Tyler Hamilton and Frankie Andreu - and three-time Tour de France winner, Greg LeMond. He has also requested documents from Armstrong's long-time sponsors, Nike and Trek.
Armstrong has repeatedly denied doping charges throughout his career. He continues to raise awareness for his Livestrong cancer foundation, which he started in 1997.
"I will never forget the reception we received in Adelaide when we kicked off the Livestrong global campaign [last year]," he said. "I look forward to racing and also checking in on the progress in South Australia."
Thank you for reading 20 articles this month* Join now for unlimited access
Enjoy your first month for just £1 / $1 / €1
*Read 5 free articles per month without a subscription
Join now for unlimited access
Try first month for just £1 / $1 / €1