As modest as ever, Sir Chris Hoy gracefully retires from cycling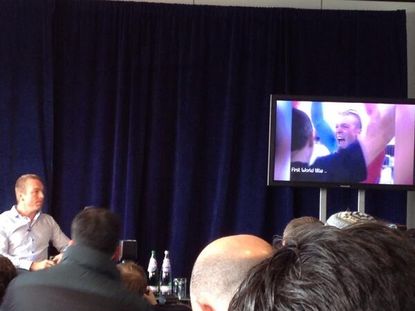 To paraphrase Mark Twain, the rumours of Sir Chris Hoy's retirement were not greatly exaggerated.
Minutes after an invite to a "special announcement" entered the inboxes of journalists up and down the country on Monday afternoon, speculation that Britain's most successful Olympian was going to confirm that his racing days were over went viral.
And fortuitously for all those who had written and published reflective pieces looking back at his esteemed career already, at 11.58am, the 36-year-old confirmed as much. "It's probably not a massive surprise to you that I'm officially announcing my retirement today. It's not a decision that I took lightly or came to easily, but I know it's the right time," he said.
As softly spoken, and as self-effacing as ever, Sir Chris addressed the assembled media for 25 minutes in a hospitality room inside Edinburgh's Murrayfield Stadium. His reasons for stopping could not have been clearer.
"Nothing would give me more pleasure than to continue for another year to be there in Glasgow [2014] and represent Scotland, but I just feel that I don't want to be there just to make up the numbers," he stated in a paragraph that sums Hoy's career up perfectly. In international-level competition, rarely was he an also-ran.
There's more to it than the six Olympic golds. He won a medal in all but one of the events in which he competed across four Games. In 2008, he became the first (and only rider to date) to win world and Olympic titles in four different disciplines. He won at least one medal in the world championships from 1999 to 2008. The imperious way he could ride a kilo meant that Arnaud Tournant never won an international title again after he was beaten by the Scot at the 2002 worlds in Copenhagen. Not to mention the way he adapted to the more unpredictable bunch events after the UCI scrapped his flagship event after Athens 2004.
Put simply, the list of his achievements and qualities is a long one, and he even found time to joke about an oft-mistaken pastime. "I look forward to continuing my career in Premiership refereeing," he said in reference to abusive tweets he has received in the past from people confusing him for football official Chris Foy. He also found time to say that Sir Steven Redgrave - whom he overtook as Britain's most successful Olympian last summer - was actually our greatest athlete.
This was a light-hearted affair; a more celebratory retirement announcement than when Nicole Cooke announced hers and a less triumphant exit compared to Chris Boardman's in 2000 (when he broke the hour record in front of a sell-out crowd at the Manchester Velodrome).
"I don't want this to be a sad moment," said Sir Chris at the start of proceedings, having opted not watch the obligatory "best bits" video which began the press call too closely in case it made him emotional. His wife Sarra joined him on stage briefly at one point, he quickly batted away any questions about politics, and apologised for being greedy when he picked two career highlights after being asked to name his favourite moment.
To end, he thanked everyone for coming to the announcement. "We, as athletes, do read your articles, good and bad," he said before leaving the stage. As the number of column inches and web pages about his retirement already this week shows, Sir Chris Hoy will not have too many negative stories to cast his eyes over in the coming days.
Related links
Sir Chris Hoy confirms his retirement
Thank you for reading 20 articles this month* Join now for unlimited access
Enjoy your first month for just £1 / $1 / €1
*Read 5 free articles per month without a subscription
Join now for unlimited access
Try first month for just £1 / $1 / €1