The new Lotus e-bike is £20,000, while Aston Martin's latest two-wheeler appears to be priceless
Both supercar brands have unveiled stunning new machines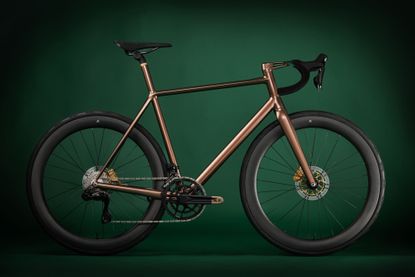 (Image credit: Aston Martin)
If you've ever fancied owning an Aston Martin or a Lotus, now might be the opportunity you've been waiting for.
Both car marques have unveiled their own bikes this week and they are, as you might expect, the stuff of beauty.
British brand Aston Martin calls its new .1R bike "the most bespoke, advanced and meticulously engineered road bicycle".
Made in the UK alongside fellow Brit bicycle manufacturer J. Laverack, the .1R is "visually boltless" and has no cables of any kind on show either. With a host of custom parts, and a variety of nods to some of Aston Martin's most famous supercars – such as the stem, which replicates the side strake of a DB12 – each bike apparently takes more than 1,000 hours to create.
It features carbon tubes with titanium lugs and will be offered with the Shimano Dura-Ace Di2, Campagnolo Super Record wireless or SRAM Red eTap.
All buyers will be invited to Aston Martin's Gaydon HQ for a custom fitting. Price is on application only. You might want to talk nicely to your bank manager for this one.
Lotus's offering is an e-bike called the 136 – the latest number in what has been a long and storied bloodline for the company, starting with Chris Boardman's Olympic gold medal-winning 108 in 1992.
It's a "track-inspired road bike" says Lotus, that can be used with or without its 193Wh motor and weighs in at an impressive claimed 9.8kg all-in.
Lotus's famous aerodynamicist Richard Hill has helped develop the frame, while its motor is apparently derived from the Mars Lander. What's more, in a clever party trick it masquerades as a water bottle and is easily detachable.
Sir Chris Hoy, a Lotus ambassador, said at launch: "This is an incredible bike, which says so much about the pioneering endeavours of Lotus and the iconic status of its bikes over the years."
An initial limited production run will consist of 136 black and gold numbered models, all with Lotus motorsport livery. They will feature Campagnolo Super Record wireless and cost £20,000 / €25,000. The 'standard' bike will be offered on general availability from next spring in either black or yellow and featuring a choice of SRAM Red for £16,999 / €19,950, or SRAM Force for £15,199 / €17,950.
Thank you for reading 20 articles this month* Join now for unlimited access
Enjoy your first month for just £1 / $1 / €1
*Read 5 free articles per month without a subscription
Join now for unlimited access
Try first month for just £1 / $1 / €1