Bahrain Merida riders share shocking pictures of damaged bikes after flying back from Glasgow
Merida has asked airport carriers to take more care when handling bikes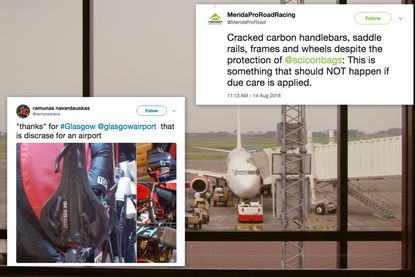 (Image credit: Picasa)
Two riders from Bahrain Merida Pro Cycling Team have shared pictures of heavily damaged bikes following their flights back from the European championships in Glasgow.
Neither Ramunas Navardauskas (Lithuania) nor Iván García Cortina (Spain) completed the 230.4 kilometre road race on Sunday August 12 - which saw 85 of 136 riders DNF amid downpour on Glasgow's cobbled streets.
However, both arrived home with damaged bikes, and have accused baggage handlers of mistreating their Merida equipment.
Cortina shared pictures of a cracked carbon rim, cracked forks, damage to the down tube and a very unhappy rear derailleur.
Tagging British Airways, he tweeted: "Fly from Glasgow with two bikes and get to Asturias [sic] with half. One lost out there and the other in half."
Team mate Navardauskas showed snapped saddle rails and seat post clamp, handlebar shifters that appeared to have been compressed, and a pair of snapped handlebars, tweeting "thanks" and tagging the airport - adding "this is a discrase [sic] for an airport."
It's not clear which airline Navardauskas flew with.
>>> Six best bike bags and boxes for travel
The Scicon carrier Navardauskas packs his bike into for travel can be seen in the pictures, and the team uses the brand as its technical sponsor for bike transportation.
The team's bike sponsor Merida has also expressed its disappointment, asking airports and carriers to be more careful.
"Those bikes aren't cheap. Cracked carbon handlebars, saddle rails, frames and wheels despite the protection of Scicon bags. This is something that should NOT happen if due care is applied."
Riders on the UCI WorldTour squad ride aboard Merida Scultura disc bikes when weight is paramount, using the Reacto when an aero bike is called upon. Their machines are typically shod with Shimano Dura-Ace Di2 and Fulcrum racing wheels.
When Cycling Weekly contacted Glasgow Airport, a spokesperson commented: "We're sorry to hear about this, but I must advise that baggage is the responsibility of the the airline and its handling agent and not Glasgow Airport."
When baggage is damaged, flyers typically claim from the airline.
Advice from the Civil Aviation Authority is that flyers report the damage at the airport, it states: "You must report the fact that your luggage has been lost, delayed or damaged at the airport and keep a copy of the Property Irregularity Report which staff of the airline will complete. To make a claim you must then contact the airline in writing."
Thank you for reading 5 articles this month* Join now for unlimited access
Enjoy your first month for just £1 / $1 / €1
*Read 5 free articles per month without a subscription
Join now for unlimited access
Try first month for just £1 / $1 / €1