Matteo Trentin sprints to victory in attritional European Championships 2018 road race
The Italian beat Mathieu van der Poel and Wout Van Aert to victory in Glasgow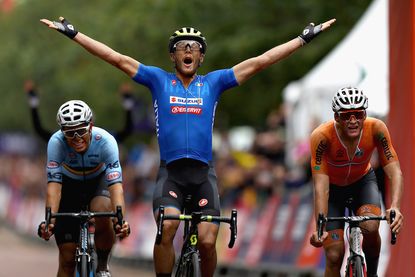 (Image credit: Getty Images)
Matteo Trentin delivered European Championships road race victory for Italy on Sunday, out-sprinting Mathieu van der Poel (Netherlands) and Wout Van Aert (Belgium) to the line in Glasgow after 230.4km of racing.
They had been part of small late breakaway group of 11, which was split down to just five - including the three medallists as well as Davide Cimolai (Italy) and Jesus Herrada (Spain) - after a crash with just under 7km to go took out Maurits Lammertink (Netherlands), Nico Denz (Germany), Michael Albasini (Switzerland), Xandro Meurisse (Belgium) and Pierre Luc Périchon (France).
From there, despite Meurisse catching back on, it was down to those five to contest the finish after there were no attacks in the final kilometres of a wet and treacherous city circuit in Glasgow.
Cimolai was able to lead the group in round the final corner, unleashing his lead-out sprint for Trentin with around 300m to go, before Trentin moved from behind with Van Aert and van der Poel on his wheel.
An experienced and talented WorldTour sprinter, there was nothing the two world cyclocross champions could do to match him in the final few metres, with Trentin holding on to take his first win of the season and securing a year in the European Champions' jersey.
How it happened
The 230.4km race set off in Glasgow centre with the 136 starters facing miserable, rainy conditions. With such a long day on the cards, the peloton were happy to let some chancers get up the road, with Josef Cerny (Czech Republic), Matthias Krizek (Austria), Robert-Jon McCarthy (Ireland), Krists Neilands (Latvia), Roland Thalmann (Switzerland), and Polychronis Tzortzakis (Greece) the six riders to go out front.
They established a maximum gap of five minutes over the opening circuits of the 14.4km course around the city centre, with the peloton content to stay together and see off some distance of what was set to be an attritional day.
Italy, France and Belgium were the teams controlling the pace on the front of bunch, eventually bringing the gap to under three minutes as the race went into the final 100km.
The next developments mostly saw riders begin to quit the race, with most notable abandonment world champion Peter Sagan (Slovakia) who pulled out with around 84km to go.
Belgium then tried to shake things up with 80km to go and the gap down to 30 seconds, sending two riders in Jelle Wallays and Tosh van der Sande up the road to join the breakaway group.
That in effect brought the end of the breakaway, with counter attacks from the peloton causing the pace to increase and eventually pull all the breakaway riders back.
Again Belgium were the next team to attack, sending Xandro Meurisse out on his own with 54km to go. He wouldn't have to wait long to be joined by some other riders though, with Nico Denz of Germany kicking things off with a stinging attack.
That dragged out a number of riders keen on making it in to a decisive move, with 11 riders eventually getting away and the peloton seemingly unwilling to respond.
Those riders joining Meurisse and Denz included Wout Van Aert (Belgium) Mathieu Van der Poel (Netherelands), Maurits Lammertink (Netherlands), Davide Cimolai (Italy), Matteo Trentin (Italy), Jesus Herrada (Spain), Nico Denz (Germany), Michael Albasini (Switzerland) and Pierre Luc Périchon (France).
They quickly gained well over a minute with under 30km remaining, and continued to stretch out that gap as they worked well together towards the finish.
Surprisingly, no attacks were forthcoming and the 11 riders were still together with 10km to go.
With 9.5km to go though, a crash on a corner split the group, with Lammertink overcooking a corner and crashing into the roadside barrier, bringing down riders behind.
That saw Herrada, Van Aert, van der Poel and Trentin get away, but Cimolai was able to get back and help set the pace on the front despite getting caught up in the crash. Périchon and Meurisse continued to chase behind.
Cimolai was the first rider to put in an attack in earnest with 6.9km to go, but was brought back by Van Aert and van der Poel working on the front.
Meurisse was able to get back on to the five riders out front in the closing 2km, with no attacks coming before the finish.
As they entered the final 300m, Cimolai gave his all on the front for Trentin, and despite van der Poel and Van Aert coming from behind, Trentin was able to hold his sprint to bring it home for Italy.
Results
European Championships 2018: Glasgow (230.4km)
1 Matteo Trentin (Italy), in 5-50-02
2 Mathieu van der Poel (Netherlands)
3 Wout Van Aert (Belgium)
4 Jesus Herrada (Spain)
5 Davide Cimolai (Italy)
6 Xandro Meurisse (Belgium), at 7s
7 Michael Albasini (Switzerland)
8 Pierre Luc Périchon (France)
9 Nico Denz (Germany), at 25s
10 Maurits Lammertink (Netherlands), at 2-15
Thank you for reading 5 articles this month* Join now for unlimited access
Enjoy your first month for just £1 / $1 / €1
*Read 5 free articles per month without a subscription
Join now for unlimited access
Try first month for just £1 / $1 / €1