BBC Breakfast track cycling challenge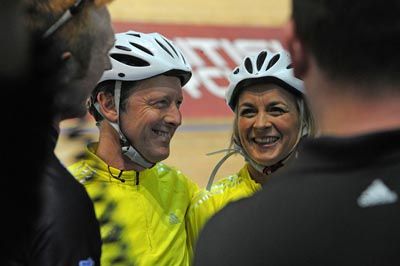 The BBC Breakfast presentation team of Louise Minchin, Susanna Reid, Charlie Stayt and Bill Turnbull took to the boards of Manchester Velodrome for their special Christmas Challenge 2012.
The challenge was filmed before the track Revolution event on December 1 with Reid and Turnbull teaming up to face the team of Minchin and Stayt in a timed individual lap of the track with the fastest cummulitive team times taking the overall win.
Olympic and World Team Pursuit champion Ed Clancy was on hand to give some last minute tips and ride behind each presenter to shout encouragement. It was veteran Breakfast presenter Turnbull who set off first, recording a respectable 23.822 seconds for his lap.
Next up was Charlie Stayt who showed a very competitive streak and recorded a time of 20.515 to raise the bar in the competition.
Susanna Reid, who claimed not to have ridden a bike since she was eight, rolled away next to put in a time of 26.297 seconds and give a cumulative Reid & Turnbull team time of 50.119 seconds. This meant all Minchin had to do was break 29.604 seconds to claim victory with her team mate Stayt.
Off set Minchin with focus in her eyes and pedalled smoothly to put in a time of 23.378 seconds to not only win comfortably but also sneak under Turnbull's time by 0.44 second much to his consternation.
The good-humoured event was finished off with a short medal ceremony with Olympic road race silver medallist Lizzie Armitstead presenting the medals to the teams.
The BBC Breakfast team prepare in the track centre with Ed Clancy and Bob Barber
Louise Minchin
Ed Clancy and Susanna Reid
Bill Turnbull gets ready
Charlie Stayt and Louise Minchin
Ed Clancy shows the way
Bill Turnbull in action
Charlie Stayt
Susanna Reid
Louise Minchin
Lizzie Armitstead presents the medals
The whole team celebrate