Belgium to host inaugural European Gravel Championships this fall
October will be jam-packed with national, regional and world gravel competitions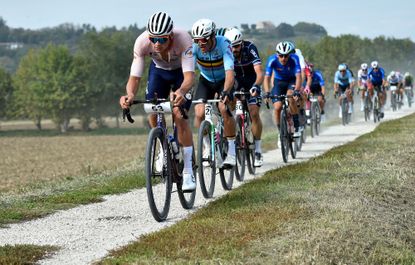 (Image credit: Getty Images)
Following a successful UCI Gravel World Championships last fall, the first-ever Gravel European Championships will take place on Sunday, October 1, 2023. in the Belgian town of Oud-Heverlee.
The agreement was signed today between the European Cycling Union (UEC), the municipality of Oud-Heverlee and race organizers, Golazo, who also organize the Gravel World Championships.
As a one-day event, the Continental title will be contested for by the elite and masters men and women categories. Course announcements and details for the day's events will be announced later this month.
October is looking very gravel-heavy with the European championships taking place that following weekend, October 7-8, in Italy, and the inaugural Belgian national gravel championships following the week after, on October 15, also in Oud-Heverlee.
"Gravel is a discipline which has significantly grown over the last few years both in terms of the number of practitioners and media coverage. It attracts all age groups and all types of cyclists, from professionals to keen enthusiasts. The UEC has always been very attentive and open to new forms, and this is why we wanted this speciality to have its own European Championships," said Enrico Della Casa, President of the UEC.
Della Casa revealed that various countries were keen to host the historic event, which gives the organization "great optimism to the future of this event, especially for the 2024, 2025 and 2026 editions, for which we have already started talks and meetings and which are currently at a very advanced stage."
The Flemish region will also slated to host the 2024 UCI Gravel World Championships, following its two-year stint on Italy's white roads.
"As a new discipline, gravel has become a cycling discipline in its own right, in a short space of time as both a high-level sport and recreational activity. There is no doubt that gravel brings a new momentum to cycling...Belgian Cycling – as a leading cycling federation – is very optimistic about Gravel's promising future," stated Tom Van Damme, President of the Belgian Cycling Federation.
Following the UCI's adoption of the gravel discipline, regional and national gravel championships have popping up throughout the world. USA Cycling announced a national US gravel championships will take place later in the year although the date and location remain unknown. Canada and Finland will also host inaugural national gravel events and the Nordic Cycling Federation will host a regional Nordic & Baltic Gravel Championship in July.
The second battle for the gravel rainbow jersey will take place October 7 and 9 in Veneto, Italy, where Gianne Vermeesh and Pauline Ferrand-Prevot will be tasked to defend their reign.
Thank you for reading 20 articles this month* Join now for unlimited access
Enjoy your first month for just £1 / $1 / €1
*Read 5 free articles per month without a subscription
Join now for unlimited access
Try first month for just £1 / $1 / €1