Rapha Yomp Rally: these 38 hours in the saddle changed my perspective on biking forever
A rally, not a race: This five-day adventure was the ultimate bikepacking experience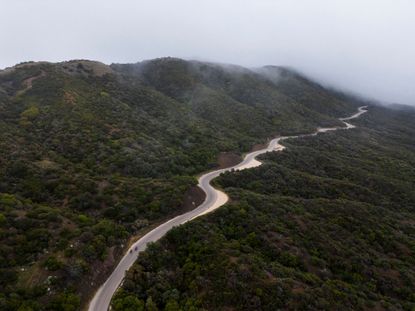 (Image credit: Gretchen Powers)
We'd gone off course. My Garmin was stubbornly insisting otherwise but even in the dark, we could see by the shoulder-high grass and rutted out singletrack below that no bikers had gone this way for a very long while.
After what we'd gone through in the past six hours, this section of bike-pushing, weed-clearing and technical riding had initially seemed par for the course. After the snow and creek crossings, cattle-ruined fields, sheer cliff faces, rockfall and small boulder obstacles, what was a bit of singletrack?
"We're yompin'!" we had shouted as we dropped in, but about a mile later, we knew — as our dot-following loved ones would later confirm— we'd made a mistake.
At this point, we were three days, 210 miles and some 26,000' of climbing into the inaugural Rapha Yomp Rally, a multi-day bikepacking adventure between Santa Barbara and Los Angeles in California, created by Rapha's Head of Marketing, Brandon Camarda. Himself a Silk Road Mountain Race finisher- an unsupported 1,899km bikepacking race in Kyrgyzstan - and no stranger to bikepacking, Camarda envisioned the Yomp Rally after watching bikepack events grow in popularity overseas.
A rally and not a race, the format is simple: complete the given route within five days, be prepared to take care of your needs, offer a helping hand to your fellow riders when needed, and be respectful to the surroundings and its inhabitants.
Some, like ultra-endurance racers Chris Burkard and Lael Wilcox opted to complete the challenge in as little time as possible, pushing through the nights to get to the L.A. finish line in as little as 48 hours. Most, however, needed every bit of those five days to complete the challenging course set before them, which traversed across some seriously rugged terrain and a whopping 42,000 feet of climbing in just 388 miles. Many scratched, opting to end their adventure after the wilderness loop and take an Amtrak train to the finish.
The Yomp Rally was never intended for the faint of heart but it wasn't meant to be quite as challenging as it turned out to be either. Months of storm damage washed away trails and paved roads alike, blocked access with rockfall and debris, and left long sections of the course unrideable. Last-minute detours were put in place but the challenge, Camarda warned, was going to take longer than anticipated. He advised attendees to bring solid shoes, some extra provisions and 'bigger bike options.' Most of all, he encouraged people to keep an open mind and be patient with themselves and the course.
Four months ago, the Big Pine Mountain descent had taken Camarda 35 minutes to complete. On his recon in April, it took three hours. My riding friend for the day, Laura Brigham, and I were going on four hours and getting cranky.
If Mother Nature hadn't wreaked havoc on California the way she had these past four months, this bit of singletrack would probably have been quite fun. However, overgrown as it was, with us sleep-deprived and aboard heavily loaded bikepacking rigs, any trail joy quickly turned to defeat. We'd seen the last wisps of sunset disappear, and the pavement that signified our return to civilization was nowhere to be seen.
Worse still, the four-mile trail abruptly ended in a wide river bank and even wider river — W.T.F.
The beam of my headlamp could scarcely catch the other side of the river where a washed-away bank led to the asphalt we'd been chasing all day. The only way out was to go in.
Wading thigh-deep in the river, my fork bags fully submerged, my bottles freeing themselves from the bottle cages, I giggled my way across. Luckily, temperatures were much milder than at the elevation of over 6000' we'd been earlier that day and the water was calm. On the other side, we found a closed, weather-damaged road and campground, not yet cleared from the winter's debris. We decided that real food and a much-longed cold beer would have to wait another night as we pulled out our bivy sacks and laid our soaked things out to dry.
Apparently, my Spot tracker had run out of batteries long ago, causing a flood of messages and missed calls to come in at the first trace of cell phone reception. I spent the remaining 5% phone battery to put everyone at ease. Yes, I was still alive. No, please don't send out a helicopter. I'm good on food and water, thank you. We're yompin'!
What it means to yomp
Originally a military term, a yomp is defined as a quick or energetic jaunt, usually while carrying a lot of equipment. Over the course of the five-day rally, however, we learned the true meaning of what it means to yomp.
Yomping means: seeing the sights less seen
The Rapha Yomp Rally course was as challenging as it was rewarding. Route builder Dillon Osleger had put together a real stunner inspired by a path set by the Spanish Padres in 1769. The 388-mile course spanned across coastal desert ecology, the rugged Sierra Madre range, and through high pine forests and mountain chaparral. We climbed more than 42,000' on fully loaded bikes, conquering the iconic Gibraltar Climb (—a road which has seen the likes of Egan Bernal and Julian Alaphilippe soar to victory in the Tour of California—), Mount Figueroa and the Sierra Madre and Santa Monica mountain ranges along the way.
We spent two days in the wilderness, following the spine of the mountains and gazing over desolate mountaintops as far as the eye could see. We also sped along the Pacific Coast Highway, wound through California wine country and enjoyed an at-times car-free Mulholland Drive, the famous winding road high in the Hollywood Hills. Southern California has a population of more than 23 million people and the cities sprawl widely along the coastline yet even here, wilderness and adventure lie nearby. In choosing this route, Osleger hoped the Yomp Rally would not only showcase the beautiful lands of the Chumash Indians, but it would also encourage participants to go explore the paths less traveled in our own backyards.
Yomping means: breaking down barriers
Meg Fisher is a three-time paralympic gold medalist, 11-time para world champion and gravel athlete. She's also infectiously bubbly and determined. For years we'd been wanting to go bikepacking together but logistics always seemed a challenge. Do you take an extra leg? How do you keep the prosthetic clean and the skin irritation-free? What if we need to hike-a-bike?
With her being a Rapha-sponsored athlete, the Yomp event seemed like the perfect impetus to work out the logistics and attempt bikepacking. Armed with a new liner for her below-the-knee prosthetic, leg lubricant, sterilization necessities and only a few healthy nerves, Fisher and I determinately rolled up the Gibraltar climb and into the clouds, blissfully unaware of what was to come.
The first tears of frustration came midday. The humidity, the rain, the sweat and the repetitive pedaling motion had rubbed Fisher's leg raw, and we'd only barely begun this adventure. The first off-road sections had ripping descents that brought big smiles to our faces but also the first hike-a-bike obstacles. This required me to clear the obstacle first, then run back to grab Fisher's bike. Then run back again to support Fisher as her cleated prosthetic was unstable and not made for walking. We were conquering the course but the going was slow.
The day ended with a rather rude and brutal 10-mile and 4000' climb up Mount Figueroa. Halfway up, Fisher's leg had grown a painful blister. Determined as always, Fisher would have probably hobbled her way all the way up that mountain, but luckily was able to catch a ride to the sogged-in campground on top. Here, the call was made for her to sit out the loop in the wilderness to allow her time to heal and because, Camarda cautioned, it would have simply been impassable. There was too much climbing and too many obstacles. Once I cleared the wilderness, I was able to scoop Fisher up in Santa Barbara to finish the last two days together.
There's bravery in recognizing a limit when presented with one and Fisher did so with grace.
She's constantly challenging norms and upping the bar of what is possible. In the end, she completed three out of the five days of the Yomp adventure. She set out to go bikepacking and so she did. The experience, she later told me, "broke down a barrier in my mind I thought was insurmountable. The bike has given me so much freedom and now I have even more. How cool is it that at 40 you can still have firsts?".
Likewise, dozens of other participants experienced their own firsts out there. For many, this was their first five consecutive days of bikepacking, some had only just discovered the off-road biking space and one person had never even slept in a tent before. At the Mount Figueroa campground that first night, dozens relished in their own accomplishment of the day. Carrying loaded bikes over 12,400' of climbing in 72 miles is no easy feat. In fact, in all my riding and racing, only the TaiwanKOM race beats that number for me. And that was only day one of the Yomp adventure.
Yomping is: finding your rally family
The beauty of a rally lies in the bond that forms naturally between its participants. Rather than racing one another, you become a team. Whether you're trying to rush through the course or riding at party pace, the course will help you find your people. Riders came from all walks of life yet bonded almost immediately through the sheer act of tackling something difficult together.
Everyone becomes someone else's trail angel at one point or another. Fixing mechanicals, taping ankles, keeping someone company and sharing food and water. You bond with your rally family in a way that's unique to endurance events. You help each other through the inevitable lows. Those moments when doubt sets in because you've been riding at your limit for hours on end, you're suffering an injury, or you're simply too damn tired to set up your tent. In turn, you get to share in the joys. The stunning views, the smile-inducing descents, the gas station candy.
My trail angels came in the form of people generous with their stories and company as well as a very timely offering of a salt tablet when I had gotten behind on my electrolytes and found myself throwing up precious water on the side of the trail. My rally family gave me hours of conversations, people to camp with, tears of laughter and a new perspective on biking. In my former racer life, I would have tackled the Yomp Rally as a challenge to complete the course in as little time as possible. In doing so, I would have missed out on the most beautiful part of this adventure.
The Rapha Yomp Rally in numbers:
I raced bikes for 10 years but the Rapha Yomp Rally was the toughest, most memorable five days I've spent in the saddle yet. The numbers can't even begin to tell the story, but here they are:
- 388 miles on singletrack, gravel, sand and road.
- 42k feet of climbing
- So much hike-a-bike
- 38.5 hours in the saddle, moving time (not counting hike-a-bike)
- 18k calories burned
- 10/10 would do it again
Thank you for reading 20 articles this month* Join now for unlimited access
Enjoy your first month for just £1 / $1 / €1
*Read 5 free articles per month without a subscription
Join now for unlimited access
Try first month for just £1 / $1 / €1