Six reasons you should go cycling in California
If you're looking for somewhere new to ride, why not try Cali? Here's six reasons why you should get your bike and go cycling in California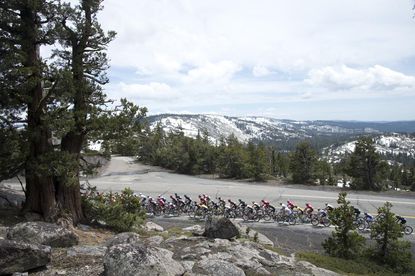 (Image credit: Watson)
The state of California is known for many things. It has some of the best surfing anywhere in the globe, world-class skiing in Lake Tahoe as well as the glitz and glam of Hollywood. It also has plenty to offer cycling enthusiasts across the massive state.
The mountains are big, and there are plenty
From Mt. Diablo in the San Francisco Bay Area to the the famed Gibraltar road climb in Santa Barbara and the 23.4-mile long Highway 39 to Angeles Crest– every region of the state has it's iconic climb. And how can we forget Mt. Baldy? Featured in numerous editions of the Tour of California, this steep pitch will once again be featured as the queen stage in the 2017 edition starting next month.
You can ride 650 miles of pristine Californian Coastline
California State Route 1 runs along the Pacific Ocean from Mendocino to Orange County, connecting the two major metropolitan areas of San Francisco and Los Angeles. Traveling down the majestic "Highway 1" as it's affectionately known, takes you through the remote Big Sur coast to the surf littered sections of Malibu and beyond.
The food is amazing, and varied
A post-ride super burrito stuffed with your choice of meats, cheese and of course guacamole can be found at just about any spot from the beach to the Sierra Nevada Mountains. Try yours "Californian style" with some crispy French fries to take your recovery meal to the next level from. El Patio's in Woodland, east of Los Angeles, serves a serious Cali-style carne asada burrito.
Too many coffee shops to choose from
Some of the best coffee in the world is brewed in California, so your cup should never be empty for too long. From the intense berrie flavors from the Kenyan originated Ichamama brewed at Verve in Santa Cruz, to the aptly named Gibraltar Seasonal Espresso Blend from Handlebar Coffee Roasters in Santa Barbara, you can't go wrong with your coffee choices in the sunshine state.
Plenty of drop-bar friendly dirt add-ons
Even the best roads can get busy with cars, so when this happens the fire access roads around the state offer plenty of off-road adventuring, suitable even for road bike. No need to change your set-up, just point your compass towards Kitchen Creek Road, east of San Diego that includes 5-miles of dirt climbing to soothe your appetite for varied terrain exploration.
Delicious Donuts
What better way to fuel long days in the saddle than with a delectable, high-calorie snack mid-ride? Former professional cyclist Ted King's favourite thing to eat are maple bars and apparently he always brings plenty for his riding partners and friends.
Thank you for reading 20 articles this month* Join now for unlimited access
Enjoy your first month for just £1 / $1 / €1
*Read 5 free articles per month without a subscription
Join now for unlimited access
Try first month for just £1 / $1 / €1