'You can't do anything if you don't believe you can do it': How gravel racing is embracing para-cyclists
Dr. Meg Fisher, Andrew Bernstein and Johanne Albrigtsen all found their way back to competition thanks to gravel cycling and hope to lead the way for others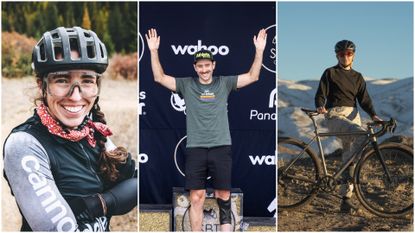 (Image credit: Gretchen Powers, Tory Hernandez, Drake McCrimmon )
Get The Leadout Newsletter
The latest race content, interviews, features, reviews and expert buying guides, direct to your inbox!
Thank you for signing up to The Pick. You will receive a verification email shortly.
There was a problem. Please refresh the page and try again.
We are all accustomed to seeing photos of mass start events like a marathon. A number of professionals line up at the front, and a few minutes later a thousand additional people have crossed the start line. Most of them are there for a personal challenge, being pulled along and encouraged by the thousands of bodies doing the same.
Gravel cycling has offered this experience to people who prefer to pedal instead of run. Some events, like Unbound Gravel, attract as many 4,000 participants.
In marathons, it is not uncommon to see people running with a prosthetic leg or running with a guide if they are visually impaired. The fields of para athletes are not huge, but there is certainly space for people living with various disabilities to participate. Similarly, a para field is now emerging in gravel racing as well, lead by paralympian Dr. Meg Fisher.
As gravel grapples with its identity, format and rules, the establishment of these new categories plays a significant role, not only in creating a more diverse field of participants but in the lives of these individual athletes as well. We spoke to three para athletes who found their way back to competition thanks to gravel cycling: Dr. Meg Fisher, Andrew "Bernie" Bernstein and Johanne Albrigtsen —each of them in different phases of their journey into the world of para racing.
Gravel Racing + Para-cycling
One of the biggest advocates for bringing the para community to cycling is Dr. Meg Fisher. Fisher uses a below-the-knee prosthetic and spent years competing alongside her able-bodied peers as she advocated for gravel race promoters to open a para category. Because gravel is also a mass start event, unlike many events in cycling, the idea seemed ripe with possibility. For the coming season, Fisher was able to ramble off more than a dozen races that have added a para category, in big part due to her advocacy work.
Fisher lives in Missoula, MT, where she works as a physical therapist when she's not racing. As an athlete, Fisher has a truly impressive list of accolades to her name, ranging from competing as a D1 collegiate tennis player to holding 11 World Championship titles in para-cycling and para-triathlon with the US National Team. Outside of her pile of medals, Fisher is known for her infectious combination of kindness and determination.
Fisher is quick to point out that 15% of people in the world live with a physical disability, but that the corresponding representation in athletics is still far off. Fisher says one of the first steps to attract people with physical disabilities to organized events is to have a designated para category.
As if to prove Fisher's point, off-road cyclist Johanne Albrigtsen says she was drawn to gravel cycling specifically because there was a para category.
Albrigtsen was born with a clubfoot and despite it, competed through college, amassing collegiate national MTB medals alongside her non-disabled peers. In 2019, Albrigtsen shattered her already smaller and weaker foot in a climbing accident, greatly reducing it's range of motion and further limiting the power she has in her right leg.
Prior to her injury, Albrigtsen had taken a step back from competition as the intensity ramped up and it stopped feeding into her joy. During that break, she began pursuing a Ph.D. in Hydrology at the University of Nevada, Reno. Albrigtsen spends a few months a year doing complicated field work in Denali National Park, often moving by dog sled, skis, or bike and carrying one-hundred pounds of technical equipment into the backcountry for weeks at a time.
In 2022, Albrigtsen was invited to Grinduro with a last-minute entry. She aspired to lean into the party side of the party-to-race ratio, simply enjoying a long day out on the bike with friends.
However, the organizers at Grinduro happen to be some of the people who have taken Fisher's guidance and created a para category. While Albrigtsen was racing with her able-bodied age group, as she was accustomed to, she began noticing para athletes out on course. Albrigtsen says, "I started to confront some ideas I've been holding about myself and see those in a new light."
During 70 miles of rough gravel, a slow spark began to reignite for Albrigtsen. What if she could race alongside other people with physical disabilities? Albrigtsen says, "It almost feels backwards that this injury and traumatic event actually spurred my energy to get back into a community I thought I wanted to leave behind. It feels really special to be back in this space."
Para Expanded
Andrew Bernstein has also benefited from the road Fisher has paved for para-athletes.
Bernstein proudly won the para-category of SBT GRVL in 2022. Bernstein's role in cycling changed drastically in 2019 after a hit-and-run while he was biking home from the Boulder Valley Velodrome. Bernstein had just come from competing at the Elite National Track championships. He was an elite athlete with trophies to back it up.
Bernstein, Fisher and Albrigtsen all joked that they have one functioning leg and one leg that goes along for the ride, to varying degrees. "It is here and present and it weighs a lot and contributes a little," says Bernstein.
While each of these three athletes live with a leg discrepancy, the world of para-cycling actually encompasses a wide range of body differences: upper/lower limb amputation, cerebral palsy, spinal cord injuries, traumatic brain injuries, strokes, or visual impairments, to name a few.
The goal for para-cycling is to allow people with a huge range of body differences to participate.
Bernstein, who used to promote cycling events, says, "I appreciate the complexity of including non-standard categories in events. I understand it is not a zero-lift for a promoter to include para-cycling categories."
Bernstein is in an interesting position in that he uses an E-bike to ride. Since his injury, his E-bike is the option for climbing hills, riding with friends and riding longer distances. Some races allow E-bikes within the para category, some races have a separate E-bike category, and others do not allow E-bikes at all. These inconsistent rules means the number of races Bernstein can enter is significantly limited; however, he expressed optimism that his options would be expanded as more promoters work to understand how to incorporate E-bikes into their events, for both disabled and able-bodied cyclists.
When promoters do put in the work though, it pays off. It is clear from the growing number of para participants in gravel races that this effort is offering people access to the shared sense of joy that is palpable at gravel events.
Boiling down categories
While there is certainly benefit to successfully adding para categories to events and watching participation grow, there are also challenging considerations.
Within sanctioned para road cycling, for example, there are numerous categories which make distinctions between, say, someone who uses a hand cycle and someone who rides a tandem with a guide due to a visual impairment. Even with these distinctions, Fisher notes that at certain races like the Paralympics, the categories are reduced and combined. It is a constant push and pull process of reconciling with what makes sport fair.
Fisher believes that trying to implement many para categories at a gravel race would be unreasonable at this time. She recommends that gravel race promoters start with three para categories, one for women, one for men, and one for non-binary folks. Fisher notes that this does absolutely group together people with vastly different abilities. Her recommendation to promoters: as the numbers grow, consider splitting it up, for now, keep it simple.
Sharing the joy
Bernstein, Fisher and Albrigtsen have lots of care and compassion to give. Bernstein volunteers his time with the Kelly Brush Foundation which supports para athletes. Fisher offers extensive support to event promoters. Both Bernstien and Fisher are happy to connect with people as they field Instagram messages from athletes and requests to share their experience on various platforms. Albrigtsen is relatively new in the space but is already thinking about how to support curious athletes.
While the vast majority of interactions are positive, Bernstien and Fisher have occasionally felt that race organizers have asked too much with too little compensation. Fisher says, "It's a fine line in this relatively new space. I don't think anybody wants to be tokenized. We want to be seen as valuable and as equal to."
Albrigtsen noted this idea is prevalent in various groups across cycling. As promoters work to open the race to more and more athletes from different backgrounds, there is a need to ask people in those communities for help. It is important to remember when professional athletes are asked to help support an event, it is often part of their job and they are compensated by the event. Asking other athletes to fill this same role should mean they are compensated in a comparable way.
Given the swift growth of gravel and the quick need to adapt to such massive events, race directors are adapting quickly. Gravel is a wholesome, gritty and inspiring place. This is in large part due to the people who show up with different needs, abilities, and experiences. The races that thrive will be the ones with race organizers who are willing to continue learning how they can better include an expanding range of people.
The Future of Gravel
Fisher, Bernstein and Albrigtsen have bright visions for the future of para cycling within gravel. For Fisher, she finds that people around her are often inspired by her athletic feats, especially given her visible physical difference. This gives them an opportunity to look within themselves and continue pushing forward. Fisher, a notably lofty goal-setter, says "I haven't found the ends of my ability yet. I want to keep finding the things I can't do because I probably can actually do them."
When Fisher mentioned this, I remembered her rolling across the finish line as the sun set after completing both the Leadville 100 and SBT GRVL, a total of 260 miles in one weekend. Like I said, a lofty goal-setter.
This mentality practically radiates, bringing people along who share similar doubts paired with similar determination. For Fisher, she wants anyone who is excited to participate to have a spot on the start line.
Albrigtsen has been called a sleeper-badass on numerous occasions. She encompasses a calm confidence that matches her abilities. She is working to meet herself where she is.
"Who am I to be gaslighting myself? You can't do anything if you don't believe you can do it. Why do I need to be my first limiter? I try to really hold true to that idea. I try not to put up the initial roadblock for myself," she shares.
Rounding out our conversation, Albrigtsen also notes a helpful framework that she wishes would percolate through the community:
"With accidents or injuries, there's a lot of rhetoric about 'overcoming' or doing something 'in spite of', or that you have to 'conquer something'. Instead, I have tried to shift to more of a celebratory mindset where I can celebrate this different body or different way of being in the world or different way of moving. I feel like that idea is starting to be acknowledged in the gravel scene and it's a really beautiful thing to be a part of."
Races that currently offer a para category include:
-All Lifetime events (Sea Otter Classic, Unbound Gravel, Crusher in the Tushar, Leadville Race Series, Cheq MTB Fest, Big Sugar Gravel)
-Stetina's Paydirt
-Gravel Worlds
-The Mid South
-Rebecca's Private Idaho
-Rooted Vermont
-The Last Best Ride
-The Rad Dirt
-Grinduro (some locations)
-Belgian Waffle Ride
-Foco Fondo
-SBT GRVL
-Barry Roubaix
- Big Horn Gravel
- Ned Gravel
More resources
Meg Fisher has created an ever evolving guide to support race organizers in implementing para categories. She provides support and offers insight around how to make this goal a reality. For more information, email gomegfisher@gmail.com or follow her on Instagram at @megfisher.
Andrew Bernstein tossed in a huge shoutout to the organizations making big waves in para cycling such as: the Kelly Brush Foundation and the High Fives Foundation.
Johanne Albrigtsen is currently fundraising to participate in the AIDS/Lifecycle, a 545-mile ride from San Francisco to Los Angeles, which raises millions of dollars to support people living with HIV and AIDS. Johanne also recently joined the Best Friend Bike Team. You can follow her at @johanne_johanne on Instagram and she encourages folks to reach out if you'd like to support any of her efforts.
Thank you for reading 20 articles this month* Join now for unlimited access
Enjoy your first month for just £1 / $1 / €1
*Read 5 free articles per month without a subscription
Join now for unlimited access
Try first month for just £1 / $1 / €1
Get The Leadout Newsletter
The latest race content, interviews, features, reviews and expert buying guides, direct to your inbox!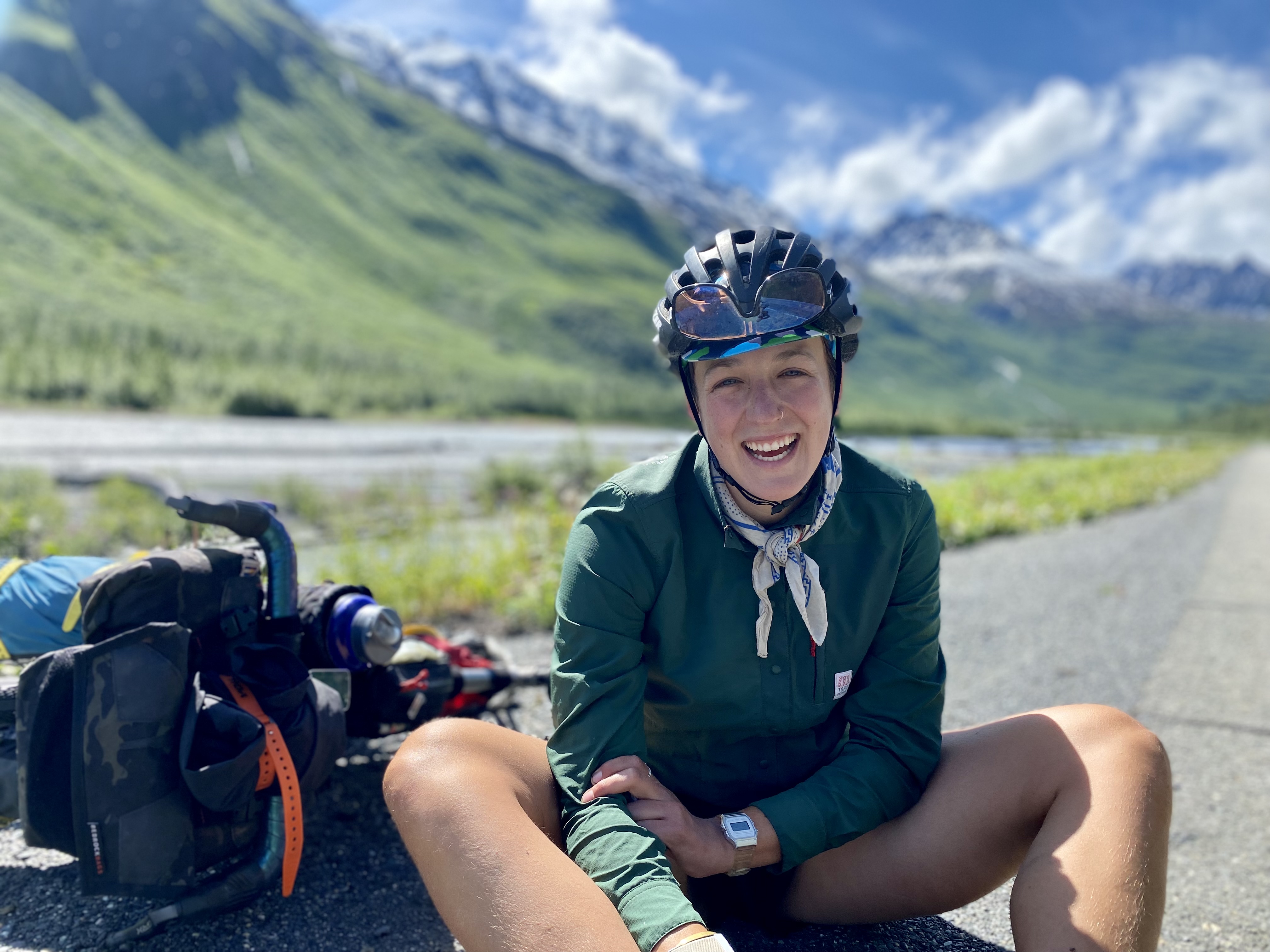 Emily Schaldach has taken to writing and riding, both to near obsession. Her favorite moments are riding above tree-line, racing CX, or coaching high school mountain bikers. Schaldach writes a weekly Substack newsletter called Too Many Socks and has written for VeloNews, Gear Patrol and Experience Life. Schaldach was born in Durango, Colorado and currently lives in Reno, Nevada with her two best friends and big old black lab named Hoola. She races for the BitchnGrit Cycling Team with Firefly Bikes and TenSpeed Hero - creating a dream dynamic of artwork and hardwork on every ride.