Brian Cookson touted as new UCI leader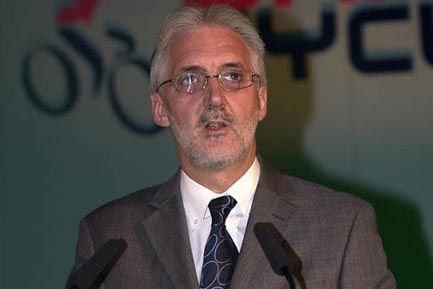 The President of British Cycling, Brian Cookson, has been linked with the position of UCI president as calls intensify for the current head of the world governing body, Pat McQuaid, to resign.
The Press Association today reports that senior figures within the sport and the International Olympic Committee (IOC) believe Cookson could the be person to restore credibility to cycling should McQuaid step down in the wake of the Armstrong scandal.
Members of the IOC have recently demanded McQuaid's resignation after it emerged that the UCI received a $100,000 donation from Armstrong in 2007. The Texan also referred to "shady" dealings with the governing body during his interview with Oprah Winfrey broadcast last week.
"His name is already well-known within the IOC and he would be trusted by the Olympic Movement, given that some people are questioning cycling's future in the Olympics," a senior IOC figure told the Press Association.
Cookson began his role at British Cycling in 1997 and has been credited with helping to turn the organisation around through the World Class Performance Plan. He is currently president of the UCI's Road Commission and sits on the operating board of Tour Racing Ltd, the owners of Team Sky.
Before the Armstrong affair erupted at the end of last year, he told Cycling Weekly that the commitment required to sit at the top of the UCI might put him off the role.
"I don't particularly want to be President of the UCI," he said at the time. "It's an all-consuming job and I'm not sure I particularly want that.
"I wouldn't want to challenge Pat [McQuaid] unless something very drastic happened," he added. "I think in many ways Pat is doing a good job, in many ways he is misunderstood, as is the UCI."
McQuaid took over at the top of the UCI in late 2005 although his predecessor, Hein Verbruggen, remains Honorary President of the organisation.
An independent commission looking into the Armstrong affair was set up by the UCI in the wake of the evidence presented by the United States Anti Doping Agency (USADA), although the World Anti Doping Authority (WADA) recently declared reservations about the impartiality of the commission.
Related links
The Lance Armstrong confession: Part two
Lance Armstrong 'continued to lie' in Oprah interview
WADA chief slams Lance Armstrong interview