British cross worlds team selected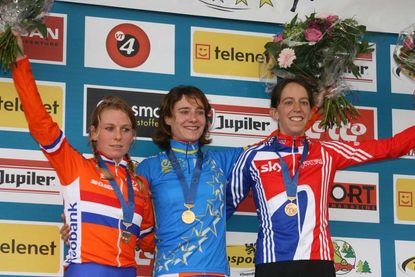 British Cycling has selected the 13 riders that will represent Great Britain at the World Cyclo-Cross Championships in Sankt Wendel, Germany at the end of this month.
Six times national champion Helen Wyman will be Britain's best prospect having enjoyed one of her best cross seasons to date. She'll be looking to improve on her fifth place in 2006. Fellow international regulars Gabby Day and Nikki Harris join her in the women's team.
The three-strong men's team is headed by newly crowned national champion Paul Oldham. Jody Crawforth and Ian Field make up the other two places, the latter having made several strong showings in Europe already this season.
The under-23 team comprises Luke Gray and Kenta Gallagher, while the five-strong junior squad is led by new national champ Hugo Robinson.
The championships take place on January 29-30.
Riders
Elite Male:
Jody Crawforth
Ian Field
Paul Oldham
Elite Female:
Gabby Day
Nikki Harris
Helen Wyman
U23 Male:
Kenta Gallagher
Luke Gray
Junior Men:
Jack Clarkson
Luke Grivell-Mellor
Joe Moses
Hugo Robinson
Ali Slater
Oldham and Wyman clinch 'national cross titles
Thank you for reading 10 articles this month* Join now for unlimited access
Enjoy your first month for just £1 / $1 / €1
*Read 5 free articles per month without a subscription
Join now for unlimited access
Try first month for just £1 / $1 / €1