British Cycling gets £1 million boost to get women cycling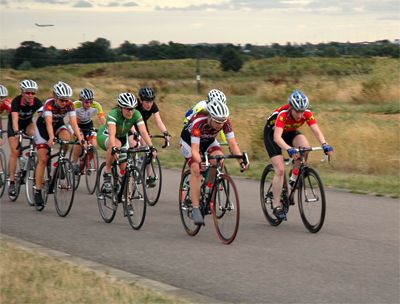 British Cycling has today (Thursday) been awarded almost £1 million to launch a bespoke programme to get 80,000 more women on bikes in 'The National Women's Cycling Network'.
The award is one of 20 made to sports federations by Sport England as part of the government's £10 million Active Women Campaign.
"We are delighted that Sport England has awarded us funding to roll out this ambitious project today," said Ian Drake, BC Chief Executive, at the Nottingham launch of the scheme.
Drake later told Cycling Weekly: "We aim to expand our successful Ride programme by training up female cycling champions as ride leaders. And we will be announcing details of this soon.
"It will help break down barriers to women recreational cycling. It's most exciting for us because it helps us build on the work we are already doing to get people cycling through our Sky rides."
It is hoped that Britain's top women cyclists will inspire other women from all backgrounds and of all abilities to take to two wheels. Currently women's participation lags behind the men in mass participation rides.
BC's target is to get 20,000 women riders cycling once a week.
Sport England revealed that at present one in eight women (2.761 million) regularly take part in sport in England. Although this is an increase over the past five years, there has been a drop in the last two years.
Women's participation remains below the men's figure, which shows one in five (4,176) taking part in sport. Jennie Price, Sport England's Chief Executive, said:
"For many women with children or those managing a tight budget, sport - and time to themselves - can slip down the list of priorities. The projects we're funding today have asked local women what is preventing them from getting involved and what sports interest them, before coming up with an offer that is appealing and accessible."
Today's announcement was welcomed by the Minister for Sport and the Olympics, Hugh Robertson MP and Gail Emms - one of Britain's greatest ever badminton players, who won World Championship Gold and Olympic Silver medals.
Hugh Robertson said: "We have many fantastic female athletes in this country, but not enough women participating at sport's grassroots. More needs to be done to encourage women to participate in sport, particularly those from disadvantaged communities. The £10 million being invested by Sport England will give women the chance to try out new sports as part of a dedicated programme and hopefully keep them in sport in the future."
Gail, who became a mum nine months ago with the arrival of Harry, said: "As a new mum, I know only too well how difficult it can be to make time for yourself and to get out there and play sport. The projects receiving investment from Sport England today will make a big difference because they've really thought through the challenges women face in becoming regular sports participants.
British Cycling has over 35,000 members who have access to a calendar of over 3,500 events across all cycling disciplines. The organisation is co-funded by UK Sport and Sport England. For more information, visit www.britishcycling.org.uk
Thank you for reading 20 articles this month* Join now for unlimited access
Enjoy your first month for just £1 / $1 / €1
*Read 5 free articles per month without a subscription
Join now for unlimited access
Try first month for just £1 / $1 / €1