British Cycling unveils first plans under Shell partnership
Funding pot for clubs that support disabled riders announced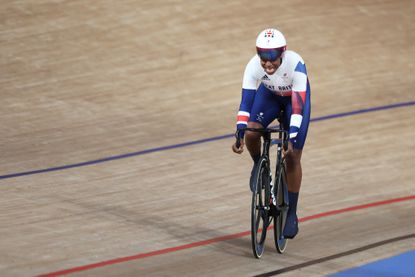 (Image credit: Getty Images)
British Cycling has launched the first part of its partnership with Shell UK, a programme to get more disabled people into cycling.
The programme, called Limitless, aims to provide opportunities for 5,000 disabled riders to participate in club activities and 50 new competitive para-cycling events.
It will also support the development of five riders to represent Great Britain at the 2028 Paralympics.
BC said the programme would be delivered through a national network of 20 clubs that have been accredited for their inclusion commitment. Six of those clubs have been invited to apply for funding for specialist equipment, coaching and events to support disabled riders.
The national governing body declined to reveal, when asked by CW, how much funding was behind the programme, saying only it was its biggest ever investment in disabled people's sport.
The programme represents the first concrete actions under BC's partnership with Shell, which was first announced last autumn.
At that time there was a backlash to the involvement of the oil and gas giant in the sport. Just last month Extinction Rebellion staged a protest at the British Track National Championships in Newport, Wales.
Last week in an exclusive interview with Cycling Weekly, British cycling chair Frank Slevin reiterated that there would be real benefits form the partnership. "It's up to us to prove now that the benefits of the partnership are real. I would say that if we were to do it again, certain aspects of our strategy should have been clearer at the time."
Ahead of the Limitless launch, Danielle Every, British Cycling's acting CEO,said: "We really believe that the Limitless programme can have a truly game-changing impact on access to free, fun and local opportunities nationwide.
"Thanks to the amazing support of our affiliated clubs and volunteers, we now have a wide and growing network of 20 Limitless clubs prepared to welcome new riders of any age or ability, and support them on their cycling journeys.
"With the additional support from Shell UK, we're able to expand the programme and funding available to clubs much more quickly than would otherwise have been possible."
Great Britain Cycling Team world champion para-cyclist Sam Ruddock added: "The Limitless programme is going to provide meaningful and genuinely life-changing experiences for disabled people.
"Anybody of any ability, at any level, can participate through this initiative. Cycling with a club also means you can have fun with friends, which is the reason we all got into the sport in the first place."
The Limitless programme has been in development for two years and was based on research from consultancy CFE Research which recommended investment in the current landscape at all levels as the key to getting more disabled people into the sport.
It particularly recommended tackling regional gaps and strengthening development and training for volunteers and staff.
Thank you for reading 20 articles this month* Join now for unlimited access
Enjoy your first month for just £1 / $1 / €1
*Read 5 free articles per month without a subscription
Join now for unlimited access
Try first month for just £1 / $1 / €1