Exclusive: British Cycling scraps massive growth target
BC chair Slevin abandons goal of 250,000 members by Paris 2024 as he vows to continue in post and get organisation back on track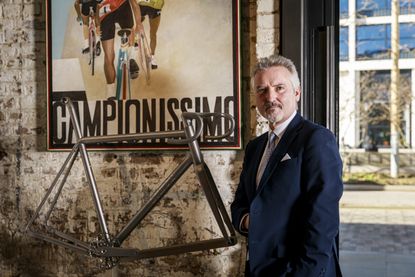 (Image credit: Future)
Get The Leadout Newsletter
The latest race content, interviews, features, reviews and expert buying guides, direct to your inbox!
Thank you for signing up to The Pick. You will receive a verification email shortly.
There was a problem. Please refresh the page and try again.
This interview originally appeared in the 16 February 2023 issue of Cycling Weekly magazine.
British Cycling has scrapped its ambitious target to increase its membership from around 150,000 to 250,000 by the Paris Olympics, as it weathers the effects of the cost of living crisis and the fallout from a year of controversies.
In an exclusive interview with Cycling Weekly, BC chair Frank Slevin said the governing body will now prioritise other things, including the Glasgow World Championships this summer. "I can put down 10 different reasons, including the economic and cost of living situation, why that membership number is not one we should aspire to. I'm realistic and I won't pursue objectives which don't have a foundation that's credible," Slevin said.
"It's much more important that we service the members we've got.
"A lot of our members are not solely racers. There are commuters, people cycling with their kids on weekends, and more. It's important for us to now think about what each subset of that membership group is expecting from British Cycling and what we can deliver," he added. "Those demands and expectations will differ so we need to be focused on a tailored approach, rather than a blanket approach to memberships."
A series of controversies engulfed BC in 2022, including the issuing and suspension of its transgender policy, its sponsorship deal with Shell UK and misplaced guidance to not ride your bike on the day of Queen Elizabeth II's funeral.
Shell fallout
Slevin admitted that BC had made bad calls multiple times in the past year. He said British Cycling had learned lessons from the past 12 months, saying he believed aspects of issues like the eight-year partnership agreed with fossil fuel giant Shell should have been better presented to the public at the time.
"We can't explain to the whole world every single element of a commercial agreement between ourselves and Shell," he said. "It's up to us to prove now that the benefits of the partnership are real. I would say that if we were to do it again, certain aspects of our strategy should have been clearer at the time."
Slevin was recently present in Newport for the British National Track Championships, where an environmental group, Extinction Rebellion, staged a public protest in response to the deal. However, he reiterated to CW that there are "real tangible benefits" to the partnership and called Shell's electrification process "truly staggering".
"We, as a board and as an organisation, have committed to net zero, we've also committed to getting to a sustainable structure, so it would be no surprise that we might look for partnerships in terms of how we deliver that," Slevin said.
"I'm very comfortable that we'll be able to deliver real tangible benefits through this partnership.
"I know there are still people out there who are not happy. Although it's for me, the board and the executive to demonstrate that there was proper purpose in doing this. It isn't just a financial transaction, there will be benefits," he added.
"If we don't deliver those benefits, then you can hold me to account."
In light of the series of controversies, BC membership figures have stagnated. However, the road scene is currently dwindling in the UK and it was recently announced that the National Road Series will shrink for 2023, with the men's schedule going down to just four races.
"I think we have a good plan for the road at the moment," he said. "We've already delivered some of that, including the under-23 National Road Series that's coming up, and we financially supported more than 50 road events last year."
"We're fully aware that there are significant economic and cost of living headwinds at the moment that affect every aspect of organisers' costs as well as that of volunteers, athletes and teams turning up at events," Slevin added. "So we've got to try and help the discipline get through this period."
Slevin noted that the UK road scene is also heavily reliant on public and local government funding and that source of income "isn't what it used to be".
"We need to focus on what we've learned from things like Dumfries and Galloway and combining different road events, and one National Series event," he said.
"There's a little bit of synergy we can have in terms of bringing these together... I think the challenge we face is that as an organisation we have finite resources, and those resources are spread across 10 disciplines."
Top vacancy
One of the biggest challenges faced by British Cycling is replacing former CEO Brian Facer and acting CEO Dani Every, who resigned in quick succession last year. Slevin refused to be drawn on whether appointing Facer – who left by "mutual agreement"– was a mistake and vowed to find a suitable successor to take the organisation forward.
"Whenever you part ways with a member of your leadership team, you're always going to ask yourself as an organisation, 'did we make the right appointment in the first place?' I think that's natural," he said. "I don't dwell on individuals or those circumstances, but do you seek to learn from things that have happened around the organisation? Of course you do that, you should do that."
A figure that the British Cycling board could turn to as they seek to move forward from a difficult 18 months is that of former UCI and British Cycling president Brian Cookson.
However, Cookson has been critical of BC of late, and Slevin in particular, saying he should step down from his role.
Slevin told CW that he feels stepping away as a "passionate cyclist" from what he described as a "dream job" would serve no purpose to anyone. Furthermore, he reiterated that both he and the board remained open to any external advice that would be beneficial to the organisation in the long run.
"I think you need to ask whether a change of leadership at board level is in the best interest of the sport at this moment in time," Slevin said. "I think if you look at the last five years, you'll see where we've come from. What you've got to remember is that we have huge numbers of committed and enthusiastic employees. Now and again, mistakes do get made.
"Take the Queen's funeral guidance and the wording on that," he added. "We issued the guidance, then promptly apologised and said 'sorry, we got this one wrong'. Frankly, I think that's the measure of a well-run organisation, being able to hold your hand up and acknowledge you are wrong and deal with the consequences.
"Brian [Cookson] is entitled to an opinion. I can't stop him from having an opinion. He has an opinion and he's expressed it. I have invited Brian in to have a conversation and my door is always open. So, if at any point he wants to come in and share his wisdom with us, then I'll be delighted to hear it."
Thank you for reading 20 articles this month* Join now for unlimited access
Enjoy your first month for just £1 / $1 / €1
*Read 5 free articles per month without a subscription
Join now for unlimited access
Try first month for just £1 / $1 / €1
Get The Leadout Newsletter
The latest race content, interviews, features, reviews and expert buying guides, direct to your inbox!
Tom is a News and Features Writer at Cycling Weekly, and previously worked in communications at Oxford Brookes University. He has reported from a wide range of races and events including the Tour de France and World Championships.