Bruyneel issues response to USADA doping charges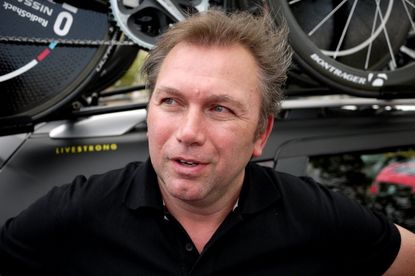 Lance Armstrong's former team manager Johan Bruyneel has issued a statement in response to allegations made by the US Anti-Doping Agency (USADA) on Wednesday that he was part of a programme of organised doping.
USADA issued a 15-page charging letter to Bruyneel, Armstrong and other associates from the pair's former teams alleging that they were involved in organised doping over the period between 1998 and 2011, the year Armstrong retired from professional cycling.
"I am dismayed that once again doping allegations have been raised against me, this time by USADA," Bruyneel wrote on his personal website.
"Following a Department of Justice Grand Jury investigation, no charges were filed against me. It cannot be right that I or anyone else can be pursued from court to court simply because our accusers do not like the decisions made along the way and so attempt to find a court which will get them the result they want."
"I shall of course cooperate fully with the investigation, although I have no doubt the end result will be the same as all the other investigations over the years," he continued.
"I have never participated in any doping activity and I am innocent of all charges."
Armstrong issued his own statement on Wednesday refuting the allegations, and branding the charges as a vendetta against him.
USADA's allegations are based on statements collected from a number of Bruyneel and Armstrong's former team-mates and staff. A large part of the evidence is thought to have been handed over to USADA from the federal investigation into fraud that was brought to a close in February, without charge.
USADA said on Wednesday that it "only initiates matters supported by the evidence. We do not choose whether or not we do our job based on outside pressures, intimidation or for any reason other than the evidence. Our duty on behalf of clean athletes and those that value the integrity of sport is to fairly and thoroughly evaluate all the evidence available and when there is credible evidence of doping, take action under the established rules."
"As in every USADA case, all named individuals are presumed innocent of the allegations unless and until proven otherwise through the established legal process. If a hearing is ultimately held then it is an independent panel of arbitrators, not USADA that determines whether or not these individuals have committed anti-doping rule violations as alleged."
Bruyneel and Armstrong formed a winning partnership on the US Postal and Discovery Channel teams, claiming the Tour de France title on seven occasions between 1999 and 2005.
If USADA's charges stick, Bruyneel may face been banned from involvement with any cycling teams - he is currently manager of the RadioShack-Nissan squad. Armstrong could have all seven of his Tour titles stripped if deemed guilty of doping.
Related links
Armstrong banned from triathlons as new doping charge brought against him
February 4 2012: Armstrong holds off the law
Armstrong case dropped by US investigators
Armstrong investigation arrives in Europe
Armstrong's team mate Popovych testifies he did not witness doping
Armstrong's team-mate Popovych summonsed in doping investigation
Landis admits he doped and implicates others
Thank you for reading 20 articles this month* Join now for unlimited access
Enjoy your first month for just £1 / $1 / €1
*Read 5 free articles per month without a subscription
Join now for unlimited access
Try first month for just £1 / $1 / €1