Build your own pro support team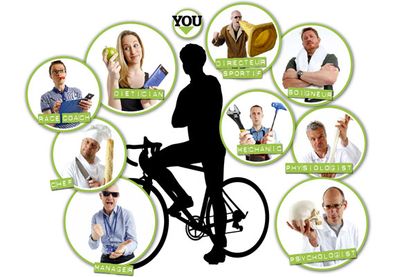 Get The Leadout Newsletter
The latest race content, interviews, features, reviews and expert buying guides, direct to your inbox!
Thank you for signing up to The Pick. You will receive a verification email shortly.
There was a problem. Please refresh the page and try again.
When watching bike racing all we see is the riders, the crashes, punctures, chases, attacks and, for some, the victories. We often don't think of the support team that surrounds every rider in the pro peloton.
Behind every top rider that wins races is not only a group of great team-mates, willing to bury themselves and work for their leader, but a huge support team, too. These unsung members of the riders' support team work tirelessly throughout races and training camps to ensure they get the best results they can from the riders.
While no one can deny the life of a pro is tough, they have little to concentrate on other than training and racing. For the rest of us with busy jobs, families, homes and a social life to look after, cycling is far from being the priority so it is even more important to be organised and make your time count. CW delves into exactly what goes into a world-class support team to allow the riders to focus purely on what they need to do - then we look at how you can replicate it in your own busy life.
Build your own back-up team
Unfortunately for most of us, getting pro-level support when we go to races or events can only be dreamed of. But fear not. Thanks to easy access to information, plus decent organisational skills, you too can copy the support pro riders have to try and achieve your own marginal gains.
Not everyone will need every service; if you struggle with your weight, seek out nutritional advice. If you get injured frequently think bike-fit or massage. Being organised doesn't cost anything, so regardless of budget you can be your own directeur sportif. We look at how to create your own support team so you can minimise pre-event faffing and concentrate on your riding.
Dietician
PRO STYLE
Food is fuel but beyond that manipulations to the diet can help riders to train harder, perform better and recover faster. A team dietician will know the needs of each individual athlete and prescribe different diets for them depending on their goals and training.
A team dietician liaises with the team chef to ensure meals are meeting riders' needs and any nutritional tips and tricks are incorporated into their daily diet.
Team Sky's head of nutrition Nigel Mitchell is involved with developing the team's energy products, planning their meals and even checking their hydration before their races.
DIY SOLUTION
There is a huge amount of information about diet and training out there.
You can do a lot of research but often it is conflicting and even overwhelming. There are many registered dieticians (www.freelancedietitians.org) who will, as a one-off, review your diet and offer advice; then it's up to you to stay on track with an eating plan.
If you use energy products, read the instructions and use them properly. Keeping your own food diary is a simple way of highlighting any issues.
Cost: Approx £60 an hour for an assessment
Racecoach
PRO STYLE
A team's coach has a huge range of responsibilities and will work together with the directeur sportif, the performance coach, physiologist and nutritionist to liaise with the riders in order to modify their race programme and plan team tactics.
They will need to consider lots of aspects of the riders' preparation and wellbeing to ensure they get the best out of them in a variety of situations. From encouraging and supporting them in a race to getting them through a lull in motivation or an injury, the race coach is the human side of sports
physiology.
DIY SOLUTION
Many successful riders plan their own training and will ride their own race without input from a coach, but sometimes it is useful to have someone else to bounce ideas off.
An outsider can be much more objective about your strengths and weaknesses; a trusted fellow racer or club member might well be able to fill the role.
However, don't ask too many people, as conflicting advice and other people's personal opinions can make this confusing.
Take advantage of training events and coached group sessions at recognised cycle facilities or get yourself your own coach (www.britishcycling.org.uk/coachingdirectory).
Cost: £50-£250 per month
CHEF
PRO STYLE
Cooking meals for the riders could be considered one of the most important jobs in a team set-up. Feeding a team is high on the agenda as this is what will get them refuelled and ready to tackle the next day of riding.
Top teams have chefs that ensure riders get all the nutritional goodness they need to refuel properly. Sky's chef, Soren Kristiansen, has created a big name for himself tweeting pictures of the food he serves riders and explaining what they are.
You can see lots of thought goes into his meals so the riders get a wide variety of choices to keep them interested and their appetite healthy.
As riders get tired on stage races their appetites can become suppressed, so extra treats and tempting foods are essential to keep them eating.
DIY SOLUTION
Cooking your own food allows you to know exactly what is going into your body. Planning your meals and snacks for a week can help as you won't overspend when shopping and you can tie that in with your training plan.
Several companies offer home delivery of prepared foods that are calorie and nutrition controlled to meet your training goals. www.myfood.co.uk offers a service for active people as well as weight control and healthy diets.
If you ask really nicely your partner/parent/friends might just cook you a meal while you put your feet up.
Cost: £15-£20 a day
MECHANIC
PRO STYLE
Riders' bikes are the tools of their trade, and at pro level this has a large bearing on performance, so keeping them maintained and working smoothly is vital.
Top riders have lost some of the biggest races due to dropping a chain or jumping gears just at the wrong moment, so there's a lot of pressure on the mechanics to ensure this doesn't happen.
Mechanics often work tirelessly during stage races to clean and fettle the bikes between stages, often carrying on late into the night.
DIY SOLUTION
There are two ways to go about the DIY mechanic - one's true DIY and the other is a little lazier. If you really want to do your own mechanicking the best thing to do is to go on a course to learn how to do it.
If you don't know what you're doing and you begin 'fixing' your bike you can do more harm than good. A course can work out good value as you will rarely have to take your bike to a shop to be fixed.
However if you're a bit lazier you can always go down the shop route. If you become a regular, most good shops will offer a discount for loyalty. But labour is always expensive and sometimes they may not be able to squeeze you in.
Learning the mechanics of your bike and actually doing it yourself would be better too when you're out on a ride, or even when racing, as when something goes wrong you can fix it yourself and not rely on others. Cytech offers a variety of training courses to develop your skills so you aren't as reliant on the bike shop. Go to www.cytech.uk.com.
Cost: Home mechanic training course with Cytech £264
Soigneur
PRO STYLE
The translation of soigneur from French is 'carer' and that's exactly what a soigneur is to his or her riders. They are there for the riders before the race, preparing bottles and musettes, they are the ones that whizz along to the feed zones to hand up bottles and food as the race passes.
Then they are there again, at the finish, cleaning riders' faces down, handing them recovery drinks and extra layers to put on. Then once the riders are back in the hotels, or even before, it's the soigneurs who massage the riders and get their legs prepared for the next day's riding.
DIY SOLUTION
This is another organisational one, preparing your food and drinks the day before a race is crucial as you don't want to be stressing about it on the day.
Know how many bars and gels you will want and have them packed ready to put in your back pocket. If there is a feed zone and you feel you may need it, try and bring a friend or partner along with you to hand you up a bottle, but ensure they know how to feed correctly to avoid accidents.
Post race if you have a helper you can give them a musette with some baby wipes, a recovery drink and a clean dry top to put on and ask them to be at the finish with it.
Getting massages regularly can be expensive, but with foam rollers now so cheap it's easy to give yourself a post or pre-race massage fairly effectively. www.thesma.org.
Cost: Massage from £35 per hour
PHYSIOLOGIST
PRO STYLE
Any victory you see on a bike can be traced chiefly to one thing: training. It is the training and the quality of it that will have the biggest influence on success and failure.
In order to set specific training plans, make certain tweaks, find areas of weakness that need to be worked on or find interventions that cyclists can take advantage of in order to get that edge over a rival, one must invest in a sports physiologist.
These people study the effects exercise is having on the body and how improvements are being made. More often than not, these are the people on the computers studying flow charts and diagrams looking at the numbers.
DIY SOLUTION
Sport science has come a long way in recent years - so much so, that amateur athletes are now able to get themselves tested just like an elite athlete would.
A lot of universities, independent performance businesses and some hospitals offer lab tests which are able to give you a comprehensive overview of your physiological make-up.
Testing includes VO2 max, lactate threshold, body composition, reaction tests and some labs can take muscle biopsies to see how your body utilises fuel.
A useful website is www.bases.org.uk.
Cost: one-off test £150-£200
Psychologist
PRO STYLE
Psychologists have become an integral part of professional set-ups as research shows that psychological skills can be the difference between winning and losing when all else is equal between riders.
Psychologists can help with a number of issues, ranging from boosting a rider's confidence levels to helping them remain calm and not choke during high-pressure situations.
DIY SOLUTION
When it comes down to psychology, if you are going to recruit someone make then sure they are properly qualified.
The whole point of psychology is to get you thinking differently, which results in making better decisions. This is very difficult to do on your own. However, it's not impossible.
There are many books as well as research published which break down sports psychology and some even take you through a step-by-step process to get yourself imagining scenarios, thinking positively and staying calm under pressure.
A good sports psychology book could make all the difference in your riding. Steve Peters's Mind Management: the Chimp Paradox is a good place to start. For registered psychologists, go to www.bps.org.uk.
Cost: From £60 an hour
DIRECTeuR SPORTIF
PRO STYLE
Knowing the course and having a sense of what the team's plan is for each race is so important. Without any information or direction within a team riders can be, quite literally, lost.
On race day the directeur sportif, or DS, calls the shots of who's to do what within the team and explains what the race strategy is. Before the race start they warn riders about obstacles, challenging terrain and often, very vitally, describe the run-in to the finish.
During the race they drive the team's car within the convoy to keep riders updated and give them orders. Almost all DSs are ex-pro riders themselves, and bring their wealth of experience to the role.
DIY SOLUTION
Recceing the course before an event is often very important for racing. Knowing where sharp twists or turns are, or obstacles you'll need to avoid, is vital.
This can be done in a car, but remember to look at road surfaces and try to work out wind direction too, as this is important for correct positioning in the bunch.
If you can't make it out onto the course, study the race profile so you know where the hills are and are prepared. Also, come up with a plan for the race - if you want to attack, know where the best place on the course to do it is.
Looking at the start sheet to see who's riding or getting a friend or clubmate to pass on information from the side of the road can both help.
Cost: Being organised FREE
MANAGER
PRO STYLE
All these different aspects of rider support wouldn't come together without a team manager. Some teams have specific managers for different tasks.
For example, an operations manger organises accommodation and flights, while a public relations manager would liaise with sponsors for promotional work and attends press conferences during large races.
Sir Dave Brailsford, manager of Team Sky, likens himself to a conductor of the orchestra bringing all the pieces of the Sky jigsaw together.
DIY SOLUTION
Having a plan of exactly what events or races you want to do throughout a season is vital when managing your own riding, so set up a calendar so you can see all upcoming events.
If you have to travel, work out timings and allow for delays so you don't turn up tight for time.
If it's really far away, look into booking accommodation for the night before the event nearby - do this early on because if it's a big event other people may have the same idea.
A good coach or clubmate may be able to help you with these aspects.
Cost: FREE
This article was first published in the May 16 issue of Cycling Weekly. Read Cycling Weekly magazine on the day of release where ever you are in the world International digital edition, UK digital edition. And if you like us, rate us!
Thank you for reading 20 articles this month* Join now for unlimited access
Enjoy your first month for just £1 / $1 / €1
*Read 5 free articles per month without a subscription
Join now for unlimited access
Try first month for just £1 / $1 / €1
Get The Leadout Newsletter
The latest race content, interviews, features, reviews and expert buying guides, direct to your inbox!
Founded in 1891, Cycling Weekly and its team of expert journalists brings cyclists in-depth reviews, extensive coverage of both professional and domestic racing, as well as fitness advice and 'brew a cuppa and put your feet up' features. Cycling Weekly serves its audience across a range of platforms, from good old-fashioned print to online journalism, and video.