Charly Wegelius: The Big Interview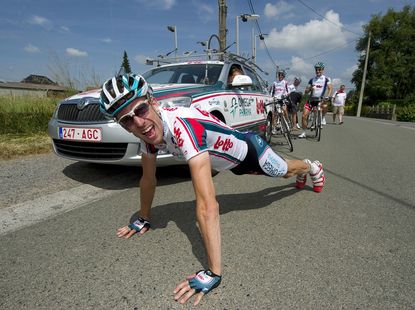 In a revealing interview, Charly Wegelius discusses everything from the hidden attractions of being a domestique to the regrets he has about 'that' World Championships in Madrid, to his return to his roots in Finland and why he has high hopes about his new career.
After a 12-year career in which he became one of Britain's most experienced Grand Tour racers ever and a top climbing domestique, Wegelius hung up his wheels this autumn to become a sports director with Garmin-Cervélo
Cycling Weekly: You're 33, which is quite early to retire. When did your decision to quit finally get taken?
ChW: About February. I thought seriously about stopping last autumn, but with hindsight I'm really glad I didn't because I wouldn't have felt good about it.
But you didn't go public about it, why not?
ChW: No, I told my wife but I really just wanted to concentrate on my last year, do that properly and then think about stuff. Then in June Jonathan Vaughters (Garmin-Cervélo boss) got in touch with me and asked if I'd be interested in being a directeur.
At first, there was a proposal of a lot of days of work, but the deal we've come to where I just do the Italian races is just perfect. I won't be 190 days away from home.
Was it a snap decision?
ChW: Put it this way, 18 months ago I'd have said I'd never do this job. Partly because of the lifestyle and partly because I wanted to do something completely different.
But when you get to the reality of it, this is a way of life I've been in for the last 12 to 15 years, and the reality is getting out of that and being somebody in the real world at 33 is not very viable. So this wasn't a big career plan.
What makes you think you'll be good at it?
ChW: I think I was bad enough as a rider to be a good director! It never came easy from a physical point of view. I know what it's like to dredge around a bit and suffer at races so hopefully that'll help me work with the riders when it isn't so good.
That's the first thing. Secondly I've got good communication skills, a broad range of languages. The thing I'll need to get pinned down is the logistics, dealing with spreadsheets and this and that. The better I can do that, the more time I can dedicate to speaking to people instead of looking around for a piece of paper that I lost.
Were you approached by any other teams?
ChW: No. But I didn't look for them, either.
Where will you be living this year? Still in Italy?
ChW: No. I'll be based in Finland and fly from there. One of the things that used to drive me to distraction as a pro was when people said 'where do you live?' and I wouldn't be able to give a one-word answer, instead of saying well I've got a bit of stuff here and a bit of stuff there and I spend some time here and some time there. At least for the moment we can have our life here - which is about an hour away from Helsinki. My wife can have a life here rather than being on pause.
Have you got dual nationality?
ChW: When I was small you couldn't have dual, but from 2005 it changed, so that's what I'm going to have. I've just made an application for a Finnish passport.
What would you call the low points of your career?
ChW: The haematocrit issue [where in 2003 Wegelius was detected as being over the 50 per cent threshold for haematocrit levels that existed at the time, but then proved successfully, with full recognition from the UCI, that it was caused naturally] I can understand why they had a limit on the haematocrit, but I still ended up paying for it through absolutely no fault of my own.
So that whole experience, I can look back on it for what it was but the reality is that my career could have stopped there in a particularly negative way.
I was 51.4 per cent at the Tour of Lombardy. I was nobody as a cyclist, but even less so then because I was young and just starting my career. And I was just basically out on my ear. I went to Lausanne, paying my own way, to get all the extra tests done. It was pretty scary, to be honest, because I got sacked immediately from my team even though they said there was no wrongdoing on my part.
Since I've had the biological passport I've shown on several occasions how my blood values can be extremely high. In another world that might be called talent. At the time it wasn't. It got fixed in the end but it wasn't fun.
Any others [low points]?
ChW: Madrid. [The 2005 World Championships where Brits Wegelius and Tom Southam chose to ally themselves with the Italian national team]. I regret what happened, I wish it hadn't happened like that, I underestimated how much people care about those things and also the power of live television.
But I also feel a bit disappointed that it was held against me so long, firstly because of the situation I was in that I don't think was particularly easy and secondly because people on the inside of the sport couldn't take the time to maybe try and understand that a bit more.
And also quite frankly if you compare it to the way a lot more serious cases have been dealt with over the years, unrelated incidents, those people did their time and everything was forgiven and forgotten and I was still in the doghouse until the end of my career. So I thought that was a bit unfortunate... although it doesn't change the fact that I did something wrong that day. For the whole of my career I was so bloody sensible and then for one day I wasn't. When people Google my name that's going to be the first thing that comes out.
What about when people say that you never got any individual wins and that you 'only' got team time trial victories?
ChW: Well that pisses me off for a start, the way that everybody puts it, because if you ride a team pursuit at the Olympics you get a medal and everybody thinks you did a great job. But somehow in cycling a team time trial doesn't count and in every one of those time trials I won [one in the Giro and two in Coppi and Bartali] I was always one of the five counting men at the finish. I never missed a turn.
That said, there were days when I could have given the dice a bit more of a roll but I just sat in the group and saved my legs and was 'sensible' because I knew that two or three days down the line I'd have to help a guy who was trying to win the Giro. But maybe being sensible is what kept me in a job for 12 years.
People would ask me if it never bothered me that I had more of a public profile, but it never did, because I knew the value of being appreciated within the work environment. And knowing that the team didn't want to go to this race or that race without me because they knew they've got less chance of winning, that made me feel important.
This article originally appeared in the December 15 2011 issue of Cycling Weekly magazine
Thank you for reading 20 articles this month* Join now for unlimited access
Enjoy your first month for just £1 / $1 / €1
*Read 5 free articles per month without a subscription
Join now for unlimited access
Try first month for just £1 / $1 / €1