Climb your way to more miles: CW5000 May challenges
Two more challenges to inspire your riding through May, both designed to push your riding a little further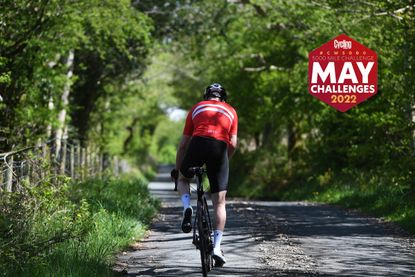 (Image credit: Future / Andy Jones)
We've been quite easy on your so far with plenty of picture and discovery challenges during the first few months of the year, so now it's time to get a bit more serious.
Hopefully your fitness is improving and as the weather improves and the daylight hours extend into the evening, there are more and more opportunities to ride. So this month we have one fitness-based challenge, and one time-based challenge.
Our first challenge is the one that should get your heart rate racing, whereas challenge number two is about a nice long day out in the saddle. Hopefully with the sun on your back.
As ever, we want to know how you took these challenges on. Let us know about them, where you rode and why, and of course we love to see pictures.
You can post this info in the CW5000 Facebook group or email to us at cycling@futurenet.com
1. Improve your VAM
Do you know what your VAM pb is? Well now's the time to find out. Before power metres were so common and w/kg became the performance measure to use, VAM was a popular measurement for climbers. It stands for Vertical Ascent in Metres, and is a simple yet effective way to monitor your climbing ability.
Many GPS computers will measure VAM and even give you a live read out if you set it to do so, but your VAM can also be measured retrospectively. All you need is the vertical ascent of a climb you've ridden (difference between start elevation and end elevation), and your time for that climb.
For this challenge we want you to hit a VAM pb, and you can do so on any climb, and you can chose a peak VAM or your VAM for a whole climb. First you should find your baseline. Find a hill you want to use and go all out on that climb to find your VAM. You can use the whole climb, or just a section of it.
Then, later in the month see if you can beat that number. You can return to the same climb, or use another climb to improve your numbers, it's really up to you.
It's easier to get high VAM numbers during a short effort on a steep climb, but if you don't have any steep climbs near you, you can measure VAM on any climb, and then go back and try and improve that number. It's not about hitting the highest number, it's about improving your VAM.
It's up to you how you take this on, we just want you to get those climbing legs working.
2. Complete a four hour ride
Judging by some of the rides we've seen posted in the Facebook group, this challenge won't prove too taxing for many of you. But long rides can be hard to squeeze into a busy schedule - so for those of you who haven't been clocking up big hours in the saddle, here's the perfect excuse.
Thank you for reading 20 articles this month* Join now for unlimited access
Enjoy your first month for just £1 / $1 / €1
*Read 5 free articles per month without a subscription
Join now for unlimited access
Try first month for just £1 / $1 / €1