Let's end confusion over the interpretation of road racing's rules
The sport's officials are in the spotlight once again, but they need support when interpreting and enforcing race regulations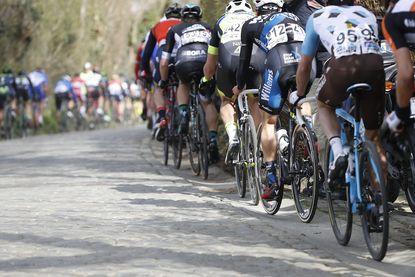 (Image credit: Yuzuru SUNADA)
Get The Leadout Newsletter
The latest race content, interviews, features, reviews and expert buying guides, direct to your inbox!
Thank you for signing up to The Pick. You will receive a verification email shortly.
There was a problem. Please refresh the page and try again.
While the most of the debate about José Joaquín Rojas's pushing of Movistar teammates during the Volta a Catalunya's team time trial focused on whether this amounted to significant assistance or not, the episode also emphasised the ongoing uncertainty officials have in enforcing the rules of the sport.
The UCI's regulations are extensive and quite precise in outlining what is and isn't allowed in racing. However, interpretation of these regulations is anything but.
>>> Movistar say penalty imposed after Catalunya TTT 'sets a dangerous precedent for the future'
When does a bottle become "sticky"? Is drafting behind a team car, even if it's not your own, a legitimate manoeuvre when chasing back on after a flat or a crash? Can riding in the smooth gutter that runs up the edge of a notorious section of cobbles be justified?
The latest infraction involving Rojas that led to three different riders wearing the Volta's green and white leader's jersey, and none of them the right rider if the rules had been been properly applied, brought back a conversation I had with 1987 Tour de France winner Stephen Roche.
The Irishman had been appointed a member of the UCI's Professional Cycling Council by then president Pat McQuaid. Part of the PCC's brief was to discuss the sport's rules and how they should be interpreted.
Roche gave the example of drafting behind a car. He suggested that riders working their way back up through the convoy behind vehicles having collected bottles and handed over unwanted clothing was justified. By doing so, he said, they were negating the need for team cars driving alongside the bunch, creating dangerous situations for riders and fans at the roadside.
Yet, Roche insisted that sitting in behind your team car after a crash or a mechanical should always be treated as infraction of the rules.
"If you're a fan standing at the side of the road and see a car go by at speed with a rider in its slipstream then you're almost bound to wonder why that rider is being allowed to cheat," he said.
"Yes, the rider might have crashed, had a mechanical or some other misfortune, but the fan hasn't seen that. They just see the result of it."
When Romain Bardet and his team director were cast out of Paris-Nice on the opening day having been filmed doing precisely what Roche had said should be proscribed, it seemed that good sense had prevailed. Bardet admitted he had done wrong and brought the sport into disrepute. Other teams took notice of the penalty handed out and many have admitted they've subsequently warned riders and staff not to commit the same offence.
Teams at the Volta have said they will now be giving the same advice to riders about "pushing" each other during team time trials.
As a result, the Rojas affair, which belatedly led to a penalty being imposed and even more belatedly to the right penalty being imposed for that offence, should have the same impact as the penalty handed out to Bardet.
There have been suggestions that picking up these offences is part of a UCI crackdown on rule-breaking. However, there's no evidence to support this claim.
Bardet's offence was blatant and had to be punished, while Rojas's escaped the Volta commissaires' notice until they were made aware of it by BMC and other teams. At the same time, other flagrant breaches have the rules have gone unnoticed, unpunished or, arguably, insufficiently punished.
Watch: Romain Bardet gets disqualified from Paris-Nice
On the same day, Rojas received confirmation of his penalty, the members of the lead group in Dwars door Vlaanderen were pictured lined out in the gutter on the Paterberg.
You could imagine members of the local council wondering why they were investing in the upkeep of the climb's cobbles when riders were doing their utmost to avoid them. Fines have been handed out this season for this offence, but it still occurs. In this instance, teams clearly aren't telling their riders to desist.
Blame for these inconsistencies falls on race commissaires, but like those officiating in any sport they need support rather than vilification, and that should principally come from the UCI and professional teams.
The UCI should be clearly stating which rule infractions they are targeting and setting out how they will be punished. Having been advised on this, the teams should pass that message on to their riders. As a consequence, clarity would replace confusion and inconsistency, and we could all focus on racing rather than the rules.
Thank you for reading 20 articles this month* Join now for unlimited access
Enjoy your first month for just £1 / $1 / €1
*Read 5 free articles per month without a subscription
Join now for unlimited access
Try first month for just £1 / $1 / €1
Get The Leadout Newsletter
The latest race content, interviews, features, reviews and expert buying guides, direct to your inbox!
Peter Cossins has been writing about professional cycling since 1993, with his reporting appearing in numerous publications and websites including Cycling Weekly, Cycle Sport and Procycling - which he edited from 2006 to 2009. Peter is the author of several books on cycling - The Monuments, his history of cycling's five greatest one-day Classic races, was published in 2014, followed in 2015 by Alpe d'Huez, an appraisal of cycling's greatest climb. Yellow Jersey - his celebration of the iconic Tour de France winner's jersey won the 2020 Telegraph Sports Book Awards Cycling Book of the Year Award.