Blog: The highs and blows of riding Ghent's Six Day track
A look at, and ride on, the track that is presently hosting the Ghent Six Day where Sir Bradley Wiggins is riding his final race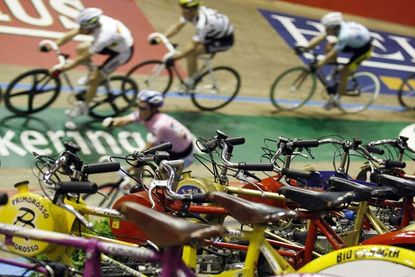 One of the first things I notice before rolling up onto the boards of Ghent's famous 't Kuipke velodrome is just how shonky the so called Cote d'Azur looks
Although on most tracks this smooth, shallow graded, broad, pale blue band serves as a welcoming halfway house between the infield and the serious racing surface, here it is narrow, of a significant slope and overlaid in places by scrappy corners of carpet jutting out from the track's apron.
Ease you onto the track it does not.
It takes me two or three laps of just riding around the inner ring of carpet before I pluck up the courage to bridge straight over the azure strip and climb up onto the finish straight.
I'm not an experienced track rider. And having only previously had tasters on the 250m at Newport and the 200m at the UCI's HQ in Switzerland, 't Kuipke's 166m circumference continues my track record of riding ever smaller venues. Next stop Calshot.
With shorter straights and tighter curves, Ghent's bankings are inevitably steeper and scarier than anything I've ever ridden before.
After bottling it twice, I finally commit to staying on the banking. As any track rider will tell you, it isn't rocket science and you don't actually need that much speed; just a little commitment and self-belief.
Read more: Ghent Six Day and track cycling
Ghent Six Day: Bradley Wiggins and Mark Cavendish sitting third after opening night

Ghent Six Day 2018: everything you need to know

Wiggins and Cavendish not the only favourites for the Ghent Six Day, says defending champion

Icons of cycling: Plum bike shop, Ghent

Track events get major overhaul in new UCI rule change

Loosely translated as the Dish, Het Kuipke is an odd old place. Wedged into a big hall that smells of stale beer on the city's busy ring road, the boards here are used only for the Ghent Six Day event. Across town, a 250m indoor velodrome serves all other local track cycling purposes.
A few laps into my ride on the track I feel my wheel slip as I move up onto the double deck of adverts that run right around the track.
At first I think these have been installed with a dreadful choice of paint. That's until, halfway round - and halfway up - the banking, I realise I'm nursing a rear wheel puncture. Inside, I scream a little.
Somehow I keep the bike upright into the straight, kick back on the fixed gear and descend onto the apron before the banking of the next turn rears up all too quickly again.
Wheel changed, chamois too, I find better traction and quickly get into my stride lapping the thing.
Behind the dernys later that evening, riders will do this in as little as nine seconds. Even at the modest speeds I rack up, swooping down off the banking and round the next tight curve makes for a wonderful cheap thrill.
Under your wheels, the boards creak and groan like an old ship. In places you feel it sinking beneath you. Other spots are just plain rough.
The crudest of the Kuipke's impurities are the cracks of the giant door cut into the banking at one end. During the racing, it's worth spending a motorpaced event or Madison chase sipping on a Primus directly underneath it.
To hear and feel the chaotic action rumbling right above your head is not something you can do at the Tour de France.
As I always have done on my few rides in velodromes, I challenge myself to build up speed then rattle right around the very top of the banking.
My hands sweat at the very thought, but it isn't half terrific fun.
As the world tips up around me, I take a look sideways at what is actually the floor a long way down below.
Thank you for reading 10 articles this month* Join now for unlimited access
Enjoy your first month for just £1 / $1 / €1
*Read 5 free articles per month without a subscription
Join now for unlimited access
Try first month for just £1 / $1 / €1