Coroner tells inquest that pothole caused cyclist's death
An e-bike rider sustained fatal head injuries in June after crashing because he hit a deep pothole in the road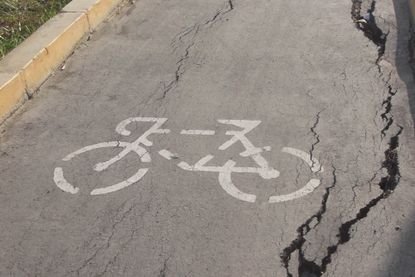 (Image credit: Getty Images)
An inquest has heard that a pothole was responsible for an e-bike rider's death in Ashford, Kent, after the cyclist sustained fatal head injuries by coming off his bike and hitting his head on the road.
The inquest at the coroner's court in Maidstone heard that 22-year-old man Algert Lleshi hit a deep pothole in the road that he couldn't see, causing him to crash on June 2.
Kent Online reported that an eyewitness told the court that the cyclist appeared to swerve side to side, before eventually crashing. The impact from the crashed knocked Algert Lleshi unconscious, but he regained consciousness seven minutes later, at which point two drivers and off-duty nurse had started to treat him.
Lleshi then managed to walk to the ambulance once it had arrived, but he told paramedics that he had a pain in his head. The young man then drifted in and out of consciousness as he was taken to William Harvey Hospital in Willesborough, where he was found to have sustained a traumatic brain injury.
With his condition worsening, doctors transferred him to King's College Hospital in South London for emergency surgery. Algert Lleshi never regained consciousness though despite surgery, and died on June 5, three days after the crash.
An inquest into his death suggested that the pothole likely contributed to the initial accident, with Lleshi unable to see the depth of it due to the time of day.
Assistant coroner Katrina Hepburn said: "It may well have been that the pothole wasn't apparent to him given the time, despite the street lights.
"On balance it seems likely that it was what caused him to lose balance."
Hepburn concluded the inquest by passing on a tribute to Lleshi's family.
She said: "I would like to pass on my sincere condolences."
Following the tragic accident, the pothole in Ashford had been filled in almost immediately.
Thank you for reading 20 articles this month* Join now for unlimited access
Enjoy your first month for just £1 / $1 / €1
*Read 5 free articles per month without a subscription
Join now for unlimited access
Try first month for just £1 / $1 / €1