Cows are statistically more deadly to walkers than cyclists are to pedestrians
Cows have killed 74 people in a five year span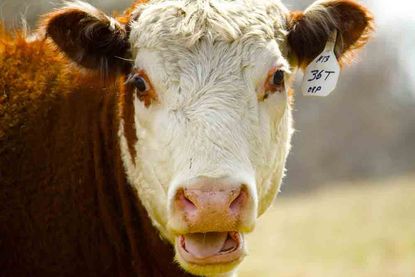 Cows may be statistically more dangerous to walkers than cyclists.
The comparison has been highlighted following a tweet issued by the Conservative Party, about cracking down on "dangerous cycling."
According to figures from the Health and Safety Executive (HSE), the one tonne animals killed 74 people within a five year span - 18 of whom were walkers whilst 56 worked on farms.
Comparatively, figures show that three pedestrians died following collisions with cyclists in 2016.
In its since deleted tweet, the Conservative Party commented: "We're launching a consultation into dangerous cycling so that our most vulnerable road users are protected."
The plan to crack down on dangerous cycling includes a consultation into introducing a new offence for cyclists, equivalent to causing death by dangerous driving.
Proposals, published by the Department for Transport (DfT) on Sunday, also include measures to improve infrastructure for cyclists and walkers, with an end goal of encouraging active commutes.
Walking and cycling minister, Jesse Norman has apologised for the message put out on Twitter, stating "it did not reflect either this set of policy announcements or the very careful work the Government has done to improve road safety for all users, including cyclists. On behalf of all involved, I would like to apologise."
In the last decade, 99.4 per cent of all pedestrian deaths have involved a motor vehicle.
Cyclists across the country have taken to Twitter to vent their frustration, with Crystal Palace based bike shop Cadence Performance pointing out the comparison.
Of those killed by cows between 2010 and 2015, 56 were farm workers. Of the other 18 killed, all were on public footpaths or commonly used rights of way.
Ten of the incidents involved cows with calves, and all but one of the members of the public was accompanied by a dog.
Thank you for reading 5 articles this month* Join now for unlimited access
Enjoy your first month for just £1 / $1 / €1
*Read 5 free articles per month without a subscription
Join now for unlimited access
Try first month for just £1 / $1 / €1