Cycle accidents: (not) getting some answers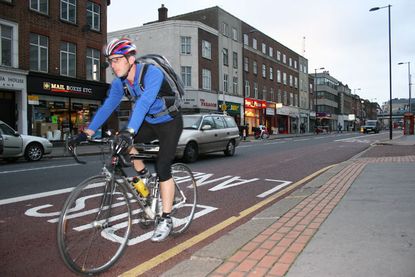 The news that representatives from British Cycling, CTC and RoadPeace recently met justice minister Helen Grant to talk about sentencing of drivers responsible for injuring cyclists was of particular interest to Cycling Weekly reader Andrew Martin.
Mr Martin, of Nottingham-based cycle campaign Pedals, last year started his own campaign to see what could be done by national bodies - including the Department for Justice - to make the roads safer for cyclists.
"Following two fatal accidents in Nottinghamshire in the space of a week in September 2011, and with serious injuries and deaths having such a high social and financial cost, I decided to find out if there was any more that any of the major statutory bodies could do to help protect cyclists or deter drivers from driving dangerously," Mr Martin said.
"So in last September I wrote to Nottingham North MP Graham Allen, Nottinghamshire Police, the Driving Standards Agency, the Department for Transport, the Department of Health, the Crown Prosecution Service, the Ministry of Justice and the Institute of Highway Incorporated Engineers - who actually design the roads - asking what could be done."
How did they respond?
MP Graham Allen replied saying that if Mr Martin had any difficulty receiving a reply from any of the agencies, he would be happy to chase them on his behalf.
Notts Police said its 2010 records for incidents involving bicycles and cycle casualties showed a 33 per cent drop compared with the 1994-1998 average. It also said in 2011 it had organised an online survey completed by 456 cyclists, and - as we have come to expect in Nottinghamshire - it had given out 100 high-viz backpacks and 10 £50 vouchers for new helmets, and it had made a car sticker saying 'Give Cyclists Space'.
The Driving Standards Agency said that it couldn't comment in relation to cyclists and road traffic collisions because it didn't have the necessary details, but the Highway Code and other DSA material has always highlighted the need to treat vulnerable road users such as cyclists with extra care.
The Department for Transport responded by saying it had set up the Cycling Stakeholder Forum, which was considering ways to make cycling and the perception of cycling safer.
The Department of Health felt it was a matter for the Department for Transport.
The Crown Prosecution Service replied saying it was not directly involved in the development of road safety policy, which is the responsibility of the Ministry of Justice.
And as for the Ministry of Justice? Well, that organisation along with the Institute of Highway Incorporated Engineers never actually sent a reply.
Mr Martin wasn't overwhelmed with the responses. "The reaction was quite poor really. One of my main concerns was about the penalties for drivers who have been found guilty of injuring cyclists through careless or dangerous driving. But I still haven't even had a reply from the Ministry of Justice, which is the most disappointing thing."
Sample of Andrew Martin's original letter
Reply from Notts Police
Reply from Graham Allen MP
Reply from CPS
Reply from Driving Standards Agency
Reply from Department of Health
Reply from Department for transport
Andrew Martin's thus far unanswered letter to the Ministry of Justice
Related links
Nottinghamshire: The most dangerous county in Britain?
Thank you for reading 10 articles this month* Join now for unlimited access
Enjoy your first month for just £1 / $1 / €1
*Read 5 free articles per month without a subscription
Join now for unlimited access
Try first month for just £1 / $1 / €1