Cycle deaths in Nottinghamshire: Lilian Greenwood MP Q&A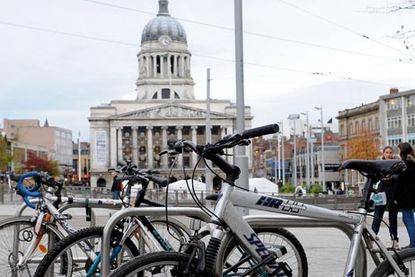 Following our investigation into the high number of cycle deaths in Nottinghamshire last year we contacted Nottingham South MP Lilian Greenwood.
Greenwood not only has direct experience of roads in the area but until last week she was shadow minister with responsibility for local and regional transport, and in charge of forging Labour party policy for cycling.
Greenwood, who was elected to parliament at the 2010 general election, is now in charge of Labour's rail strategy.
CW: What is your experience of cycling in Nottinghamshire?
LG: I should point out first of all that my constituency doesn't actually cover Nottinghamshire. Mine is entirely within the boundaries of Nottingham City.
But my experience of cycling in Nottingham is that there are some really good off-road cycling provisions, although people still face the daily pressure of there being quite fast-moving traffic and it's quite clear that car drivers sometimes haven't seen you.
I cycle a lot when I'm in London. I'm a commuter cyclist in London, I'm more of a leisure cyclist at home, and I think the biggest difference is the sheer number of cyclists in London. Although there has been a big increase in cycling in Nottingham City, we're not getting the weight of numbers you see in London.
As an MP, how much effect can you have on your region, especially on an issue like road safety, which is largely controlled by councils?
LG: You're a conduit for people's concerns, so if a constituent raises an issue with you, then you can raise that directly with the relevant local authority. As a shadow transport minister - and particularly because Nottingham has a strong history of supporting sustainable transport both in terms of public transport and cycling - I have regular meetings with Nottingham City Council. So if I was spotting changes in people's experiences of the roads then that provides a regular opportunity for me to talk with Nottingham City Council about what's going on.
When the Times campaign started, a number of people contacted me with concerns about particular junctions or stretches of road in Nottingham. I raised those issues with the city council and they looked into them. I'm sure they would have done that anyway, but sometimes people feel it carries a bit more weight if the MP is on their side.
In opposition, how can you have an effect on national cycling policy?
LG: There are two aspects to that. One is holding the government to account in relation to their policies. We have been concerned about things like the scrapping of Cycling England; the cutting back of funds that were available for promoting active travel, including cycling and walking; and the way in which they have scrapped targets for road safety - which is particularly worrying since we have seen an upturn in the number of road deaths and serious injuries. The other part of my [former] role is also thinking about Labour's future policy direction and developing our proposals for when we get back into government.
So what do you think the government should be doing?
LG: One of the things that really worries me with the high-profile accidents we saw at the end of last year - like Bradley Wiggins's - is people becoming more anxious about cycling and starting to think cycling is a dangerous activity, when in fact cycling is a very healthy activity. So we need to be making it easier and safer for people to get on their bikes. Some of that is about investing in infrastructure so that people can get to work and have somewhere to lock their bikes, and we can encourage employers to install showers and changing facilities.
But we've also seen in Nottinghamshire that of the seven cyclist deaths in 2012, three were caused by heavy goods vehicles. Those were experienced cyclists on busy roads and I'm sure they would have been visible and safety conscious, but a helmet isn't going to help you if you're hit by an HGV. Blind spots can be a real problem but safety measures can be installed onto HGV vehicles so that their drivers are more aware of other road users. However, the current government has decided to introduce even longer HGVs, which increases the risk. We don't think they should have done that.
In short, the Times has set out its plan to make cities safer for cycling and we fully support that manifesto and think the government should too.
In reality, what sort of constraints are all governments under?
LG: When we're hopefully back in government the biggest restraint we're going to face is about what resources we have available. What we saw in the Chancellor's Autumn Statement was a government desperate to kick-start growth in the economy and agreeing major road infrastructure schemes to that end. But perhaps if they took a more strategic approach they would think about the balance between roads and public transport and active transport, and look at the best overall approach. That might mean looking across departments because cycling isn't just a transport issue; it's important from a health perspective too. I think you have to have those links across departments so that you can join up initiatives.
When do you judge it's necessary to compel people to do things, and when is encouragement enough?
LG: Generally people don't like to be compelled to do things - they like to be encouraged. In the case of cycling and making more active choices, I think people want to do them but we need to create the environment in which they feel they can make that choice.
In the case of helmet compulsion, I do wear one when I'm cycling, but the statistics show that where countries or states have introduced compulsory helmet laws the number of people cycling has fallen significantly. That means it's having entirely the opposite effect to the one you want. So you need to look at what the impact is going to be and there's a very practical evidence-based reason for not introducing helmet compulsion.
We always hear about the motor industry having a big influence over government policy - does it really, and how does it exert that influence?
LG: As a shadow transport minister I am always getting a number of different interest groups and stakeholders wanting to talk to me and give their side of the story. You want to listen to all voices but equally you want to be conscious of what angle everybody is coming from.
I'm not sure I would feel that I was more influenced by one group or another. In fact, in relation to cycling I've certainly had a lot more contact and more sit-down meetings with cycling groups - I don't think I've actually had any meeting with what you might say is the motoring lobby.
What practical changes can you see for cycling in the next few years?
LG: I think one of the biggest changes that we're going to see is the extension of 20mph zones in residential and built-up areas. I think it will have a huge benefit for cyclists and pedestrians and actually wider benefits for the community. People will be out walking more because they'll feel safer, so they'll be talking to each other more, they'll use local shops more. It could even help generate a better sense of community.
Before the last election we saw pictures of David Cameron cycling but we don't think we've ever seen any of the shadow cabinet on a bike.
LG: [laughs] Well, I have seen members of the shadow cabinet on their bikes. Mary Creagh [shadow minister for environment, food and rural affairs] is a keen cyclist; a number of them are. Somebody asked me for a picture of me on my bike the other day and I realised I didn't have one either. I'll have to get that sorted!
This article originally appeared in the Janury 17 2013 issue of Cycling Weekly magazine.
Related links
Nottinghamshire: The most dangerous county in Britain?
Thank you for reading 20 articles this month* Join now for unlimited access
Enjoy your first month for just £1 / $1 / €1
*Read 5 free articles per month without a subscription
Join now for unlimited access
Try first month for just £1 / $1 / €1