Cycling moves higher up British political agenda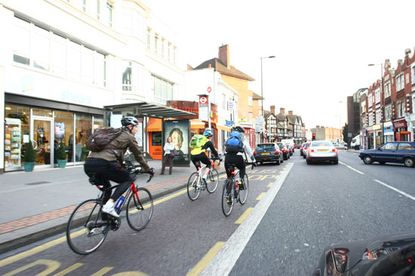 Yesterday's Commons debate has edged cycling onto the political agenda, with Labour and the Lib Dems both set to include cycling in their 2015 manifestos, leaving only the Conservatives to follow suit.
There was unanimous cross-party support for last night's Get Britain Cycling motion, for a target of 10% of all journeys to be by bike by 2020, and 25% by 2050, strong political leadership, an annual cycle action plan and sustained funding.
Maria Eagle MP, Labour's shadow secretary of state for transport, came up with an impressive political commitment to cycling with an eight point plan, meanwhile criticising the abolition of Cycling England and the axing of targets to cut deaths and serious injuries on the roads.
She said: " This summer we heard the long-awaited promise that axed funding for cycling would be restored, but headlines about the figure of £148 million turned out to be spin. The reality is an average of just £38 million a year until 2016, with the rest to be found by local authorities, which is a third less than the previous Government's investment. With only one tenth of the population benefiting, that is simply too little, too late, after three wasted years."
The Lib Dem's Julian Huppert MP, chair of the All Party Parliamentary Cycling Group, promised Get Britain Cycling will be debated at this Autumn's conference, with an aim to adapting it as part of the Lib Dem manifesto.
Jason Torrance said: "Political parties are starting to vie for who has the best sustainable transport policy and I think if we get to that point then that is a really great step forward. I suppose the important thing with yesterday is with 5000 people outside last night and MPs debating cycling in the chamber we really saw the arrival of the cycling vote."
MPs came to last night's debate having been urged by constituents to do so, with safety concerns about their local areas. There was cross-party support for, among other measures, the £10 per head budget for cycling.
Cross-party support works wonders for infrastructure pledges. HS2 has cross-party support, while the Local Sustainable Transport Fund was a manifesto pledge of both the Conservative and Lib Dem parties, with just over half a billion pounds pledged over five years for walking and cycling projects.
We have also seen cycling become an election promise before. In London's 2012 mayoral elections, all major candidates signed London Cycling Campaign's pledge to "Go Dutch" in the capital with cycling facilities on a par with the Netherlands, recognising cycling's importance to voters. Now London has the country's boldest cycling plans.
There is much to be done in central government and both Sustrans' Jason Torrance and CTC's Roger Geffen say there is a lot of work to do, not least in promoting cross-party collaboration, but both remain optimistic that politicians are beginning to wake up to the power of the cycling vote.
We've certainly come a long way from that time the cycling minister Norman Baker said we will never be like the Netherlands.
Labour's proposals are as follows:
1. To end stop-start funding. Annual budgets for rail and road are set out until 2021 where cycling only has one-off funding for three years. Infrastructure must be good quality, and include measures like segregated lanes and head start traffic light phases for cyclists.
2. That new transport schemes will have a cycle safety assessment before being given the green light, with enforceable design standards to ensure compliance.
3. National targets to cut deaths and serious injuries should be restored, with new targets to increase cycling levels.
4. To extend Wales' successful Active Travel Bill to England, setting out duties to local authorities to deliver and support cycling.
5. To reinstate school travel plans and Bikeability funding.
6. That employers should do more to provide showers and changing facilities at work, and public transport providers should make it easier to travel with a bike.
7. That justice is done where collisions lead to deaths and serious injuries of cyclists, and the sentencing review of the justice system needs to be a comprehensive one.
8. To take action on dangerous HGVs, including city-centre lorry bans and improving safety measures on all HGVs.
Related links
MPs from all parties support action to Get Britain Cycling
Government responds to Get Britain Cycling report
Government cycle funding: How will it be spent?
Remove barriers to Get Britain Cycling, say MPs in new report
What is 'Get Britain Cycling'?
Thank you for reading 10 articles this month* Join now for unlimited access
Enjoy your first month for just £1 / $1 / €1
*Read 5 free articles per month without a subscription
Join now for unlimited access
Try first month for just £1 / $1 / €1