Cycling in Valais: where to ride in the Swiss haven
Valais, is a mountainous area in the south-west of Switzerland, lying north of Italy's Aosta Valley and south-west of the French Rhône-Alpes. It is a region of majestic mountain peaks and sprawling vineyards, perfect for a variety of road cycling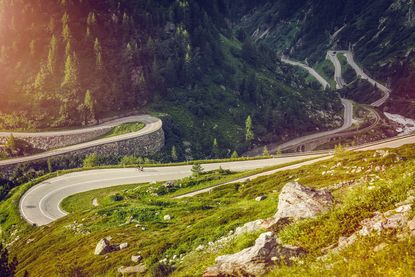 In partnership with Valais/Wallis Promotion
A region of dramatic contrasts, from its majestic 4,000 metre mountain summits, to its gentle valleys, rich with vineyards, Valais is a fascinating area to explore by road bike. Its natural terrain feels handcrafted for cycling with over 740km of beautiful roads and 20 mountain passes to discover. At the end of a satisfying day in the saddle you will receive a warm welcome at any one of its 70 bike-friendly hotels.
A playground for cyclists of all levels and disciplines, you can take your pick from low-level, easy spins along valley roads or pit your fitness against some of the most fearsome climbs in Switzerland. The legendary Grimsel Pass, Furka Pass, Nufenen Pass and Grand St Bernard are all in this region.
Seven of Valais's 20 mountain passes are over 2,000m high. Many of these passes have been made famous by the Tour de Suisse, and the Tour de France most recently visited Valais in 2016.
Steve Morabito, of Groupama–FDJ, one of Switzerland's most successful professional cyclists, lives and trains in Valais for the range of terrain and its excellent climbing.
An easier, but no less scenic ride, is the Route du Rhône alongside the Rhône river, or the Chemin du Vignoble, the road through the vineyards, for a chance to see a different aspect to this varied region.
After a tough day of cycling, the gastronomy of Valais is a welcome reward. Pair its famous Raclette du Valais AOP, a rich dish of melted cheese, potatoes and pickles, with a board of traditional Valais plate and toast your day's success with one of the many local wines.
As Switzerland's number one wine region, boasting over 50 different grape varieties and the highest continuous vineyards in Europe, at 1,150m, the wines from this region are truly exceptional.
Another treat for tired legs, and the perfect way to recover after your exertions, is a trip to the thermal baths that bubble up from deep beneath the Valais mountains. The thermal water relaxes the muscles, stimulates the circulation, and its mineral content alleviates chronic joint pain. Lie back in the hot spa water and look up at the Valais mountain scenery while planning your next day of riding.
While there's more than enough road riding to keep you entertained, if you wanted to mix up your activities or try something different you're in the right place. This is one of the world's most spectacular playgrounds, with 1,500km of off-road trails, more hiking trails than you can imagine, and plenty more extreme or sedate outdoor activities.
And all this is just a short hop away. Travelling to Valais from the UK could not be easier and with a number of bike shops in the area offering hire of high-end machines it is possible to visit unencumbered by your bike box.
Four must-do activities in Valais
1 Valais Cycling Tour
Whether you opt for a guided or self-supported trip this epic route of 740km, covering 18,500m of climbing over 25 mountain passes is sure to be a challenge you remember. It can be completed in anywhere between seven and 14 days and is split into 10 individual stages, all on peaceful, low traffic roads, with numerous accommodation options along the way.
2 Cyclosportive des Vins du Valais
Now in its seventh consecutive year this event is always held on August 1 and celebrates two of the greatest pleasures of this region; wine and cycling. There are three timed courses, 98km, 130km and 138km with a maximum altitude of 2,350m. A total of 1,200 participants ride the winding roads between the vines before tackling the steeper challenges of the mountains.
3 Tour des Stations Look Marmotte Ultrafondo
New to the calendar in 2018 this event is part of the legendary Look Marmotte Granfondo Series. The new Ultrafondo format is the ultimate road cycling challenge, covering 7,400 metres of climbing in 220km. Also run on the same day is the Look Marmotte Gran Fondo Valais, a more traditional sportive distance of 130km with 4,500 metres of climbing.
4 Tour de Suisse
For an opportunity to watch professional racing, as well as enjoying your own cycling in the Valais region, time your visit to coincide with the Tour de Suisse. Taking place in late June this race is traditionally a proving ground for riders preparing for the Tour de France. Goms, in the upper Valais region, is already confirmed as a stage start and finish in 2019.
Thank you for reading 20 articles this month* Join now for unlimited access
Enjoy your first month for just £1 / $1 / €1
*Read 5 free articles per month without a subscription
Join now for unlimited access
Try first month for just £1 / $1 / €1