Dashcam footage shows cyclist knocked from his bike by car at junction in Bristol
Both the cyclist and driver ran red lights, according to a witness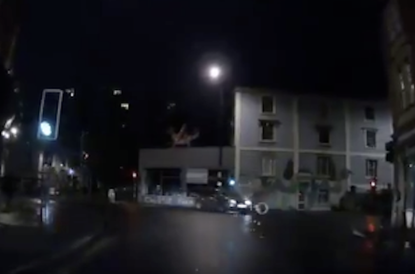 Dashcam footage has emerged showing the moment a cyclist was thrown from his bike after being hit by a car in Bristol.
The night-time incident happened in the Stokes Croft area of the city, and footage of the crash was posted online by a witness.
According to Martin James Cox, who posted the video on Twitter last month, both the driver and the cyclist apparently ran a red light.
As the witness approaches a green light at the three way junction, the cyclist and driver can be seen travelling towards each other in opposite directions.
The car then turns right and collides with the cyclist who is thrown to the floor, landing heavily.
Footage shows the collision from the dashcam of the car approaching the junction.
One of the occupants of the witness's car can be heard saying "oh my god" at the moment of the crash.
Someone then rushes over to the cyclist, who is picking themselves up from the floor before walking out of the road.
It's not clear if the driver of the car stopped after the crash.
The witness posted on Twitter: "Car and cyclist collide after both jumping a red light in Stokes Croft.
"Could've been a lot worse."
Another shocking video emerged on Monday from Australia, showing the moment a driver hit a cyclist while swerving into a cycle lane.
Footage of that incident was posted online by the Australian Cycle Alliance, showing an SUV driver hitting a cyclist who is riding in the lane.
Video of the incident in Melbourne was captured on the dashcam of a vehicle behind, showing the driver sideswiping the cyclist and knocking him to the ground.
Thank you for reading 20 articles this month* Join now for unlimited access
Enjoy your first month for just £1 / $1 / €1
*Read 5 free articles per month without a subscription
Join now for unlimited access
Try first month for just £1 / $1 / €1