Shocking video shows driver hitting cyclist after swerving across the road
Reports say the driver was fined $1,000 for 'reckless driving'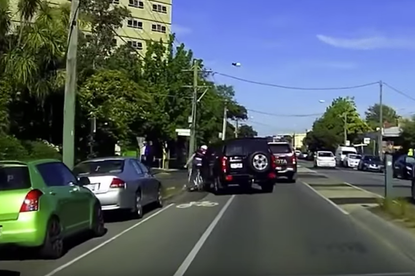 A shocking video has emerged of a driver hitting a cyclist while veering across the road in Australia.
Footage was posted online by the Australian Cycle Alliance organisation, and it shows an SUV driver hitting a cyclist who is travelling in a cycle lane.
The incident happened in November 2017, according to the alliance, but the owner of the video has only recently posted online.
Video of the incident in Melbourne was captured on the dashcam of a vehicle behind, showing the driver sideswiping the cyclist and knocking him to the ground.
The cyclist is forced into the curb and falls heavily.
He gets up holding his shoulder.
>>> Cyclist left with broken spine after being 'rugby tackled' by angry driver
The driver then gets out of the vehicle and appears to shout at the cyclist, pointing down the road, before moving the cyclist's bike.
Reports say the driver was charged with 'reckless driving causing injury' and was fined $1,000 (around £560).
The Australian Cycle Alliance, who shared the video on Facebook on Sunday, said: "There is nothing that can justify this type of driving.
"There is no reason, no law, no level of acceptance we can have that could possibly justify the actions of this driver.
"There is nothing anyone can say, nothing anyone can suggest that makes this driving acceptable."
The video has been viewed on YouTube more than 60,000 times since it was first uploaded on Saturday.
Team Sunweb rider Michael Matthews has also responded to the video, saying: "Come on Australia this is not on. That is a human on that bike."
Thank you for reading 20 articles this month* Join now for unlimited access
Enjoy your first month for just £1 / $1 / €1
*Read 5 free articles per month without a subscription
Join now for unlimited access
Try first month for just £1 / $1 / €1