Out on the road with David Millar & Michael Barry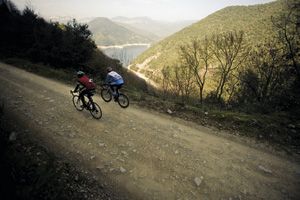 (Image credit: Richard Baybutt)
"The Grand Tours bear little resemblance to how they were 20 years ago"
David Millar and Michael Barry are two of the most articulate and reflective professional cyclists. Both are unashamed racing traditionalists, and both are racing aesthetes, with strong opinions on how cycling should be. Cycle Sport followed them out for a spin, then listened as they stopped for a coffee and a chat.
Cycle Sport: You two have a reputation for being sensitive to the aesthetic side of racing.
David Millar: We were talking about this the other day. I got an email from Michael, saying, check this out. It was a YouTube clip of Francesco Moser when he won Roubaix as the Italian champion. It was beautiful. He had a stunning position. He came into the velodrome, and he just kept it going, all the way to the finish line.
Michael Barry: His bike floats underneath him.
DM: In A Sunday in Hell, you can see the breaks being caught. The camera sits with the last two guys, they're either side of the pavé, really struggling. Then Moser comes through the middle, flying between them, floating over the pavé, as world champion. Not a spot on him. Everyone else was covered in dirt. It's the against the odds stuff I like. Remember when Kelly beat Argentin in Milan-San Remo? You've got that helicopter shot coming down the Poggio. Through the corners, and he's kicking out, a massive sprint out of each corner. He was the has-been, old King Kelly. Toe clips. Horrible great helmet on. But in that moment, for those five kilometres, he was the Kelly of old, when he was 27 or 28 and number one in the world for five years straight.
When you're racing, does it ever feel how that looks?
DM: Not really, no.
MB: Cycling has become somewhat formulaic and predictable. When you see a ride like Dave did in the Tour last year at Barcelona, it's really nice to see. It was one of the highlights of a very boring Tour de France. It's good when guys do emotional things in a race, or something out of the ordinary.
DM: Michael and I like panache. Racing for the sake of racing. Everything is so clinical these days. We got into the sport at a time when there was a lot of romance in it. Futile attacks, occasionally, done for emotion, sometimes play out and end in a win. My move in Barcelona was a stupid, emotionally-based attack that ended up going almost to the line. Without race radios, I might have won that day.
MB: You would have won.
Has cycling lost something that it will never get back?
MB: It can get it back. Just get rid of the radios. The problem within the peloton is that the younger generation just listen to what the director says, they don't think for themselves so much on the bike. We learned to ride with the old guys who didn't use radios. In '96, I was just starting and it was Steve Bauer's last year. He could really read a race. We were in the hotel together the night before a race and he said, 'Michael, do you think I can win tomorrow?' I was 20 years old, he was 36. I thought, of course you can win. I idolise you and you're my hero! The next day, with 20km to go, he hit out by himself. There was a climb, then a descent to the finish, and these days, it would be a field sprint for sure. It wasn't a hard climb, but he held off the peloton by five seconds. He knew his body that well.
He'd say to me, 'Mike, the break is going to go right now, go to the front.'
He was one of those guys who knew that the first 50 attacks wouldn't work, then he'd know exactly the right break to go with. Thanks to that, I can read a race. Other riders rely on radios.
DM: When you watch a race, you want to believe that riders can stay away in a break. That's what is exciting. It does still happen, like with Contador in the last stage of Paris-Nice [2009]. He'd been humiliated the day before. He got the hunger knock and blew his nuts off. Lost the jersey and was lying third or fourth. Tragedy. I said, 'Watch Alberto go tomorrow.' First mountain. Nobody believed me. I said, 'He will, he will — it's Alberto.' First mountain, he went, from the bottom. That's old school. His team didn't set him up, he just went. There were still 100km to go. He attacked the whole peloton. And he was still away at the end, four riders.
What were the first images of cycling that stayed with you?
DM: Indurain. The first time I watched the Tour de France I saw shots of him climbing. I remember the day Poli won, over the Ventoux. The last three kilometres, you had a beautiful shot, the helicopter was parallel with the road, and you had Indurain sitting there at the head of the group. Indurain was the last of the great chivalrous champions. Chivalry in cycling died with Indurain's retirement. He never said a bad word. He let people win, without saying a word about it. He didn't win a mountain stage in any of the years he was winning the Tour, which says it all.
I loved Indurain, and Fondriest. Fondriest was on of those old, purely aesthetic racers, so classy on a bike. Shoes clean. Gear perfectly fitted. Custom jackets that were tight round the body — you'd get a lot of guys wearing thermal tops that were quite baggy. Fondriest was never baggy. He had three positions — on the tops, on the hoods, on the drops — which never deviated. To me he epitomised what cycling was about. Class. Cycling is a lot about aesthetics. It's a beautiful, stylised sport.
Are you two the peloton weirdos? Are you the only two who think like this?
DM: We're probably the two who talk about it the most.
MB: Some guys know nothing of the history of the sport. And there are other guys who really appreciate it. I had a DVD of the Giro, the 1976 Giro. I'd pull it out and watch it in the evening during races. Mark Cavendish was really into it. He's always watching cycling stuff on his computer.
When you watch old cycling DVDs, do you empathise much?
DM: The Grand Tours bear little resemblance to how they were 20 years ago. It's a different sport. They were overgeared. They used to ride up the climbs in huge gears. All of us train on compacts, on 27s around here. [Paul] Kimmage told me they raced the Tour on 42x21 in his day. No wonder they were going slow. Technology and training methods have developed, but we've been doing essentially the same races for 100 years. But I read Tommy Simpson's book recently, and he was talking about attacking Classics from the gun. And standing a chance of winning. That was a tactic. There were such disparate levels within the races that if one of the big strong guys decided to go early, the race was going to be destroyed. When Eddy Merckx decided to go to the front, the bunch got strung out, then blown to pieces. Nobody can do that now.Then it got more team-orientated and professional. We do the same races, but the tactics have changed.
What can you learn from the old guys?
DM: They were hard bastards. In the 1960s and 1970s, when it was on the cusp of going from being a small sport to a big sport, they were still making no money, doing the same distance races as we do, washing their own kit, going straight to a crit afterwards to make their money. It was a horrible life.
MB: There's all this technology in cycling now, but the core of cycling still remains what it was 20 or 40 years ago. The essence is the same.
Race radios and controlling tactics don't help sponsors. It broadens uncertainty, whereas team managers want to be certain of winning.
MB: But it does help, because racing would be more interesting, and more people would watch. Right now, when you watch a Tour stage, if there are 90km to go, you can walk away and come back with 200 metres to go, and you know what the result is going to be. It has become tedious. When you have teams like Astana and Columbia controlling the entire race, not to criticise them, but it's a stranglehold. Cycling will benefit if they open it up again. Look at the Under-23 World Championships — extremely exciting races. You see chases, attacks, all over.
DM: Before radios, you'd watch, but you'd be part of the race. Now it feels like you're watching something you are completely separate from.
Thank you for reading 20 articles this month* Join now for unlimited access
Enjoy your first month for just £1 / $1 / €1
*Read 5 free articles per month without a subscription
Join now for unlimited access
Try first month for just £1 / $1 / €1