DfT cycle safety campaign launced in five cities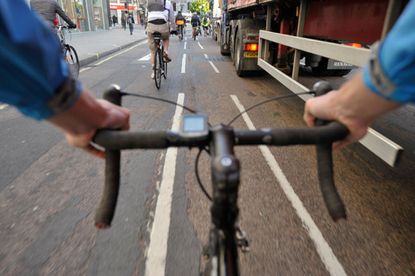 A campaign to raise awareness around cycle safety was yesterday rolled out to five UK cities following an increase in serious injuries and fatalities among cyclists.
Started in London, Think!, a partnership between the Department for Transport and Transport for London, will run in Leeds, Manchester, Bristol, Birmingham and Cambridge for four weeks from 21st October.
The campaign, which uses posters to encourage drivers and cyclists to look out for each other, including how to avoid dooring, was praised by cycle campaigners including British Cycling, for its balance.
British Cycling's Campaigns Manager, Martin Key, said: "British Cycling has long championed the need for a driver and cyclist awareness campaign.
"It is vital when talking about safety on the roads that we don't get a 'them and us' mentality emerging between drivers and cyclists.
"We are all road users and I hope that this campaign can help foster mutual respect between everyone who uses the roads to make journeys safer, more pleasant experiences.
"We hope it will not be long before this media campaign is launched nationwide."
As well as advising cyclists to ride wide of parked car doors, Think! reminds drivers to look out for cyclists when getting out of their cars, tells cyclists to "take the lane" on narrow roads and drivers to give cyclists room at junctions.
In 2012 the number of cyclists killed in Great Britain rose to 118 from 107 in 2011 at a time when other road casualties declined. The five cities were chosen because they have the highest accident rates outside of London.
New Roads Minister, Robert Goodwill, said: "This campaign aims to make motorists aware of the need to look out for cyclists, ensuring they take extra care when turning at junctions, for example, and encourages cyclists to think about the dangers that they could be unaware of when they are riding."
However, the matter of enforcement of road user behaviour still looms large as Sara Dowling, of road crash victim support charity RoadPeace, points out.
She said: "While educational campaigns are great they should always be part of wider campaigns around traffic law enforcement and a proper post-crash response by the criminal justice system."
Thank you for reading 20 articles this month* Join now for unlimited access
Enjoy your first month for just £1 / $1 / €1
*Read 5 free articles per month without a subscription
Join now for unlimited access
Try first month for just £1 / $1 / €1