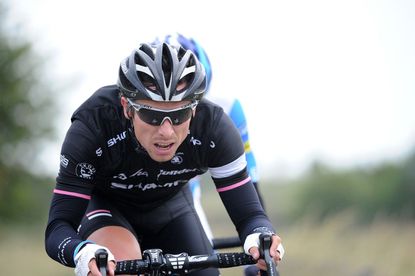 Just three days after getting back to riding his bike, Dean Downing (Rapha Condor Sharp) has had what he describes as another 'freak accident' whilst on training camp in Lanzarote.
Riding at the back of the bunch yesterday at 50kmph, Downing's tyre blew and threw him onto the road.
Team manager John Herety wrote on Twitter: "One of those bottom of the stomach sick feelings today, visions of a riders career ending, thankfully not the case, broken skin, not bones."
Downing himself seemed less shaken by the incident, posting images of his shredded bib-shorts on Twitter himself.
"It was that quick, I didn't realise," he told CW. "The bike spun me around and sat me down on the ground and I skidded along."
"John [Herety] thinks I'm lucky. When you react to things like that you oversteer which can send you over the handlebars which would've been disastrous."
"It scared me a bit, but John was behind and it scared him a bit more!"
Downing has spent the last month off the bike after breaking his collar-bone in December. Fortunately the crash has not affected his recovery and he was out riding again today.
"Its better on the bike than off!" he added. "We've got another week here and its god to get to know some of the younger riders coming into the team. I'll be looking to bounce back - quite literally!"
Related links
Dean Downing: Rider Profile
Rapha-Condor-Sharp change direction for 2012
Downings' third Out of the Saddle evening a success
External links
Thank you for reading 5 articles this month* Join now for unlimited access
Enjoy your first month for just £1 / $1 / €1
*Read 5 free articles per month without a subscription
Join now for unlimited access
Try first month for just £1 / $1 / €1
Richard Abraham is an award-winning writer, based in New Zealand. He has reported from major sporting events including the Tour de France and Olympic Games, and is also a part-time travel guide who has delivered luxury cycle tours and events across Europe. In 2019 he was awarded Writer of the Year at the PPA Awards.