Downings' Out of the Saddle evening hailed a success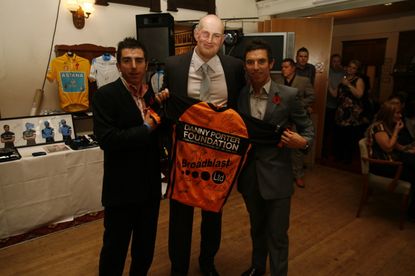 The Downing brothers hosted a fantastic evening of charity fundraising for the Danny Porter Foundation at Sitwell Park Golf Club in Rotherham on Saturday November 6.
Team Sky's Russell Downing and Rapha Condor Sharp's Dean Downing joined host David Harmon in a night of story telling, raffles and charity auctions that entertained 180 guests. That morning, Russell and Dean also accompanied 50 others in a popular but chilly ride around the fantastic South Yorkshire roads.
Spirits were high as money rolled in during the evening for the Danny Porter Foundation, which raises money to support cancer and neuro care.
In total, the auction raised over £4,000 for the charity. Items included a signed Alberto Contador yellow jersey, a Team Sky jersey signed by the team, Mark Cavendish's HTC-Columbia kit, a limited edition signed Dean Downing Bike Pure print, Rapha Condor Sharp clothing as well as a host of hard-to-get items sourced by the Downings' professional contacts.
The raffle also proved popular that night, with the top prize being a top of the range LCD TV, donated by Sharp.
"What a night! It was an absolutely fantastic evening out, everyone was really enjoying themselves," said Dean Downing.
A sell-out night at the Sitwell Park Golf Club
The Danny Porter Foundation will provide donations and grants to other charities providing research, support, care and equipment to people suffering from cancer and/or requiring neurological surgery.
Through this support they hope to be able to help with the journey that cancer patients have to undergo and also advance the quest to cure cancer and also to help keep up with the very latest advances in neurological care.
Dean Downing continued: "It's a really important cause and we decided to support a local charity this year, the messages sent out were really touching and I think that reflected with people putting their hands in their pockets."
UK professional riders Kristian House, Malcolm Elliott, Adam Blythe, Lizzie Armitstead, Chris Walker, Graham Briggs and Tom Murray and Rapha Condor Sharp's DS John Herety were present enjoying themselves in the off-season.
More information on the Danny Porter Foundation, as well as event information is available from: http://www.dannyporterfoundation.org
Thank you for reading 20 articles this month* Join now for unlimited access
Enjoy your first month for just £1 / $1 / €1
*Read 5 free articles per month without a subscription
Join now for unlimited access
Try first month for just £1 / $1 / €1