Dr Hutch: Motor-doping isn't rife, there's no way cyclists would use it discreetly enough
Some fans think that motor-doping is rife, but Cycling Weekly's columnist Dr Hutch is having none of it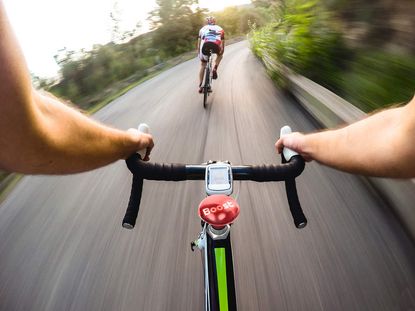 (Image credit: Shutterstock)
It's not surprising that the dominance of Jumbo-Visma at the men's Vuelta produced some mutterings about motor-doping. After all, it's cycling's favourite conspiracy theory. It's got a pleasing element of Wacky Races. It's easy to understand. Evidence for its existence is easy to claim ("Hey, look, that guy's going faster than that one!") and all but impossible to disprove.
Even if the UCI could prove it doesn't exist (which it can't), we can always pivot on the spot and claim motor-doping never existed in the first place and the UCI has wasted thousands of Swiss francs on electromagnetically sensitive iPads. It's an allegation with something for everyone.
I've discussed it with WorldTour team staffers, some of whom are convinced that at the very least one or two of the early allegations were not totally fanciful, and point to a proven case, involving cyclo-crosser Femke Van den Driessche in 2015. I've talked to UCI commissaires who assure me their x-ray machines would find the motors if they were there, and the whole thing has been hyped up by the media.
I'm sceptical about whether it exists in top level riding, but it's got nothing to do with x-ray machines. It's just that we aren't clever enough. It would require a degree of restraint of which cyclists, as a group, are incapable. I'll tell you what I'd do in a bike race if I had a magic button that made my bike go faster. I'd press it. I'd press it a lot. So would you.
Look at some race scenarios. A rival attacks. You go after them, but you haven't quite got the legs and the elastic starts to get very thin. What do you do? That's right, the button.
Or there's a slackening off in pace just before the steep bit. There's an opportunity to attack, but you need to make it stick first time or you're screwed when the road goes up again. If that's not button time I don't know what is.
You're struggling to hold the wheel in a crosswind. You're fighting to hold the front group on the final climb. You're trying to get back to the bunch after a badly timed puncture. Button, button and button.
It's not as if current e-bike riders are blushingly modest. Any bike lane around here features a teenager on a fatbike doing 40mph. Pro racing would be the same.
The only thing that stopped this sort of thing in the heyday of EPO and blood doping was that those practices still relied on physiology. An EPO'd up rider in 2004 was a much-enhanced athlete, but at least they were not an actual machine. Even so, there were a few piss-take moments that a lot of us can remember.
There are only a few ways I can think of that would make motor-doping work. One is if the button is in the team car, where the sort of detached perspective needed to avoid totally giving the game away might be possible to achieve. But if that was the case the riders would long ago have invented a hand gesture for angrily demanding extra watts from the car.
The other solution I can think of is to not give riders too much with which to give the game away. If the battery was from a TV remote and the motor from a model train, for instance. That would be impossible to detect, but only because the bike wouldn't actually go any faster.
Of course, none of this proves that motor-doping doesn't exist. It might be entirely rampant – right now there might be hotel owners all over Glasgow trying to work out why their electricity bills during the Worlds were so enormous.
But if that is the case we can console ourselves with this: at least it will prove that we're a lot smarter than I think we are.
Thank you for reading 20 articles this month* Join now for unlimited access
Enjoy your first month for just £1 / $1 / €1
*Read 5 free articles per month without a subscription
Join now for unlimited access
Try first month for just £1 / $1 / €1