Dr Hutch: Pick your ride mates wisely, or endure the consequences
Any mismatch in ability or intention will guarantee that one or both of you suffer, counsels Dr Hutch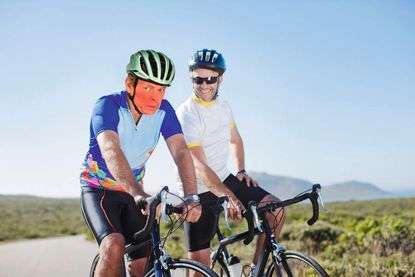 (Image credit: Getty Images/Future)
Get The Leadout Newsletter
The latest race content, interviews, features, reviews and expert buying guides, direct to your inbox!
Thank you for signing up to The Pick. You will receive a verification email shortly.
There was a problem. Please refresh the page and try again.
One of cycling's great pleasures is simply going for a ride with someone else. It's everything – a bit of training, a chance to see the countryside, a bit of conversation, a tiny bit of competition. When people in old magazines wrote about the companionship of the wheel, they meant this.
If you don't believe me, consider how the pleasure of the act can outweigh the personality of your companion. I think most of us have enjoyed a ride with someone who, in any other circumstances, we'd have a very strong urge to whack with a track pump and bury in a shallow grave. I name no names.
But it can be hard to find the right rider, looking for the same sort of ride. A few years ago I went to the Alps with a colleague during the Tour de France, to do some reporting and make a few videos. We took bikes, with a view to recceing the next day's stage and posting some previews. I wasn't all that long retired from serious racing and still reckoned I was rather useful.
My colleague duly kicked me from one end of the Alps to another. I spent four days looking at his back wheel and thinking, "How the hell is he doing this?" A few bemused enquiries when I got home revealed he'd spent two seasons in France with some good amateur teams. I had no idea.
On the other hand, a ride with a different colleague went the other way entirely. Whippet thin, he couldn't have looked more like a climber if he'd had horns and a goatee. In the event I had to push him up so many hills he ended up with a hand-shaped bruise on his lower back as if he'd been touched by an evil spirit. By the day's end I wouldn't have minded if that had been the case.
Or the expectations of the ride can be mismatched. I once rode with a recently retired ex-pro, famous for a hard-core approach to training. I was so apprehensive that I tapered for the ride. In reality he wanted to doodle around Sussex, and chat about bike races from long ago. It was delightful.
On the other hand, I once did a guest ride at a "casual" event run by a corporate lawyer and spent the day with city boys demanding I ride at 400 watts so they could see if they could keep up.
It's not even easy to work this out in advance. A mutually agreed speed is vague. "We'll ride steady," they'll say. Then they turn up and they ride rock-solid steady, just that they do it at 45 kph for hours on end while you sit on their wheel like a hostage.
Yet I suspect the most common problem of all is the hardest to solve. That's the mutually-assured-destruction ride – because you don't know each other's riding, both of you end up riding a little faster than you want to.
You do this in the full certainly that the speed you're riding and the duration you have planned are two things that can't be reconciled. But every tiny, inadvertent acceleration has a ratchet effect. So you ride side-by-side, both with a thinks-bubble that says, "God, I wish they'd slow down just a little."
In time, with a couple of rides together, this will normally sort itself out. When it doesn't, the results are very entertaining. I have two friends who work in the same office, and go for a lunchtime ride two or three times a week.
They've been doing this for years. Yet just a few weeks ago, I was chatting to one of them who said, "God, he gives me a total hammering every time. No let up, just drives the pace on and on."
And his riding companion said almost exactly the same thing. I didn't tell either of them.
Thank you for reading 20 articles this month* Join now for unlimited access
Enjoy your first month for just £1 / $1 / €1
*Read 5 free articles per month without a subscription
Join now for unlimited access
Try first month for just £1 / $1 / €1
Get The Leadout Newsletter
The latest race content, interviews, features, reviews and expert buying guides, direct to your inbox!
Michael Hutchinson is a writer, journalist and former professional cyclist. As a rider he won multiple national titles in both Britain and Ireland and competed at the World Championships and the Commonwealth Games. He was a three-time Brompton folding-bike World Champion, and once hit 73 mph riding down a hill in Wales. His Dr Hutch columns appears in every issue of Cycling Weekly magazine