Dr Hutch: The competitive instinct still runs deep
Why we cyclists put ourselves in the middle of a Venn diagram between competitiveness and stupidity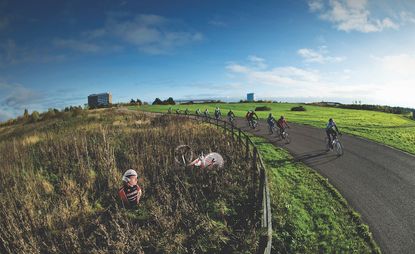 (Image credit: Future / Roo Fowler / Mike Prior)
One of my regular training sessions used to be the Tuesday crit league at Hillingdon in London. It took more than an hour to get there, and to get back, and depending on the available daylight, the race might only be forty-five minutes. But in terms of reducing myself to a trembling wreck, and making sure that when I went to bed that night I'd lie awake for an hour with burning legs and a spinning head, there was nothing like it.
>>>>Read Dr Hutch every week in Cycling Weekly magazine (opens in new tab)
Even with most of three hours getting there and back it was more time-efficient than anything I could do on a turbo trainer. The races might be short, but they would run at an intensity that was indistinguishable from mass panic.
That's because that sort of race exists in the intersection of a Venn diagram between "competitiveness" and "stupidity". It's the same phenomenon as the all too frequent days when I've been riding with my friend Bernard and a local chaingang has gone past in the opposite direction. Invariably he pulls a U-turn, and takes off in pursuit. A few seconds later I do the same to try to catch him, and there we are, like an idiot dog chasing another idiot dog who's chasing a whole pack of idiot dogs.
If Bernard's racing career saw the same effort put into attacking that he'll put into trying to chase back on, he'd have been Jens Voigt. The only time I ever have the slightest trouble catching him is when he is trying to catch something else, however vainly. I used to see the same at the Hillingdon crits from the under-12 riders – if they were dropped in their race they'd keep chasing not only after hope had gone, but after the race had finished. The commissaires used to have to stop them with nets, because if they hadn't they'd still have been going the following morning.
That's the same instinct that made the races I did such a work-out. As a certified non-sprinter (at some GB Cycling Team testing I was the second-worst sprinter they'd ever tested) I was unlikely to win, or to even finish above mid-table, but as soon as the race started I was desperate to at least stay in the fight.
I might have been in the bunch rather than chasing behind, but that was just a technicality. I had just as little prospect of success.
That the competitive instinct runs this deep is almost a cruel joke. At an early season time trial I went to a few years ago, the organisers cancelled the event immediately after the very first rider had started.
Someone chased after him and told him, but he didn't care. He belted round flat-out in the increasing snow. When he finished he didn't seem to mind at all that he hadn't even been in a race. He'd had nothing to chase and nothing to win, but when someone said "go" a primeval bit of his brain had fizzed into action and made him ride full-on for an hour.
I get the same thing now on Zwift. I'll ride till I vomit just to keep the avatar of a random Canadian calling himself something like "I.Piggypiggy44" in sight up a climb that doesn't exist, in an imaginary world dreamed up by a ten-year-old. This sort of instinctive behaviour might have helped my ancestors stay motivated to keep chasing the mammoth. In the 21st Century it just makes me embarrassed for myself.
Although not as embarrassed as I was one night at Hillingdon when I rode straight on at a corner because I was too busy breathing out of my ears to look where I was going and crashed into a bush. I just hid there till it was dark. There were one or two juniors still going when I left, but I don't think they saw me.
Dr Hutch writes for Cycling Weekly every week. To read more of his columns you can subscribe via Magazines Direct, save on the cover price and get the magazine delivered to your door. (opens in new tab)
Thank you for reading 10 articles this month* Join now for unlimited access
Enjoy your first month for just £1 / $1 / €1
*Read 5 free articles per month without a subscription
Join now for unlimited access
Try first month for just £1 / $1 / €1
Michael Hutchinson is a writer, journalist and former professional cyclist. As a rider he won multiple national titles in both Britain and Ireland and competed at the World Championships and the Commonwealth Games. He was a three-time Brompton folding-bike World Champion, and once hit 73 mph riding down a hill in Wales. His Dr Hutch columns appears in every issue of Cycling Weekly magazine