Emma Pooley calls for women's Tour de France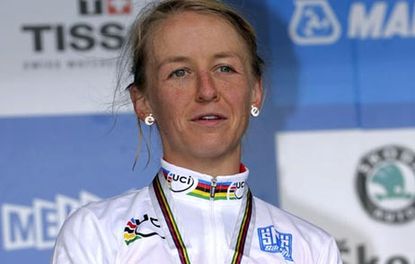 Emma Pooley has called for a women's Tour de France to be held alongside the men's race when it comes to Yorkshire next year, believing a women's Tour is the 'only real hope' she can see for her sport.
"I think Cycling Weekly should start a petition or a campaign to have a women's Tour de France in 2014," she said last week. "It's starting in the UK and I can't believe that Yorkshire doesn't want Lizzie Armitstead riding in the Tour de France.
"If you could just persuade the Tour de France organisers to have a women's race, even if it was just half the length, it would make an unbelievable difference to women's sport," she added.
Welcome to Yorkshire, the organisation behind the winning bid for the 2014 Grand Depart, declined to comment on the prospects of a women's race and Tour organiser ASO did not respond when contacted by CW.
Pooley was speaking from Benidorm where she was making a return to full training, having spent the winter at home in Zurich working solely on completing her PhD. The academic work is almost done, but the lack of winter training means she will race a lighter schedule in 2013 with her new, Switzerland-based Bigla team. However, the break has meant she has gone from questioning her future in the sport, as she did at the end of last season, to feeling reinvigorated by riding again
"Obviously I wish I'd won the Olympics, and the world championships, and everything else in between," she joked wryly about what, at the time, felt like a disappointing 2012. "I was worried that I wasn't at the right level...but looking back on last year the only thing I regret is that I didn't enjoy it more because I was so worried about performing."
Pooley will start her 2013 season with a few amateur races in Switzerland before racing the Gracia Orlova stage race in Czech Republic on April 24.
"I feel surprisingly good on the bike but I don't know how well I'm going because I still don't have a power meter," she said. "Jonathan Vaughters, if he's listening, I'd really like him to finally give me my power meter that was in my contract two years ago!"
Pooley will skip the Giro Donne, where she finished second last year, her season's goal will be September's world championships in Florence and a return to the top of the sport in 2014.
"I think I'll take a multi-pronged approach to the Worlds really," she explained, "because 'eggs in one basket' doesn't work for the road race, unless you're Marianne Vos.
"I don't think it will be a problem for next year to step back up again, so I think it was the perfect time to have a year with a bit less pressure and a lower level of performance."
Simon Cope, head of Great Britain's women's road team, thinks Pooley will be ready for the Worlds when they start on September 22.
"She just needs to get this PhD finished otherwise she'll never get it done!" he said. "I'm confident she'll keep herself fit. She's back, and back on the up. She is up for it."
Pooley's PhD
Pooley, E. (2013) "Centrifuge modelling to compare ground improvement techniques on double porosity soil."
This article originally appeared in the March 7 2013 issue of Cycling Weekly magazine
Related links
Emma Pooley attacks cycling's sexism
Emma Pooley: Rider profile
Thank you for reading 10 articles this month* Join now for unlimited access
Enjoy your first month for just £1 / $1 / €1
*Read 5 free articles per month without a subscription
Join now for unlimited access
Try first month for just £1 / $1 / €1
Richard Abraham is an award-winning writer, based in New Zealand. He has reported from major sporting events including the Tour de France and Olympic Games, and is also a part-time travel guide who has delivered luxury cycle tours and events across Europe. In 2019 he was awarded Writer of the Year at the PPA Awards.