Emma Pooley: CW's Top British Rider of 2010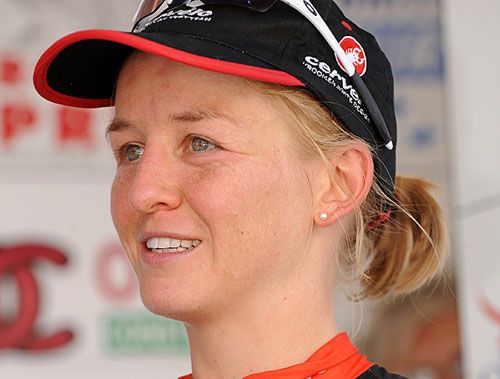 When you consider that Mark Cavendish won five stages of the Tour de France, it has taken a special season by a remarkable rider to pip him to the title of Cycling Weekly's British Rider of the Year.
Step forward Emma Pooley. The uniquely self-depreciating Pooley deserves all the plaudits that have come her way. That she has been recognised by the nation's sportswriters is peculiar considering how little oxygen her achievements have been allowed in the newspapers.
But her season hasn't just been impressive by cycling's standards. She is one of Britain's top performing sports people on the world stage.
The World Championship time trial win was the outstanding result, of course, but it has been a season punctuated by major victories all the way through.
Back in the spring, she tamed the Mur de Huy. She exorcised her demons at the Tour de l'Aude, a race that held bad memories from a couple of years ago. Pooley won both the road race and time trial national titles.
And then, when given the opportunity to win a rainbow jersey, she took it with open arms.
Her performance a few days later in the road race showed just what an incredible climber she is. There is no one in the world quite like her - either male or female. Watching them on the hill in Geelong made you think that if there was some way to increase the gradient by another two or three percent, Pooley would be able to open more of a gap on her rivals.
Tactically she has had to adapt and evolve and become more aware. The slightly naïve rider of a couple of years ago who felt she had to ride on the front all the time and took the descents in first position to keep out of any trouble has matured. Her rivals will not let her hit them early, as she has done in the past, so she has had to solve the problem of her lack of a sprint finish in more creative ways.
And it has worked. In terms of strike rate, Pooley has won a staggering number of races. A world title, two national titles, two World Cup wins and a major stage race, Pooley has shown her versatility despite being a specific type of rider.
Emma Pooley: World time trial champion 2010
EMMA POOLEY ON HER INCREDIBLE YEAR
"I've had to be a bit smarter this year. I can't win races by surprise attacking with 40 kilometres to go because the other riders expect it. Even attacking from the start doesn't work anymore, since winning at Montreal [where she attacked after 400 metres and soloed to victory in 2009].
"When I'd won Flèche Wallonne and the Tour de l'Aude, I was thinking 'actually, that's my two targets for the year: bingo!' But actually, once the pressure is off, it's almost easier because then you just try to race well.
"I was most pleased with the World Championships time trial in Geelong. That's really special, it's something that is the pinnacle of what I hoped I could possibly ever achieve, so to win it is a bit of a surprise but a nice one.
"The Tour de l'Aude was such a fantastic team effort and I had such amazing support. I really felt like I was winning it for everyone and they all believed in me too. I was actually pretty emotional at the end because I was so relieved I didn't crash or lose a lot of time.
"Two years ago I rode the Tour de l'Aude with the national team and got time cut on the eighth stage. I had horrible memories of that race - hated it for two years - so it was a nice kind of revenge.
"It was nice to win the National Championships. I really didn't expect to. I thought I had to get away on the hill and I just couldn't. Nicole Cooke stuck to me like a limpet and was racing really well. After that I thought I'd lost my shot. However, I was a bit upset she challenged the result as I don't think I raced in an unfair way. I don't think I'll win it again, though.
"I've been lucky, you have to not get injured or ill or crash. You have to have a good team so I would so I've had a good year but I think it's not 'my' year. In a time trial you are on your own but all the other races I've been backed up by a really good team."
Pooley wins GP Plouay in British national champion's colours
SIX GREAT DAYS
April 24 - Flèche Wallonne
If there is a hill made for Emma Pooley, the Mur de Huy is it. Super steep and long enough for her to make the most of her sublime climbing ability. No one could match her that day.
May 21 - Tour de l'Aude stage seven
An astonishing Pooley-esque day. Already in the leader's jersey, she got clear with Mara Abbott and they put more than two mintues into the field. Pooley won the stage and ended the day almost five minutes up overall.
June 27 - National Road Race Championship
A hilly course offered Pooley what may be a rare chance to win the national title. A crash on the opening lap meant the race was cut to just 48 kilometres. Cervélo had strength in depth and Pooley, Lizzie Armitstead and Sharon Laws were able to nullify Nicole Cooke.
August 21 - Grand Prix Plouay
They should rename it the Grand Prix Pooley after her second successive win. The rolling course in Brittany offered plenty scope for her to turn the screw. In a group of four with a lap to go, she attacked on every hill to shake them off one by one.
September 5 - National Time Trial Championship
It was pretty close - only 27 seconds split Pooley from third-placed Wendy Houvenaghel.
September 29 - World Time Trial Championship
Just watching Pooley on the climb on the Geelong course told you who the winner was going to be. It was quite close at the finish, Judith Arndt was only 15 seconds slower, but Pooley became the first British woman to win the time trial at the Worlds.
MAJOR RESULTS
1st World Time Trial Championship
1st Flèche Wallonne
1st GP Plouay
1st National Road Race Championship
1st National Time Trial Championship
1st overall and stage win, Tour de l'Aude
1st overall and stage win, Giro del Trentino
1st GP Suisse
1st GP Elsy Jacobs
5th Giro d'Italia
CYCLING WEEKLY'S TOP BRITISH RIDERS OF 2010
Click on a rider's name to visit relevant page
1. Emma Pooley
2. Mark Cavendish
3. Geraint Thomas
4. David Millar
5. Lizzie Armitstead
6. Becky James
7. Ed Clancy
8. Shanaze Reade
9. Russell Downing
10. Adam Blythe
11. Tracy Moseley
12. Helen Wyman
13. Laura Trott
14. Bradley Wiggins
15. Alex Dowsett
16. Julia Shaw
17. Ben Swift
18. Sarah Storey
19. Roger Hammond
20. Joshua Edmondson
21. Simon Yates and Dan McLay
22. Nicole Cooke
23. Ian Bibby
24. Daniel Lloyd
25. Sir Chris Hoy
26. Victoria Pendleton
27. Sharon Laws
28. Michael Hutchinson
29. Chris Newton
30. Gee Atherton
31. Jason Kenny
32. Sam Harrison
Related links
CW's Top British Riders of 2010 advent calendar
Cycling Weekly's top 30 British riders of 2009