Endura win in Durham despite solo House victory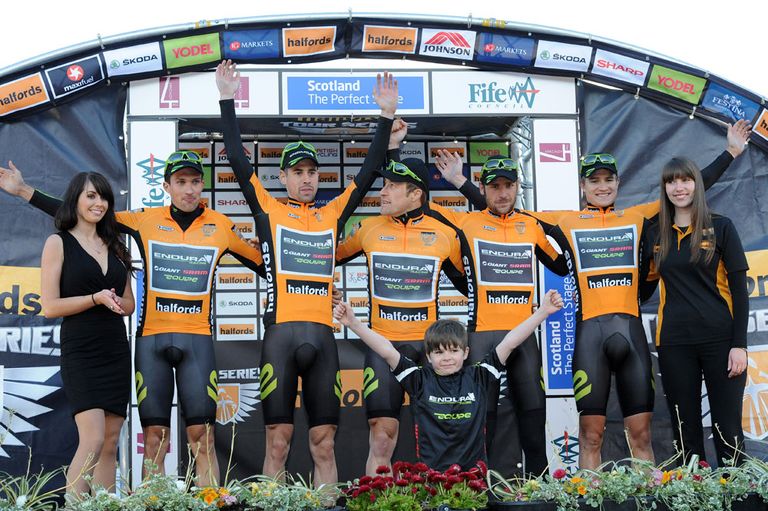 Endura Racing continued their 100% record in this year's Tour Series by taking round two in Durham tonight.
The individual glory went to Rapha-Condor-Sharp's Kristian House, but with Scott Thwaites, Ian Bibby and Jonny McEvoy finishing in the top five, the series leaders going into the race extended their advantage at the top of the standings.
House broke clear with his former team-mate Graham Briggs (Raleigh-GAC)
and Pete Williams (Node4-Giordana) shortly before the second Boardman sprint, and went solo soon after. Despite the size of the chasing group, he was able to stay outfront to take a memorable win. He also took over the lead of the Boardman Bikes Sprints Competition.
"I've won the sprints here now for three years in a row and I've been top five here each year so it's really been one I wanted to win," said House "It suits me, it's quite a hard course with the cobble stones but I know how to ride it. I really enjoy that course. It's tough but it's tough in a way that suits me.
"I was really nervous about the steep course and the wet surfaces, especially after the first round where there were a lot of crashes. It was really key to stay at the front and out of trouble and it worked out well for me as an individual."
The race split in the early laps, and the big teams all had representation in a lead group of around 20 riders.
Because of the nature of this team-based series, Endura could let House slip up the road, provided they do what they've done all season long in British races and get riders in the top 10.
They did just that, as individual winner in Kirkcaldy Thwaites broke clear late on to finish second, with Bibby not far behind. National Circuit Race champion Briggs won the bunch gallop for fourth with a third Endura rider - McEvoy - the next over the line.
Endura therefore have a perfect score of 20 after two rounds, and amended results have put Raleigh-GAC in second on 16. Defending champions Rapha-Condor-Sharp have 15 and sit third.
Results

Team result, Halfords Tour Series 2012, round two: Durham

1. Endura Racing 10pts
2. Rapha-Condor-Sharp 9pts
3. Raleigh-GAC 8pts
4. Node4-Giordana 7pts
5. IG-Sigma Sport 6pts
6. CyclePremier-Kovert 5pts
7. UK Youth 4pts
8. Herbalife-LeisureLakesBikes 3pts
9. Hope Factory Racing 2pts
10. Metaltek-Scott 1pt
Individual result, Halfords Tour Series 2012, round two: Durham

1. Kristian House (Rapha-Condor-Sharp)
2. Scott Thwaites (Endura Racing)
3. Ian Bibby (Endura Racing)
4. Graham Briggs (Raleigh-GAC)
5. Jonny McEvoy (Endura Racing)
6. Andy Tennant (Rapha-Condor-Sharp)
7. Yanto Barker (UK Youth)
8. Pete Williams (Node4-Giordana)
9. Steve Lampier (IG-Sigma Sport)
10. Simon Richardson (IG-Sigma Sport)
Team standings after round two

1. Endura Racing 20pts
2. Raleigh-GAC 16pts
3. Rapha-Condor-Sharp 15pts
4. Node4-Giordana 14pts
5. UK Youth 13pts
6. IG-Sigma Sport 10pts
7. CyclePremier-Kovert 8pts
8. Metaltek-Scott 6pts
9. Herbalife-LesiureLakesBikes 4pts
10. Hope Factory Racing 4pts
Boardman Bikes Sprints Competition round winner

1. Kristian House (Rapha-Condor-Sharp)
Boardman Bikes Sprints Competition standings after round two
1. Kristian House (Rapha-Condor-Sharp) 21pts
2. Bernie Sulzberger (Raleigh-GAC) 21pts
3. Marcel Six (Metaltek-Scott) 10pts
Related links
Halfords Tour Series 2012: Cycling Weekly's coverage index
Scott Thwaites gives Endura perfect start in Kirkcaldy Tour Series 2012, round one photo gallery by Andy Jones
Halfords Tour Series 2012: Round-by-round preview