Ernesto Colnago: The Big Interview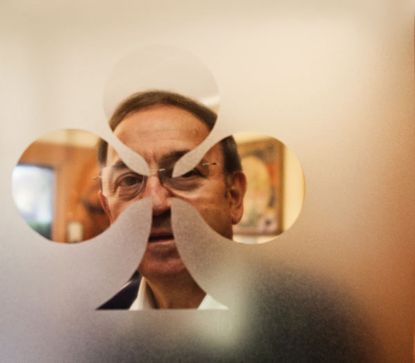 He's the head honcho of one the most revered manufacturers in cycling, and the company that bears his name has a level of kudos that other firms can only dream about, but there's no need to tell Ernesto Colnago about it...
Ernesto Colnago heads a small empire in Milan's northern industrial outskirts that has been a hallmark of quality in the cycling world for 50 years. From Eddy Merckx to Thomas Voeckler in yellow at last year's Tour, his bicycle frames have been ridden by countless stars of the sport.
The energetic Italian started out crafting bikes in steel - from the Super to the Master - but now leads the way in carbon-fibre designs, including the top C59 model. His bikes have carried cyclists to victory in the World Championships, the Tour de France, the Classics and the Olympics. Cycling Weekly caught up with the 80 year old at his factory.
CW: How many frames do you supply to your sponsored teams?
EC: The first team to use Colnago-branded bikes was SCIC in 1974, which had around 15 riders and two bikes apiece. Now, Europcar, with 30 riders and four bikes apiece, have 120 frames!
Who is the most memorable rider you've worked with?
EC: I worked with many riders, but Eddy Merckx was the most brilliant. He took more than 20 bikes a year! He'd come in here in the morning and wouldn't leave until he had the perfect bike.
On a Tuesday, ahead of Liège-Bastogne-Liège he'd say he wanted the bike to have further setback. We went from 16 to 19cm! I remember he finally had 21cm when he won Liège. He ripped his legs apart and was in bed for two days afterwards.
Do you look to other frame builders for ideas?
EC: I respect all the manufacturers, but they've all copied Colnago. Every one! We brought out titanium, the straight fork... I'm sorry for the others, they aren't looking within and studying.
What motivates you?
EC: Even if the others are doing well and making a lot of money, I am looking out for my family and making sure we are creating beautiful products. Colnago can't risk ruining its name after 57 years in the cycling business.
We've won 43 World Championships, we've won 17 Olympics... What am I going to look out of the window to see? Whether it's raining? I am looking out with sadness because people are buying bikes thinking that they are the same as ours, but they're not. They are looking at the colour or the price, and that's it.
What sets Colnago apart from its competitors?
EC: We work in high-end, custom measured bikes. There's no one doing this at our level. We make custom bikes on top of the 15 or so stock measurements.
Ernesto Colnago started this 50 years ago; no one else was making custom bikes. We are still here making 5,000 frames in Italy; for the other 10,000 frames - our lower range - we are obliged to take our forms and technology to Taiwan.
How do you compete against big firms like Specialized and Giant?
EC: We focus on quality and they focus on quantity. I do my research and then they copy it. If they want to research, and have so much money, they should focus on custom sizes. It's not enough to make millions of dollars, but you also have to make a profit. I can have a small fraction [of their output], but still be profitable.
How important is team sponsorship for you?
EC: I've been fortunate to find teams with winning racers. However, it's not as if Oscar Freire wins the Worlds, we sell more in Spain. It always stays the same. Spain always buys the lowest number of Colnagos, and that didn't change with Freire's wins. Or if Sven Nys wins every weekend, we don't sell more cyclo-cross frames.
We sponsor to maintain our position. It's the same way for Ferrari in F1. We lose money doing it, but it's good for R&D and maintains our market position.
Do you agree with the UCI's restrictions on bike design?
EC: No. They need to let the companies have more space.
We can do the research and development, but we have a limit as to what we can provide.
Do you think the UCI should lower the minimum weight?
EC: No. How can [Alessandro] Petacchi or [Tom] Boonen race on a bike that's less than 6.8kg? It works for someone who weighs 60kg, but a frame also has to work for someone who weighs 80kg. A frame needs to weigh 1.150kg, then if you are using it for Paris-Roubaix, you use stronger components.
Instead, the mechanics use lightweight components and these high-profile wheels for Roubaix. It's crazy! The frame is the heart of the bike. If you want a bike for the mountains, keep the heart of the bike strong, but use lighter components.
Do you think the UCI restrictions help to protect the riders?
EC: The UCI has to test every model of our frames, they take frames and they ask for 5,000 Swiss francs. Europcar uses M10 and C59, they have to test both of those and ask for 10,000 Swiss francs.
The frames come back, but I think all they do is sit there and drink coffee! However, they did well to ban Spinaci bars and Spinergy wheels. They do well to block dangerous designs, but need to give the framebuilders more freedom.
How do you see the Colnago business in 10 to 20 years?
EC: I had Fiorenzo Magni and Alfredo Martini here; they are 90 years old and going strong. I'll be here, maybe in a wheelchair... a wheelchair of carbon or the best material available.
Thank you for reading 10 articles this month* Join now for unlimited access
Enjoy your first month for just £1 / $1 / €1
*Read 5 free articles per month without a subscription
Join now for unlimited access
Try first month for just £1 / $1 / €1
Founded in 1891, Cycling Weekly and its team of expert journalists brings cyclists in-depth reviews, extensive coverage of both professional and domestic racing, as well as fitness advice and 'brew a cuppa and put your feet up' features. Cycling Weekly serves its audience across a range of platforms, from good old-fashioned print to online journalism, and video.