Fabian Cancellara Interview: Fabian the fabulous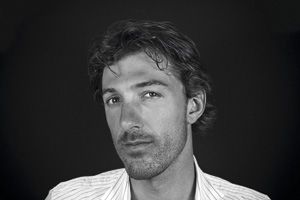 (Image credit: Richard Baybutt)
He wins Classics, Tour stages and world titles, and he's so fast he's been accused of hiding an engine in his bike. We find out what really drives the most powerful legs in the peloton.
Words: Edward Pickering
Photos: Richard Baybutt & Graham Watson
Is this the face of the best cyclist in the world?
Specialisation and selective peaking has robbed cycling of the comparison between champions that used to be part of the sport. As recently as the 1980s we used to see Tour winners like Bernard Hinault trying and succeeding to win Paris-Roubaix, and Classics specialists like Sean Kelly trying and succeeding to win Grand Tours.
But since the 1990s, cycling seems to have broken down into an impossible comparison of apples and oranges. Contador is the best Grand Tour rider, Cavendish is the best sprinter, Gilbert is the best hilly Classics rider.
And Fabian Cancellara? He's the best time triallist. And the best cobbles rider. And, actually, he's pretty good at hilly one-day races, having won medals in World Championship and Olympic road races. He's even won the Tour of Switzerland.
Meet the best cyclist in the world.
Invincible certainty
Fabian Cancellara goes through life, and nothing touches him. His victories seem somehow inevitable — bad luck bounces off him like flies off a windscreen. When he attacks, riders freeze, knowing that the five-metre gap he's just opened will widen to 10, then 20 before opening out to minutes. When he talks, he does so with chilling certainty of his own invincibility.
We spend the morning driving a car behind him in the rolling, grassy mountains to the north-east of Bern, Switzerland, as he ambles round his favourite two-hour training spin. The sun shines out of the clear blue sky, warming his back, while flowers are bursting from the meadows in a landscape we're sure we've seen on a chocolate box. He'll go home tonight to his house in Bern, the Swiss capital, which is a UNESCO World Heritage Site, and consistently makes the top 10 cities in the world in the annual Mercer Quality of Living survey. Life is good for Fabian Cancellara.
He's in the psychological state he describes as "off" right now — in the quiet, relatively unfocused winding-down period following his incredible spring, but before the build-up to his next target, the Tour de France. His bike is a little grubby, the hair is starting to grow on his legs, and his training volume has gone right down. But by the time you read this, Cancellara will be "on" again, at the Tour.
"I'm 100 per cent, or I'm not," he explains.
"There's nothing in the middle. When I'm approaching form, everything has to be perfect, even the handlebar tape. Everything has to be how it should be — at home my wife gets angry with me because I'm forgetting everything else. I'm supposed to be hanging up a picture or something. But when I'm on, I'm not interested in jobs around the house."
"When I'm on," he continues, "I'm really Swiss. Everything in its place."
The difference between Cancellara being "on" and "off" is huge. Being "on" has brought him some of the most memorably brutal race wins of the last few seasons — like the huge margins of victory in the London and Monaco stages of the Tour, Milan-San Remo 2008 or the Flanders-Roubaix double of this spring. Sometimes Cancellara has not won, yet has detonated races with his attacking — at the Olympic road race in Beijing, and the World Championships in Mendrisio last year, he was by far the strongest and most aggressive rider. When Cancellara is "on", his racing walks the line between aesthetically pleasing and outright savagery.
The contrast with today is striking. We watch Cancellara's red Swiss champion's jersey cruising through green meadows, followed by a sightseeing tour around Bern — for which, ironically, Cancellara has blagged us a couple of motorised bicycles for the day from a local bike shop in exchange for a couple of photographs with the owner and some signed photos. We'll sit down for a coffee by the Aare river, while Cancellara tells us in one breath that he is a simple guy who likes sleeping, and describes himself in the next as a "gladiator". And our photographer will shoot portraits while Cancellara's daughter plays around his feet. Nothing touches Cancellara — life is too good to him.
Secret stress
But it turns out, we're wrong. After we've spoken to Cancellara, we call up his Saxo Bank team manager, Brad McGee, to find out if Cancellara really is invincible, and it appears not.
"He appears untouchable from the outside, but inside, he is very different," McGee says. "He actually stresses compared to other riders, but Fabian is unique because he takes it all inside him. He can be quite heavy handed — he's got a big presence and a full voice. In a big race, it's clear he's in charge, but he suffers stress internally — he deals with it, then uses it."
Cancellara is not easy to ride for. He drives his team-mates hard, too hard for some of them. He'll sit in fourth or fifth wheel, shouting at them to ride faster, , even when they are beyond exhaustion.
"In the race, I am strict," says Cancellara. "I tell them, 'hey, you have to ride now.' Do what you like in life, but in the race, we stick to my plan. Team-mates must help and sacrifice themselves. I remember sitting behind [Volodymir] Gustov in one race, he was trying to pull and pull. I was yelling behind him, saying 'Come on! More! More!'"
"It's hard, but if they can do 100 metres more, it's good for the team. Even 20 or 10 metres more, when they think they are dead, counts for us."
Physically imposing
Cancellara's authority comes from brimming confidence in his own abilities. He's already physically one of the most imposing riders in the peloton, leg muscles like sides of beef, body as solid as a wrestler, yet extremely flexible on the bike. But he also, as McGee describes, eats up stress, digests it, and converts it into forward motion.
"The first pressure comes from me — the pressure of wanting to win. But after that, others start to push you," he says. "But it has to be positive. I can handle it, and I turn it to my advantage. Negative pressure takes your energy and pulls you out of balance. I can't handle getting out of balance."
It's actually as mentally taxing as it is physically taxing to ride the way Cancellara does. He's one of two riders who could be described as the most complete in the peloton — probably Alberto Contador, brilliant at climbing and time trialling, is the other. But Contador doesn't have Cancellara's breadth of wins. The Swiss rider has won his biggest races with long-range attacks, attacks in the final few kilometres, even in the final few hundred metres. It's an expensive way to ride.
"It's taxing. But my mental strength comes from being good at time trials. I'm strong there, so I can get it all out. If I have 10 metres, I win the race," he explains.
"When I'm on the bike I'm a gladiator. I want to kill my opponents, physically and mentally. When you see that you can kill them, you have to do so," he adds, almost with a tone of regret.
"We'll drink a beer afterwards, but the race is a battle against all. When I attacked in Flanders, or in Paris-Roubaix with 50 kilometres to go, I wanted to show them that they were riding for second place."
"At Flanders, everything was perfect. I took lessons from all the mistakes I'd made in the past, and took out every small thing when I needed. What I remembered from winning my World Time Trial Championships — the concentration, I took that out. And I attacked where I needed to, with coldness, like I didn't in Mendrisio [at the 2009 Worlds]. Everything perfect."
But for a cyclist who races with such overwhelming passion, Cancellara seems uncomfortable speaking of the emotions of winning. He prefers to move the conversation to his physical abilities, where he is on more solid ground. In describing his Flanders and Roubaix wins, he'll mention the happiness, then move on to satisfaction at a job well done, before breaking the race down into a description of the process of attacking.
"You decide your moment. You shift three gears nice and smooth — toc toc toc. Then you have to think like a time triallist. Get everything out — bam bam bam."
He makes it sound easy, but it's not. "It hurts, bad," he says. "I go so deep. I was empty in Paris-Roubaix. I couldn't go any faster or slower."
Other riders, like Mark Cavendish or Lance Armstrong, seem to need to constantly prove to themselves and others that they are the best. Cancellara seems to know it well enough that it is a given.
Ten years of victories
It is almost exactly 10 years since Fabian Cancellara first rode with the professionals. At the age of 19, he joined the Mapei team as a stagiaire from the first of September, 2000. Within a month, he'd already achieved
a fifth place, seven seconds behind Levi Leipheimer, in the time trial at the Circuit Franco-Belge. It sounds like he settled into his career easily, but Cancellara remembers differently.
"I was alone, travelling round the world. I was scared and depressed," he says.
"But I learned with Mapei. I was spending time with riders of 30 or 35 who had families, and they helped me develop. [Adriano] Baffi was 20 years older then me — he did so much less training than me, and still dropped me."
"I grew up when I joined CSC in 2006. I won Roubaix, got married, became a father, won the Worlds.
I became a champion then."
Being a champion is important to Cancellara, and it goes beyond winning races. The way Cancellara wins is as important as the win itself.
"Fabian is a very profound bike rider," says Brad McGee.
"He should be appreciated. He knows cycling history and he wants to write his own chapter."
What we shouldn't expect from Cancellara is repeated victories in the races he's already won. In cycling, wins generate expectations, and the list of favourites for any race generally starts with last year's winner. Cancellara could win four Paris-Roubaix and three Tours of Flanders, but he's got other plans.
"I can do this: Liège, Lombardy, Hour record, Worlds. I'd prefer to win Lombardy and Liège than the Tour of Flanders three times," he says.
The evidence against Cancellara being able to win hilly Classics is the full weight of received cycling wisdom — that heavy riders don't win them. The evidence for might be more irresistible: Cancellara wasn't far from winning the World Championships in Mendrisio last year, on the hilliest circuit for years, and more importantly, he believes it is possible. When Cancellara believes something, he will kill himself to achieve it.
"The way I was riding on the climbs in Mendrisio, I know that Lombardy and Liège are possible. I'd have to train differently, but I know I'm good for it. In Flanders, I found out what to do to win, and did it. I will do the same at Liège-Bastogne-Liège.
"Nothing has to change for me to win the Worlds. I'm experienced enough now to know what to do. Next time,
I'll ride smarter."
If he can add these four titles — Liège, Lombardy, the Worlds and the Hour record (which should be all but a formality) to the Milan-San Remo, Tour of Flanders and Paris-Roubaix titles he already has, he could legitimately claim to be the most complete cyclist since Eddy Merckx. He'd be, without doubt, the best cyclist in the world.
Thank you for reading 20 articles this month* Join now for unlimited access
Enjoy your first month for just £1 / $1 / €1
*Read 5 free articles per month without a subscription
Join now for unlimited access
Try first month for just £1 / $1 / €1