The world's most expensive folding bike? Bidding for 'oldest' Brompton starts at £25,000
The 42-year-old model is believed to be the "oldest badged Brompton" and is still in good nick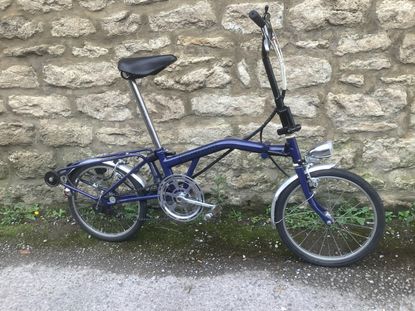 (Image credit: Cycle Care Swindon)
If you are a Brompton aficionado with a fair bit of spare cash, then the perfect present might have just popped up: an original Brompton from 1981, yours for just £25,000 - if no one else bids. It is believed to be the oldest badged model.
The No 2 folding bike was made in 1981, and is still in "very good" condition, apart from the mudguards, according to Cyclecare Swindon, which is auctioning it off. The auction ends on 4 June.
A Brompton bike was first designed by Andrew Ritchie in 1975, and after attempting to licence the design, was first manufactured in 1981. The brand has gone on to great success, recently launching Superlight T Line and Electric P Line products which have helped boost the company around the world.
On Tuesday, it was announced that the iconic British folding bike company had secured £19 million in investment from BGF.
The No 2 folding bike has been in the care of Tim Whitty from Cyclecare Swindon for over 30 years.
In the advert, he writes: "Brompton No 2 folding bike was made in 1981. The Sturmey Archer 3 speed hub is marked 1980, May.
"I have been a Brompton dealer since 1988 and the no 2 bike came my way over 30 years ago. I swapped it for another bike. I have the name of the original owner and can provide this to the successful bidder."
"This No 2 Brompton clearly shows the development of the concept," the advert continues. "It is unique for the way the frame and stem folds. Both of these folds are done using a lever/locking mechanisms. The cable routing is opposite to the norm and the gear cable router is in a different orientation. Several components are clearly handmade.
"The head tube is clearly hand painted and whole head tube front frame is acute in angle to the mainframe. It gives the appearance of being broken but it's the way it was made."
"I have stored the bike in a clean dry space and the condition is very good (except the mudguards) In the time I have had it, it's been ridden no more than a few hundred yards," Whitty says. "On my recommendation I changed the tyres for the previous owner.
"I believe this is the oldest badged Brompton, that shows the compact size of the bike that's gone onto set the standard for folding bikes."
The Brompton is not the only interesting bike to go up for auction in recent weeks, with some heavily discounted road and gravel bikes available after the demise of Moore Large.
If you fancy a folding bike but don't have £25,000, read our guide to the best folding bikes on the market.
Thank you for reading 20 articles this month* Join now for unlimited access
Enjoy your first month for just £1 / $1 / €1
*Read 5 free articles per month without a subscription
Join now for unlimited access
Try first month for just £1 / $1 / €1