Flanders changes route: Berendries out, two climbs added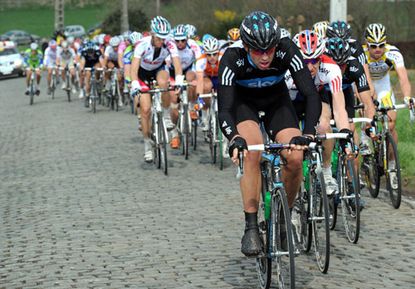 The Tour of Flanders one-day classic will take a different route on April 3. It will travel south instead of west to the Belgian coast and cover an additional two climbs.
"The Ronde remains the Ronde," race organiser Wim Van Herreweghe told Het Nieuwsblad. "You can make changes here and there to the route, but on the whole, it is still the Tour of Flanders."
The Ronde Van Vlaanderen, or Tour of Flanders, changes slightly each year. The route still starts in Bruges and ends in Meerbeke, 257.7 kilometres compared to 262.3 this year. The race's direction and additional climbs, however, are the most obvious changes.
After the start in Bruges, riders will travel south to Kortrijk next year instead of facing the North Sea's headwind. The reason is that Zwalm is the race's official city and it sits further east in Flanders than this year's city, Desselgem.
The change from Desselgem to Zwalm allows for the return of the Paddestraat. It is not a climb, but the hammering from 2,400 metres of cobbles will be felt later in the Tour of Flanders.
The Tour of Flanders will cover 17 climbs, two more than this year's 15. The additional two come in the run up to the famous Oude Kwaremont. Organisers substituted the Den Ast and Kluisberg - the first two climbs last year - with Tiegemberg, Nokereberg, Rekelberg and Kruisberg. The organisers last used the Kruisberg 17 years ago, in 1994, when Italian Gianni Bugno won.
The all-asphalt Kruisberg climbs 90 metres over 1875 metres, with a maximum gradient of nine per cent.
The other change comes at the tail of the Tour of Flanders, after the Molenberg and Leberg. This year, eventual race winner Fabian Cancellara rode away with Tom Boonen on the Molenberg. Before the finish in Meerbeke, they faced four climbs: Berendries, Tenbosse, Muur-Kapelmuur and Bosberg. Swiss Cancellara used the cobbled Kapelmuur to drop his rival.
The Valkenberg climb will replace the Berendries ahead of the final next year due to road works.
"I think the Valkenberg is a good alternative," said Van Herreweghe. "Long, beautiful, pretty steep."
Valkenberg last appeared in 2009. It is asphalt and only 875 metres long, but reaches a gradient of 15 per cent.
Related links
Tour of Flanders 2010 photo gallery
Spring Classics 2010: Cycling Weekly's coverage index
Thank you for reading 20 articles this month* Join now for unlimited access
Enjoy your first month for just £1 / $1 / €1
*Read 5 free articles per month without a subscription
Join now for unlimited access
Try first month for just £1 / $1 / €1